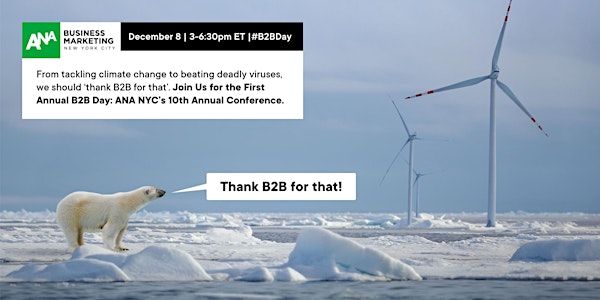 ANA NYC 2021 ANNUAL CONFERENCE: THE FIRST ANNUAL B2B DAY
ANA NYC's 10th Annual Conference Is Now…The 1st Annual B2B Day. Celebrating the Multi-Trillion-Dollar Category That Makes the World Turn.
Refund Policy
Contact the organizer to request a refund.
Eventbrite's fee is nonrefundable.
About this event
Heroes, innovators, disruptors, catalysts, backbone of the global economy: B2B companies literally move the world forward. They create the products and services to discover the drugs to defeat pandemics. They develop the technologies that underlie virtually every other market and business category. They rush headfirst into global crises – like climate change – to find solutions. They use sheer imagination to create new markets that didn't exist before.
In recognition, ANA NYC proclaims December 8th the first annual 'B2B Day' – and will focus on the contributions of these remarkable enterprises and their marketers. The event will provide a breathtaking look ahead to big, bold B2B contributions to come.
Agenda and Sessions
Opening Remarks (3:00-3:05PM ET) Tom Stein, Chairman and Chief Client Officer, Stein IAS and President ANA NYC, and Kim McNeil-Downs, Director, Green Dot Agency, Deloitte
Session #1 - Opportunity (3:05-3:31PM ET): B2B brands have eclipsed leading consumer brands in measures of reputation and value. Two brand experts will talk about why—and how marketers and leaders can learn from B2B brands' successes. Speakers: Lynne Field, Head of Strategy and Simon Hill, President, FutureBrand
Session #2 - Innovation (3:31-3:57 PM ET): B2B's high-water mark is also the marker to rethink what's next – how B2B marketing can thrive and change in this moment of opportunity…to break from the past to break away. Speaker: Brent Reinhard, Chief Marketing Officer, Chase Business Banking
Session #3 - Creativity (3:57-4:24 PM ET): B2B's awards competitions reveal surging creativity across channels. What's the future of B2B creativity? Get direct-from-Cannes insights about an extraordinary body of work. Speaker: Simon Cook, Managing Director, Cannes Lions
Session #4 - Partnership (4:24-4:50PM ET): With the lines blurring between agency and in-house capabilities, and the need to move quickly to take advantage of market opportunities, this session covers the obligations for both brands and agencies throughout the partnership, from dating to marriage and everything in between. Speaker: Robin Boehler, Partner, Mercer Island Group
Break (4:50-4:55PM ET)
Remarks (4:55-4:57PM ET) Tom Stein, Chairman and Chief Client Officer, Stein IAS and President ANA NYC, and Kim McNeil-Downs, Director, Green Dot Agency, Deloitte
Session #5 - Impact (4:57-5:24PM ET): With B2B's digital transformation having accelerated so dramatically during the pandemic, so has marketing's impact…and expectations. B2B marketers' impact on growth is at an all-time high, yet is still a work in progress. Speaker: Peter Weinberg, Global Head of Development, The B2B Institute at LinkedIn
Session #6 - Experience (5:24PM-5:50PM ET): From employee experience to customer experience, the 'X' factor is increasingly the key to differentiation and success. See how B2B is leading the way in creating connected experiences. Speaker: April Crichlow, Chief Marketing Officer, Centrical
Session #7 - Value (5:50PM-6:16PM ET): The events of the past 2 years have irrevocably changed consumer and customer expectations of business. After issues of race, health and democracy what are the implications and risks moving forward? How are companies stepping up? What are the successes and failures as we navigate a redefinition of capitalism? Geof Rochester, Founder and CEO, GRC Advising, Meredith Shue, Director of Talent Brand, Marketing & Communications, EY Americas
Closing Remarks (6:16-6:19PM ET) Tom Stein, Chairman and Chief Client Officer, Stein IAS and President ANA NYC, and Kim McNeil-Downs, Director, Green Dot Agency, Deloitte