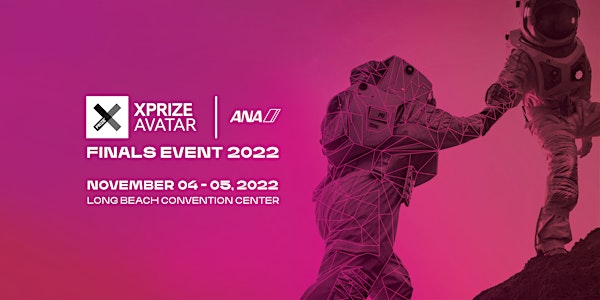 ANA Avatar XPRIZE Finals Testing Event
"This competition is the biggest push toward avatar robotics we've seen since the DARPA Robotics Challenge." - Evan Ackerman, IEEE Spectrum
When and where
Location
Long Beach Convention Center 300 E Ocean Blvd Long Beach, CA 90802
About this event
The ANA Avatar XPRIZE Finals Testing Event
The $10M ANA Avatar XPRIZE is a four-year global competition focused on the development of an Avatar System that will transport a human's senses, actions, and presence to a remote location in real-time, leading to a more connected world.
Now, we're inviting you to attend the final round of this global avatar competition. During the 2-day live event, you'll be able to exclusively see finalist teams from around the world push the limits of immersive telepresence technology, a combination of robotics, VR, haptics, and more.
Check out what else you'll see at this event below and don't miss out, register for free now!
WHAT TO EXPECT
WATCH AVATAR ROBOTS GO HEAD TO HEAD
Watch competing teams complete a series of complex tasks across a never-before-seen, custom-built test course. Spectators will be treated to arena-style viewing as well as a live-hosted broadcast giving you a blow-by-blow play of the action and how the teams are faring.
THE COMPETITION
Teams will be assessed on advanced mobility, haptics, manipulation, and interaction tasks across three different domains: Connectivity (human-to-human connection), Exploration (the new era of travel), and Skills Transfer (expertise with no boundaries).
BEHIND-THE-SCENES ACCESS
Watch competitors in action in the team garages as they prepare their avatar robots for the final testing rounds.
NETWORK
Meet the innovators, entrepreneurs, and engineers from current and past XPRIZE competitions.
TRY THE TECH
Get hands-on with the latest tech by visiting the interactive tech fair (exhibitor lineup coming soon).
WINNERS CIRCLE
Watch the Grand Prize Award Ceremony LIVE as XPRIZE awards $8M in prize purses.
REGISTER NOW FOR FREE!
TO LEARN MORE ABOUT THE ANA AVATAR XPRIZE: WATCH THE FUTURE OF TELEPRESENCE IN ACTION