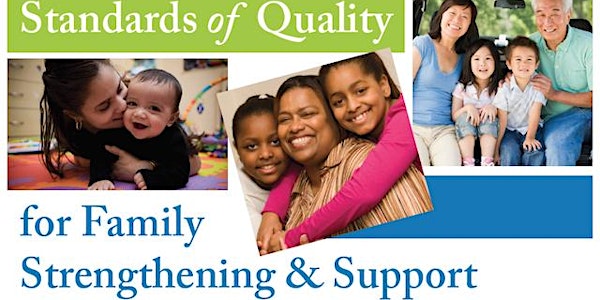 An Overview of the Standards of Quality for Family Strengthening & Support
An introduction to the nationally-adopted Standards of Quality for Family Strengthening & Support
About this event
What does it mean to be a quality Family Strengthening and Support Program?
What common language can we use for working effectively with families?
How can Programs use the Standards to advance Diversity, Equity, and Inclusion?
In 2020, the National Family Support Network conducted a review and revision process to update the nationally-adopted Standards of Quality for Family Strengthening & Support, engaging its Member Networks across the United States, parent leaders, and representatives of Family Strengthening and Support organizations in Canada, to provide input and feedback. The thoroughly revised Standards reflect an enhanced focus on diversity, equity, and inclusion and addressing community conditions that impact families' healthy development.
Based on the Principles of Family Support Practice and the Strengthening Families Framework and its research-based evidence-informed 5 Protective Factors, the Standards have created a common language across different kinds of Family Strengthening and Family Support programs such as Family Resource Centers, home visiting programs, and child development programs. They are used as a tool for planning, providing, and assessing quality practice by public departments, foundations, networks, community-based organizations, and families.
The Standards address 5 critical areas of practice for any Program or individual working with families - Family Centeredness, Family Strengthening, Diversity, Equity, and Inclusion, Community Strengthening, and Evaluation - with 15 Standards, each with Foundational and High Quality Indicators and implementation examples. The Standards and all their implementation tools are available for free download here.
More than 13,000 people have successfully completed the Standards Certification Training across the U.S. and Canada. Many more have been introduced to them through conferences, webinars, and downloading them online.
Recommended Participants:
National, state, and local policymakers, public departments, Children's Trust Fund staff, private funders, Family Support and Strengthening Network leaders and representatives, Family Support and Strengthening Program management staff.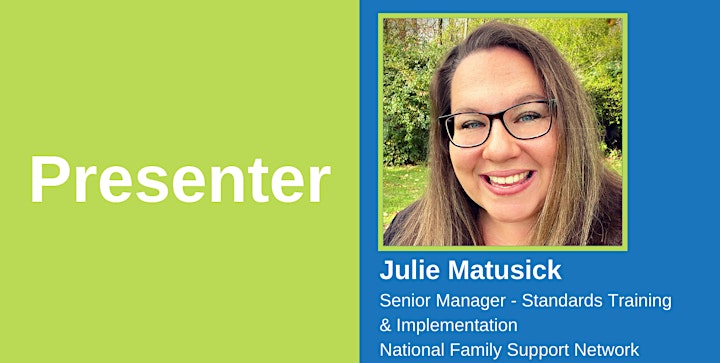 Webinars Wednesdays
This webinar is part of the National Family Support Network's Webinar Wednesdays series.