An Open Invitation to Understand Islam and Muslims , Part of 13th Annual Muslims In Memphis Celebration
By Muslims in Memphis (MIM)
Date and time
Saturday, March 7, 2015 · 6 - 9pm CST
Location
Germantown Performing Arts Center 1801 Exeter Road Germantown , TN 38138
Description
An Open Invitation
We live in a time where many of the images we see about Islam are ugly: terrorism, poverty, intolerance, fear, war. These are all common practices we see linked to a faith of Islam and to the Muslims. Very rarely we see Islam connected with something beautiful or being recognized as a beautiful faith itself. This is urgent call to all people of faith to come and seek understanding and let this month be a gate to seek understanding and cooperation.
This is an invitation to ignore what the media has told you, and come and hear the truth about Islam and Muslims. All are welcome, young, old, black, white, Arab, American. It is an open invitation to all mankind of all times
R.S.V.P is required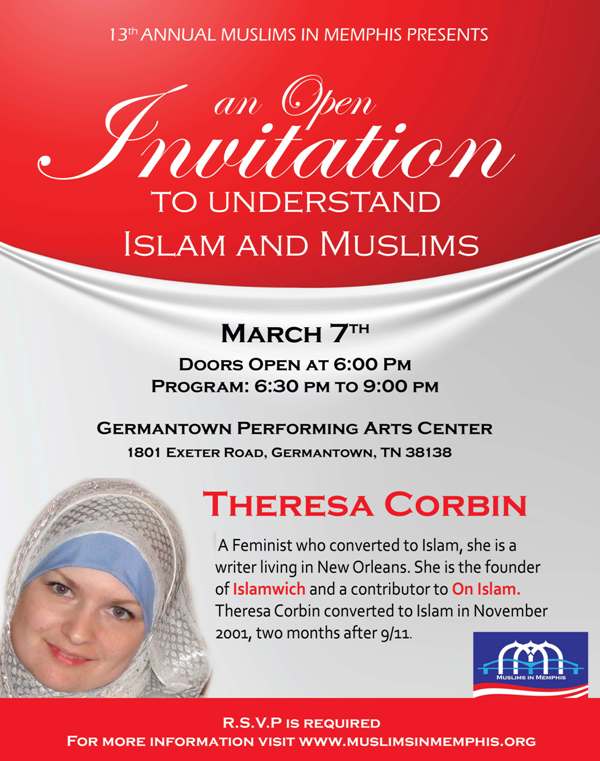 For more information on coming events visit us at
http://muslimsinmemphis.org/
About Theresa Corbin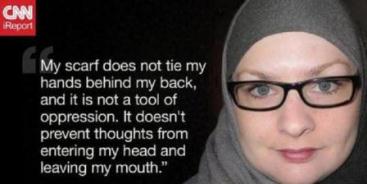 Theresa Corbin, holds a degree from the University of South Alabama in (English) she is a New Orleans native, a writer, an up-cycler, a Creole American. She is the founder of Islamwich and contributor to Aquila-Style.com, OnIslam.net and several publications with in the Gulf Coast Newspaper group. Her latest article appeared on CNN "I am a feminist and I converted to Islam".
A convert of 13 years, she has spent a great deal of time studying Islamic thought and sectarianism. Corbin feels it is time to stop differentiating based on culture and sect, and time to start focusing on similarities and cooperation.
FAQs about the event
What can/can't I bring to the event?
Any material for distribution at the event is not allowed.
Where can I contact the organizer with any questions?
For more informaiton and question please go to www.muslimsinmemphis.org
Do I have to bring my printed ticket to the event?
Yes, bring your printed ticket to the event
More events listed on our web site
www.muslimsinmemphis.org
About the organizer
Muslims in Memphis was founded in 2003 as an organization to help increase awareness about Islam, to strengthen the relationship between the diverse peoples of Memphis and Shelby County, and to dispel myths about Islam. March was officially declared the Muslim in March month by the Government of the City of Memphis and the Government of Shelby County. 
http://www.muslimsinmemphis.org/