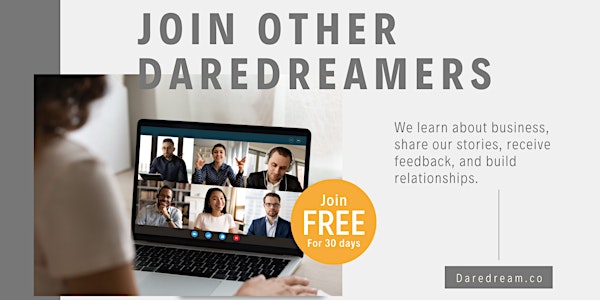 An Online Support Community For Christian Entrepreneurs
Community support to help early-stage entrepreneurs define their ideas and deliver them to market with excellence.
About this event
Try Daredream: Gather FREE for the first 30 days. We offer an online membership community and coaching for Christian entrepreneurs.
We meet regularly via Zoom on Friday from 10-11 AM ET with some exceptions. Once a month, we'll have a subject matter share on a tool (to improve our work) or talent (to benefit our business-building efforts).
Come enjoy an hour of good conversations, learning, praying, encouragement, and fellowship with like-minded others.
If you're working on a missional business, want exposure to the perspective of other Christian entrepreneurs, want to build friendships, and partnerships, or give and receive feedback, join us!
You'll leave with newfound friendships with other Christian entrepreneurs, clarity on topics entrepreneurs need the most, and thought partners who want to walk with you on this business-building journey.
A FEW THINGS TO KNOW:
Be on time so you can have sufficient time to make introductions. We'd love for you to get the most out of the experience.
Be prepared to tell us your real names, where you're joining us from, what you're working on, and how it benefits others.
Not required, but since this is on Zoom, we encourage you to turn on your video to keep this meeting from feeling impersonal. Our meetings will be recorded so if you're not camera-ready we understand, your presence is preferred.
You don't have to sign up every week to attend. You'll be added to our weekly email invite unless you say otherwise.
ABOUT ME
I'm Alicia Vaz, Business Experience Coach to Christian entrepreneurs in the early startup stage. Faith defines who I am: Christ-follower, wife, homeschool mom, entrepreneur, and friend. I encourage entrepreneurs to lay down their will, wants, and ways and choose the Jesus way instead.
I'd love to connect with you here:
Daredream.co | Linkedin | Facebook | Twitter | Instagram