An Online Gathering for The Longest Night with The Many - Sat. Dec 18th
A Longest Night gathering, featuring music by The Many, readings, reflection, and space to lament the year and look for hope...together.
About this event
THE KIND OF GATHERING WE NEED, RIGHT NOW.
After the last couple years we've had, we need space to pray, light candles, and sing. Space to let ourselves lament our personal sorrows and the immense hurt and brokenness that has been dumped in our laps. And a place to walk toward hope for a more generous, just and loving world. Featuring liturgy and scripture, music by The Many, and a safe space to share the experience in the comments, this is the Longest Night 2021.
Just like last year, we're excited to experience this event all online. We welcome you to join us from wherever you are, on whatever device works for you. We'll be hosting 2 online gatherings for The Longest Night this year, both showing the same video. We'll be there with you in the comments interacting with you.
After you register, you'll receive a link from Crowdcast.io with a link to the event. They will also send you a reminder email a few minutes before the event begins. Make sure you save this email because this is how you can attend the gathering! Have questions about how this will work online? See the FAQs below or email us at pluralguild@gmail.com
This same event happens twice. Here's the link for the one on December 20th.
WHAT'S UP WITH TICKET PRICES?
We'll be using a live-streaming site to host this event. Because of that, you'll need to get a ticket.
We know these past few years have been rough in many ways, especially financially. And we want everyone to be able to join us for this special night. So we've made tickets Pay What You Can. We suggest a donation of $15 per person, but if you can't afford that, don't worry. Give $5, $10, whatever works for you. Larger donations are also welcomed! Eventbrite does require a donation of at least $1 to register.
A WORD ON WHY YOUR DONATION MATTERS
As with most bands, The Many's main source of income comes from playing live shows. In the past 2 years, we've only been able to play two in-person gigs.
All that to say, your donations keep us going. We hear from a lot of people who talk about how meaningful our music is, and how much these kinds of lament events help - how they bring healing and hope, for so many. And we want to be able to continue to create this music and these sorts of gatherings, but we aren't supported by big record labels, and we aren't writing the kind of songs that typically get played on Christian radio. So we really rely on the help and support of our fans to survive. So, give if you are able. Every little bit helps. Thanks in advance.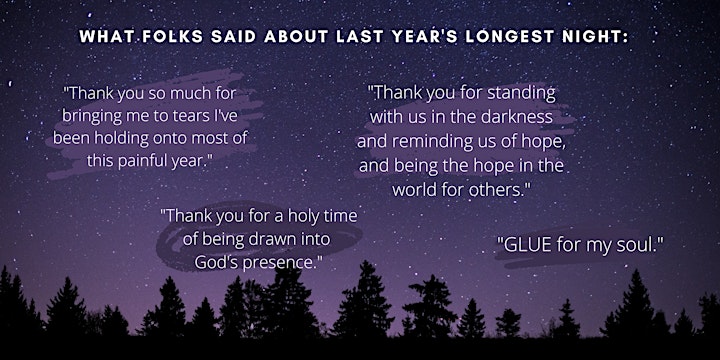 We are so thankful for the sponsors of this event.
Pilgrim Congregational Church
Red Mountain UMC
Good Shepherd Lutheran Church
Wisconsin Council of Churches
Community Christian Church
If you attend one of the churches sponsoring, reach out to them with a separate link to register for this event. If you are a church that would like to learn more about sponsorship, click here.
FAQs
Virtual Gathering. How does that work?
Great question! Once you purchase your ticket (remember you can get it for as little as $1!), you will receive a special private link for the event in your email. This will come from our livestream platform: CrowdCast. Don't delete this email! You'll need it to get into the event. Also, don't share this link with anyone! It's just for you.
A little before 8pm CT on Saturday, December 18th, you can click the link from that email and come to a livestream platform. There you will be able to see the video and interact in the comments with members of The Many as well as other people attending. You won't be on camera, so feel free to wear whatever makes you feel good.
I'm going to attend this event with someone. Do we each have to get tickets?
Each ticket will give you access to the livestream. So, if you plan to watch with your family or friends from a single device, you'll only need to get 1 ticket. Each separate device watching will need a ticket.
Is this kid-friendly?
This gathering was not made for kids, but we certainly welcome them! Parts of the evening will be quiet and meditative, so just bear that in mind.
Where can I contact the organizer with any questions?
Email us at pluralguild@gmail.com
MORE ABOUT THE MANY
To hear the Advent & Christmas music from The Many that we'll be singing during the evening, stream or download it here: http://themany1.bandcamp.com/album/advent-christmas
The Many features singers Hannah Rand, Leslie Michelle and Darren Calhoun. Songs written by Lenora, Gary and Hannah Rand. You can follow the band on Facebook and on Instagram.
Liturgy for the evening prepared by Gary Rand and Lenora Rand, co-directors of The Plural Guild. Learn more at www.pluralguild.com
Organizer of An Online Gathering for The Longest Night with The Many - Sat. Dec 18th