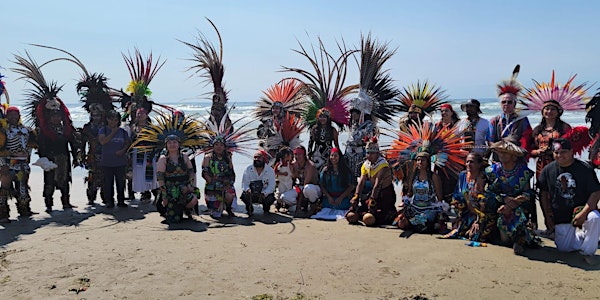 AN OFFERING TO OUR HEALING OCEAN: A Huehca Omeyocan Celebration
Celebrate art, culture, and the environment during this wonderful event at Cape Lookout State Park.
When and where
Location
Cape Lookout State Park 13000 Whiskey Creek Road Tillamook, OR 97141
Refund Policy
Contact the organizer to request a refund.
Eventbrite's fee is nonrefundable.
About this event
Celebrate art, culture, and the environment during this wonderful event at Cape Lookout State Park.
Huehca Omeyocan, a group dedicated to promoting cultural practices of the Pre-Hispanic (Aztec) Mesoamerican peoples primarily through dance and music, will perform a traditional Aztec dance in honor of our oceans and beaches.
Be inspired by the Huehca Omeyocan:
"Huehca Omeyocan goal [is] to reclaim our true identity (native identity) and history, by learning the history of our ancestors which is ultimately our own history. When we create sounds and movements we do so with passion because it is in these moments that we have a connection with nature, our ancestors, and our community. We believe our grandparents' spirits are encoded in all the instruments we use to create music and they guide us on our journey of self-discovery. Sacred energy is within all of us and it's our responsibility to share it with our community in a respectful and inclusive manner. When we create sounds and movements - we represent that history and we do it with passion."
Join Huehca Omeyocan, Friends of Netarts Bay WEBS, Oregon State Parks, OSU Extension, the Juntos Afuera Program, and Portland Audubon for an inspiring day with opportunities to explore, learn, celebrate and act for the ocean.
10 AM to 2 PM - Huehca Omeyocan - An Offering to our Healing Ocean: The main event of the day is a celebration honoring our healing ocean led by Huehca Omeyocan. Bring a blanket or camp chair, some snacks, and drinks, and enjoy a day on the beach. Please keep the health of the ocean in mind and keep track of trash, use reusable water bottles and utensils, and dispose of food waste appropriately.
9 AM to 2 PM - Educational Activity Stations and Events: During the celebration, enjoy a number of additional events and activity stations fun for all ages and led by Friends of Netarts Bay WEBS, OSU Tillamook County Extension, Juntos Afuera Program, Oregon State Parks, and Portland Audubon. Stations may include:
Nesting shore birds and maintaining healthy habitats
Friendship Bracelet Making
Make your own natural and biodegradable flower offering
Marine debris art
9 AM - Beach Hike: Join Oregon State Park Rangers and Friends of Netarts Bay WEBS staff for a fun, family-friendly hike on the beach and around Cape Lookout State Park and the Netarts Spit. This relatively easy, 2 mile walk will discuss this important natural area, changes happening along our coast, and how we can be good stewards. Walk the wrack line, hunt for interesting beach finds, and discover the wonders of this unique habitat. Please register to save your spot on this fun adventure:
11 AM & 1 PM - Beach Cleanup: Grab a bag from the cleanup station and head out to remove debris from the beach at Cape Lookout State Park. Return debris to the art station to be reused and transformed.
We understand everyone learns and experiences the outdoors differently and we are open to working with anyone that needs additional support. We have limited capacity. Please contact us in advance so we can do our best to accommodate your needs and/or find a way for you or your group to have fun participating in our events.
Additional Logistics:
Registration is encouraged but not required to join in on this amazing day
There is a $5 fee to park at Cape Lookout State Park
Please be prepared for dynamic coastal weather conditions. Expect anything from sun to wind and rain.

--------------------------------------------------------------------------
Información sobre este evento
Celebre el arte, la cultura y el medio ambiente durante este maravilloso evento en el Parque Estatal Cape Lookout.
Huehca Omeyocan, un grupo dedicado a promover las prácticas culturales de los pueblos mesoamericanos prehispánicos (aztecas) principalmente a través de la danza y la música, presentará una danza tradicional azteca en honor a nuestros océanos y playas.
Inspírese en los Huehca Omeyocan:
"El objetivo de Huehca Omeyocan [es] reclamar nuestra verdadera identidad (identidad nativa) e historia, aprendiendo la historia de nuestros ancestros que es, en última instancia, nuestra propia historia. Cuando creamos sonidos y movimientos lo hacemos con pasión porque es en estos momentos que tenemos una conexión con la naturaleza, nuestros ancestros y nuestra comunidad. Creemos que los espíritus de nuestros abuelos están codificados en todos los instrumentos que utilizamos para crear música y nos guían en nuestro viaje de autodescubrimiento. La energía sagrada está dentro de todos nosotros y es nuestra responsabilidad compartirla con nuestra comunidad de forma respetuosa e inclusiva. Cuando creamos sonidos y movimientos, representamos esa historia y lo hacemos con pasión".
Únase a Huehca Omeyocan, Friends of Netarts Bay WEBS, Oregon State Parks, OSU Extension, el Programa Juntos Afuera y Portland Audubon para un día de inspiración con oportunidades para explorar, aprender, celebrar y actuar por el océano.
10 AM a 2 PM - Huehca Omeyocan - Una ofrenda a nuestro océano curador: El evento principal del día es una celebración en honor a nuestro océano curador dirigida por Huehca Omeyocan. Traiga una cobija o silla de campamento, algunos alimentos y bebidas, y disfrute de un día en la playa. Por favor, tenga en cuenta la salud del océano y mantenga un control de la basura, utilice botellas de agua reutilizables, y deseche los residuos de alimentos adecuadamente.
de 9 AM a 2 PM - Estaciones de actividades educativas y eventos: Durante la celebración, disfrute de una serie de eventos adicionales y estaciones de actividades divertidas para todas las edades y dirigidas por Friends of Netarts Bay WEBS, OSU Tillamook County Extension, Juntos Afuera Program, Oregon State Parks, y Portland Audubon. Las estaciones pueden incluir:
Anidación de aves costeras y mantenimiento de hábitats saludables
Fabricación de pulseras de la amistad
Hacer su propia ofrenda floral natural y biodegradable
Arte de los desechos marinos
9 AM - Camanita por la playa: Únase a los guardabosques del Parque Estatal de Oregón y al personal de Friends of Netarts Bay WEBS para una divertida y familiar caminata por la playa y alrededor del Parque Estatal Cape Lookout y el Netarts Spit. Esta caminata es relativamente fácil, de 2 millas, y en ella se hablará de esta importante área natural, de los cambios que están ocurriendo en nuestra costa y de cómo podemos ser buenos cuidadores. Caminaremos por las rocas, buscaremos cosas interesantes en la playa y descubriremos las maravillas de este hábitat único. Por favor, inscríbase para reservar su lugar en esta divertida aventura:
11 AM y 1 PM - Limpieza de la playa: Coge una bolsa de la estación de limpieza y sal a retirar los residuos de la playa del Parque Estatal de Cape Lookout. Devuelve los residuos a la estación de arte para que sean reutilizados y transformados.
Entendemos que todo el mundo aprende y experimenta el aire libre de manera diferente y estamos abiertos a trabajar con cualquier persona que necesite apoyo adicional. Tenemos una capacidad limitada. Por favor, póngase en contacto con nosotros con tiempo para que podamos hacer todo lo posible para acomodar sus necesidades y / o encontrar una manera para que usted o su grupo se diviertan participando en nuestros eventos.
Logística adicional:
Se recomienda la inscripción, pero no es necesaria para participar en este increíble día
Hay que pagar para hay que pagar por estacionamiento en el Parque Estatal de Cape Lookout ($5)
Por favor, prepárese para las dinámicas condiciones meteorológicas de la costa. Puede haber desde sol hasta viento y lluvia.