Planning things with others is a key part of UX. Come learn about the creation process with others and how it informs research and strategy.
About this event
When you plan or make something with others, do you think of it as a method or a philosophy?
This talk aims to explain different dimensions of co-creation with a bit of theory, a dash of case studies, and a sprinkle of takeaways. In all, this will be a critical appreciation for the creation process with others and how it informs research and strategy.
Agenda
6:00 p.m.-6:10 p.m. (Central time, similar to Chicago and Dallas, USA) - Introduction and announcements for UX Research and Strategy + Service Design Network
6:10-7:00p.m. (Central time) - Speaker + Q&A
7:00 -8:00 p.m.(Central time) - Networking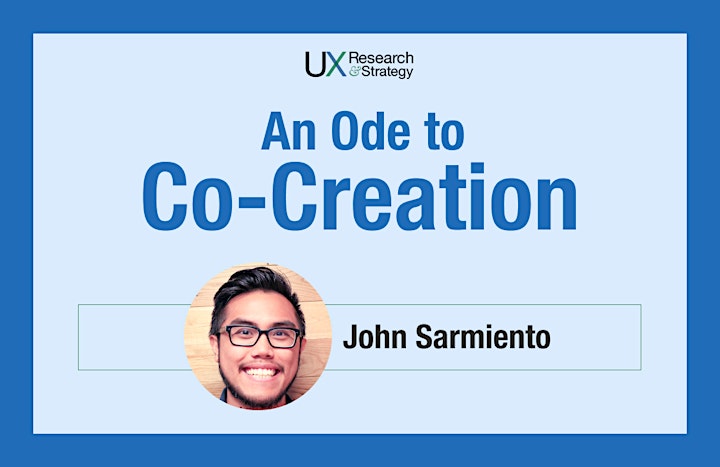 Speaker
John Sarmiento is a dreamer and touts himself as a professional collaborator. When it comes to human-centered research, John thinks about how to best use his technical training in multidisciplinary teams. He is the Lead UX Researcher at Cariloop, has a graduate-level background in public health and anthropology, and enjoys mentoring and learning within the broader UX community, especially with UXRS.
This event is limited to the first 1,000 who enter the Zoom meeting.
We know these speakers are going to be awesome and high demand. So please consider whether you will actually be able to attend to make room for those who are eager to be there.
Due to recent Zoom interruptions, we have instated new protocols to protect our event attendees. Those who act inappropriately will be removed from the event and not permitted to re-enter. Additionally, if you choose to leave the event, these new Zoom restrictions will also apply to you and you will not be allowed to re-enter the event.
** Please Consider Donating **
A Donation Ticket to this webinar is the same as a regular admission ticket to the event. Plus, you are helping keep this event FREE for attendees around the world. Please consider getting a donation ticket as your admission ticket to help UX Research and Strategy provide events like this to the UX community.
Host: UX Research and Strategy
UX Research and Strategy is a registered 501c3 group devoted to teaching and exploring topics related to User Experience Research and Strategy. Started by three very talented ladies, Jen Blatz, Lorie Whitaker and Lauren Singer, who saw the need to address the gap in these topics in the local UX community. The hope for this group is to enrich and complement the UX Design community through knowledge sharing and partnership.
Whether you are a researcher, designer, product owner, strategist, content creator, project manager, developer, technologist, marketer, customer experience pro or any other discipline, please join us.
For more information:
Please note that by attending our events, you are granting us permission to potentially use a photograph including you on our social media channels and website. Don't worry, we will try our best to make you look good.
For online events, and for your privacy, if you do not want your name or image potentially appearing on a Zoom screen, please anonymize your name in Zoom and hide your video.
Please note, we are unable to refund donations.
A Zoom link to the webinar will be provided in your confirmation ticket. Scroll down through the email and you will see the zoom link to join.
UXRS a code of conduct. But getting a free or donation ticket to our events, you agree to read and abide by the conditions of this code of conduct. Failing to do so will result in immediate removal from our events and any social media channels. We expect you to be respectful of everyone on our UXRS community.
Thank you for your support!

Organizer of An Ode to Co-Creation: UX Research Method
UX Research and Strategy is a registered 501c3 organization, and was founded by three former co-workers who saw a gap in the user experience meetup market. Based on community feedback, we formed a group that is dedicated to teaching topics in UX research and strategy.
Our goal is to make these topics both approachable and actionable by ensuring our attendees come away with concrete examples of how to confidently implement user experience research and strategy methods in their day-to-day projects and work.