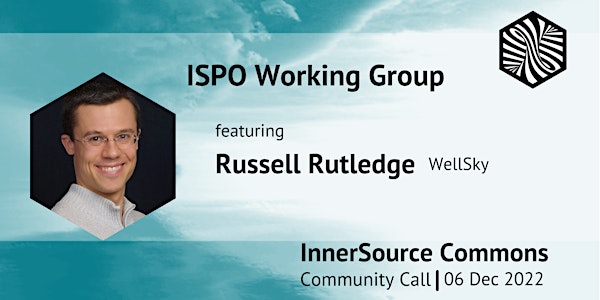 An ISPO Working Group for the ISC
How to create a plan for open-source documentation, tooling and training for overcoming InnerSource-related challenges
About this event
Many of us in the ISC are in charge of the adoption of InnerSource at their respective company. We all need to teach and enable people and teams at our companies to practice effective InnerSource. We need documentation and tooling to overcome the challenges associated with adopting InnerSource. We need training to enable people to apply that documentation and tooling. Each of us is creating this documentation, tooling, and training within our company.
While no two of our companies are exactly the same, not each company is wholly different, either. We must work together to create open-source documentation, tooling, training for overcoming InnerSource-related challenges. We must practice what we preach and stop duplicating work in creating solutions specific to each company. Since not all companies are the same, there may be more than one solution for a given InnerSource challenge, but there will not be an infinite number of solutions either.
This session will discuss forming an ISC working group to document challenges that we have and plan that solutions to those challenges are implemented as much as possible in the open. Many of these open implementations may result in contributions existing ISC working groups, but it's also possible that we may start some new projects. Let's get together to discuss this idea and how to organize ourselves to accomplish it.
See ISPO Working Group Charter.
After the initial panel discussion, we will be facilitating an open Q&A on the topic that will be held under the Chatham House Rule. Join us there to share your insights, challenges and best practices.
This community call will be starting at 5pm GMT / 6pm CEST / 11am CST / 9am PST
AGENDA
Please note that doors will open 15 minutes before the session starts, and we encourage you to join for some virtual hallway chat.
[05 mins] Welcome
[25 mins] Panel
[25 mins] Community Discussion: This part of the community call will be held under the Chatham House Rule. Participants will be free to use the information received, but neither the identity nor the affiliation of the speaker(s), nor that of any other participant, may be revealed. This part of the event will not be recorded.
[5 mins] Wrap-up
We typically also leave some space after the formal end of the event for some more informal chat. Please feel free to join us.
SPEAKER BIOS