Sales Have Ended
Ticket sales have ended
Ticket sales have ended.
Sales Have Ended
Ticket sales have ended
Ticket sales have ended.
We are honored to be bringing back An Irish Christmas to the Golden State Theatre! Kick-off the holiday season on the right foot!
About this event
Show Schedule:
Doors: 7:00pm
Show: 8:00pm
COVID-19 INFO:
The Golden State Theatre is requiring a negative COVID-19 test within 72 hours or proof of full vaccination for entrance into the venue. At this time, masks are optional but strongly encouraged!
The Golden State Theatre is committed to the safety and health of every patron. This event's status may change due to developing local, state, and federal safety policies, but we'll keep you posted if that's the case.
Refund requests will only be honored if this show is canceled or needs to be postponed for any reason. Refund requests will NOT be honored if a change of venue (i.e. an outdoor venue) is required due to local, state, or federal safety policies. Refund requests will also NOT be honored due to changes in the Golden State Theatre's COVID-19 attendance policies. By purchasing a ticket, you agree to this refund policy.
An Irish Christmas 2021 Artist Bios:
Koral Aakre (Soprano): Koral moved to Los Angeles from Coos Bay located on the beautiful southern Oregon coast. She comes from a family of singers and began voice lessons from her father at age seven. Koral is well known in Oregon's Bay area. She was a dancer and singer in Oregon's Little Opry on the Bay. Upon graduation from high school she toured the East Coast for one year with Lutheran Youth Encounter's Christian Rock Band, "Captive Free." She returned to Oregon to earn a degree in vocal performance from Southern Oregon University where she studied opera. She performed with the Rogue Opera, Opera in the Streets, Brava Opera Workshop, SOU Chamber and Concert Choir and the Southern Oregon Reparatory Singers. Prior to moving to Los Angeles, she worked as a campaign manager and legislative assistant for Senator Arnie Roblan. She was honored to sing multiple times for the Oregon State legislative assemblies. Working in the Oregon Legislature was an honor and a privilege, but singing was her passion so she headed to Los Angeles where she auditioned for her first season with "An Irish Christmas." She loves performing with Kerry Irish Productions and is excited to perform in other projects with the company. Koral is the great great-granddaughter of Bridgette Conlon who emigrated from Ireland as a mail order bride. Koral has become more rooted in her Irish heritage since joining the company three years ago and her grandmother, Bernyce, would burst with pride to hear her sing today.
Colm Alba (Kerry Dance Troupe): Colm began dancing at the age of four with the Kinsella Academy of Irish Dance, founded by his brother Ryan and sister in law Brigid. Throughout his dancing career he has competed at both the national and world stage levels winning awards in both solos and team competitions, placing in the top 10 on several occasions. Becoming Kinsella Academy's first Mid America Oireachtas Champion is his most prized accomplishment. Colm also has performed on the theater stage in numerous high school and college productions. He is looking forward to graduating in May from the University of Wisconsin La Crosse with a degree in history education. Colm is very excited to be a part of An Irish Christmas 2021, and hopes to continue his passion for Irish dancing in the future.
Emily MacConnell (Principal Dancer): Emily MacConnell hails from Lancaster, California. She began dancing at age 5 when her mother put her into an Irish dance class after reading an advertisement in the local newspaper. Emily has danced for 17 years and has placed as high as 8th in the world, 3rd at the All-Scotland championships, 3rd in the Nation, and 1st in her own region (Western US) and Southern England regions (having competed there when she studied abroad in London, England) under the direction of the Butler-Fearon O'Connor School of Irish Dance. Emily, a theatre major at the University of Southern California graduated in May. Emily is very happy to tour with An Irish Christmas and is thankful and delighted to be able to be a part of it. "To dance is to be out of yourself, larger, more beautiful, more powerful. This is power, it is glory on earth and it is yours for the taking."-Agnes de Mille
Tyler Schwartz (Principal Dancer): Tyler Schwartz has been Irish dancing for the past 20 years; competing, performing and spreading the art form. He was most recently named Irish Dancing Magazine's "Man of the Year"! A World Champion, Tyler has also competed and won the All-Ireland, North American, Great Britain, and the All-Scotland Championships. He has been the lead dancer in many productions, including Celtic Wings, Rockin' Road to Dublin, Busch Gardens Celtic Fyre, and Gaelforce Dance. Most recently, Tyler gained global attention as Instagram's St. Patrick's Day featured dancer. Since then, he has been highlighted in a NowThis video, as well as BuzzFeed, and others! He is a brand ambassador for Capezio, taking Irish dance to the mainstream stage! This is Tyler's second season as principal dancer with An Irish Christmas.
The Kerry Voice Squad. Five years ago a search began for three classically trained voices that would be equally at home singing the classics and traditional Irish songs. The search brought together a team of extraordinary artists and The Kerry Voice Squad was born! Since then, the ensemble has performed in over 50 US cities to date with Kerry Irish Productions Inc.
ROSA EVANGELINA is a versatile vocalist based in Los Angeles. She has recently performed with Pacific Opera Project, Brown Fist Productions, Center Stage Opera, Santa Monica College Opera Theater, Guild Opera, the Ventura County Gilbert & Sullivan Repertoire Company, and the West Valley Playhouse. Her opera and operetta credits include Le nozze di Figaro, Die Zauberflöte, Gianni Schicchi, Suor Angelica, Carmen, Roméo et Juliette, L'elisir d'amore, Il Campanello, The Pirates of Penzance, and Utopia, Limited. Recent highlights in her performing life include premiering the role of Lota in the sci-fi opera The Dream Maker by John Haukoos and singing the role of Xochiquetzal in El Circo Anahuac, a new opera in Spanish, English, and Nahuatl by David Reyes with libretto by Maria Elena Yepes. After college, she was awarded the Michael C. Rockefeller fellowship to travel to Mozambique, where she lived for a year and collaborated with several locally based ensembles on bossa nova and mariachi repertoire at the French-Mozambican Cultural Center. Born in Mexico and raised in Ontario, California, Rosa holds a Bachelor's degree in History and Literature from Harvard University, where she sang with the Radcliffe Choral Society and Mariachi Veritas. She is an alumna of Opera NEO, OperaWorks, and the Los Angeles Valley College applied music program.
Jesse Langen (Guitar): is a guitarist who plays a variety of styles of music. He has been featured with The Chicago Symphony, Lyric Opera of Chicago, and recently in "I am Ireland" on PBS. Jesse and his brother Tim grew up learning fiddle tunes from their grandfather Clarence, and that grounding laid the foundation for Jesse's approach to traditional music. In Irish music, he can be heard regularly in sessions around Chicago, as well as in the band Compas with his brother Tim and bodhran player Amy Richter. In other styles of music, he can be heard in Chicago, throughout the country and elsewhere in the world with Ensemble Dal Niente, in Hasco Duo with Soprano Amanda DeBoer Bartlett, in Soundboard with harpist Ben Melsky, and in Katet with singer/songwriter Katie Jimoh and percussionist Tim Mulvenna. He teaches guitar and composition at Chicago Academy for the Arts.
Evelyn Thom (Fiddle): Hailing from Chicago, Evelyn Thom is a multi-instrumentalist with focus on guitar and fiddle. She was thrilled to open for Lúnasa with the Irish Music School of Chicago, and for Socks in the Frying Pan with the Shepherd School of Music. At a soloist, Evelyn has competed at the All-Ireland many times and holds several regional medals from the Midwest Fleadh, winning the gold standard in 2020. She was also a youth scholarship recipient for the Swannanoa Gathering, Scoil Éigse, and the Francis O'Neill Irish Arts week. Evelyn started fiddle lessons at nine years old and now studies with Sean Cleland and Rachel Brown on fiddle/violin. Evelyn also studies with Jesse Langen on Irish and jazz guitar. In part, she attributes her success to the teachings of Liz Carroll, Dylan Foley, Oisín Mac Diarmada, James Kelly, Martin Hayes, Liz Knowles, Devin Shepherd, and Marta Cook. Currently, Evelyn teaches her own students in the Chicagoland area. Evelyn has enjoyed performing around Chicago and on the gig rig stages at the All-Ireland Fleadh. She frequents local sessions and has competed with bands from the Irish Music School of Chicago, the Shepherd School of Music, and the Center for Irish Music from Minnesota. Additionally, her music can be heard on all social media platforms, including the podcast For No Reason, hosted by Hollie Greenwood and Evelyn. She is the 2019 winner of the Ireland Agency Award in recognition of her passionate work with the Chicago music community as teacher, performer and artist. Evelyn will begin studying Music Performance at Cornish College of the Arts this fall and is excited to continue playing, learning, performing, and teaching music for the rest of her life! This is Evelyn's first tour with An Irish Christmas and Christmas from a Celtic Table.
Mark Alfred (Bodhran): Mark Alfred, from Carrickmacross, Co.Monaghan, began playing drums at the age of four. He studied at the Royal Irish Academy of Music and Performing Arts College in Dublin. He is most recognized as being the Musical Director, Drummer and percussionist in the Grammy award winning show Riverdance. He has recorded and performed with some of the biggest Artists and Shows in the World. His ability to cross so many genres coupled with a unique and energetic style has made him Europe's most sought after, and highly regarded drummers and Percussionists of today. Mark has worked with Lionel Richie, Simply Red, Katie Melua, Josh Groban, The Corrs, Imelda may, Paddy Maloney (The Chieftains), The Divine Comedy, Mary Coughlan, Ronan Keating, Westlife, Girls Aloud, Donnie Osmond and the late Christy Hennessy. Mark is also known for his recorded drums and percussion with many recording artists. Most recently he recorded drums and percussion on Bill Whelan's new Riverdance 25th Anniversary Album which will also be the soundtrack to the New Animated film based on the stage show starring Pierce Brosnan, Brendan Gleeson and John Kavanagh to name a few. He made his debut on London's West End with the Hit show Come From Away at London's Phoenix theatre. Mark was honoured to have been part of the team of Composers, Musical directors and band to receive an Olivier Award for outstanding Achievement in music. Mark was also Musical Director with International show Heartbeat of Home. Mark proudly endorses: Pearl Drums, Zildjian Cymbals, Evans Drumheads, Vater Drumsticks, Protection Racket Cases, Sensaphonics, and Poter and davies thrones. And would like to thank them for their continued support. This is Mark's second season with An Irish Christmas!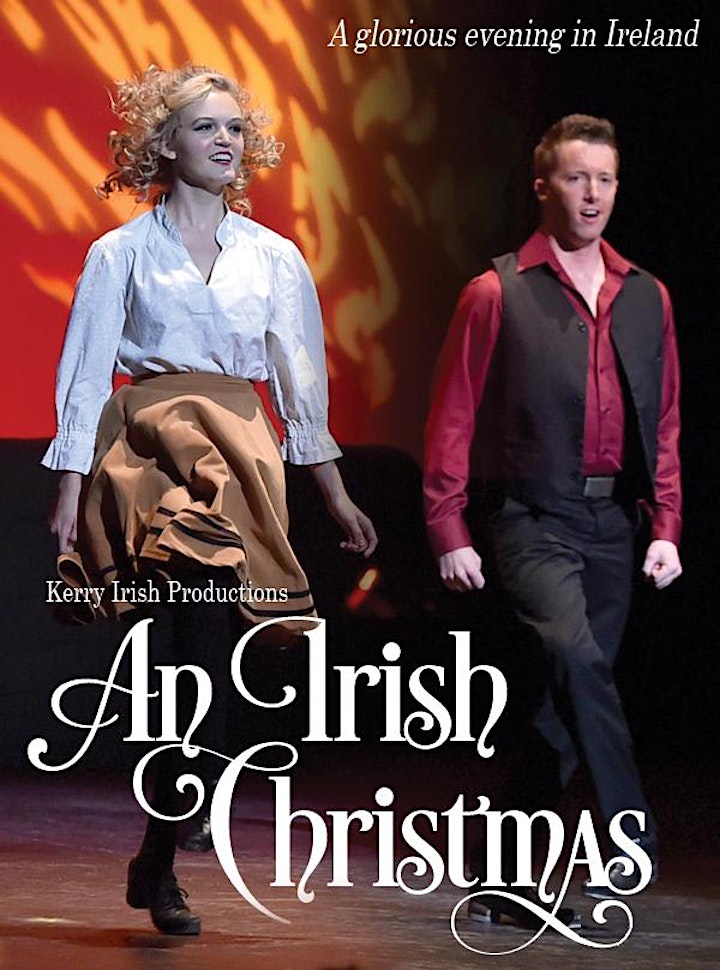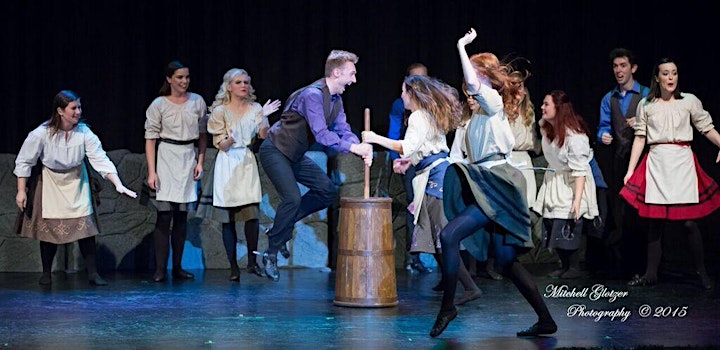 Organizer of An Irish Christmas
Designed by the noted San Francisco architectural firm of Reid & Reid, the Golden State Theatre is a atmospheric movie palace. The interior features walls inspired by a Moorish castle and the ceiling has a fresco of a "canopy" with slight borders of "sky" showing around the perimeter. This gives the feeling of sitting in an open-air courtyard. The theater was originally equipped with lighting to simulate sunrises and sunsets.