Description
"I have been recently diagnosed with adult ADHD, predominantly inattentive type. My concentration is very bad, and I am most distracted by both outside noises and inner thoughts. When I entered the space in the (BioGeometry) pavilion, I felt like the noise in my head was quieting down. I was better able to listen and direct my attention to one speaker at a time within the first 10 minutes of my presence there, something I can call an achievement. I wish you all the best in making this more available to people who truly need it. It is a fantastic idea." --- Esraa (facebook)
In our modern world, we constantly interact with computers, cell phones, microwaves and WiFi networks, all of which produce powerful electromagnetic fields. Such devices disturb our biological energy fields and make our nervous, immune, digestive and endocrine systems less effective. If, however, we add a balancing geometric shape to the design of the device or we separately make it part of our energy field, it will restore harmony.
In BioGeometry, we unlock nature's own design language at the archetypal level of the universe and learn how to detect, create and amplify the beneficial centering energy quality called BG3. By applying an ancient worldview of a qualitative universe in modern science, we can transmute environmental energy disturbances in our bodies, including those from electromagnetic radiation, structural design, material, chemical, geopathic stress, as well as food and drink.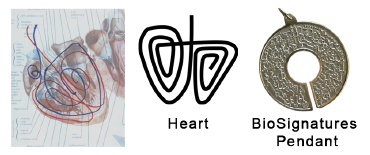 BioGeometry Signatures, based on over 45 years of applied research by Dr. Ibrahim Karim, are linear diagrams that help balance the subtle energy of body organs and systems. These powerful, but simple shapes, create energetic patterns that introduce equilibrium and harmony into our vitality, emotional and mental well-being, as well as mitigating the effects of electro-pollution and geopathic stress on our bodies.
Join Jean Menges for an introductory lecture on BioGeometry BioSignatures. All participants will learn how to create a BioSignatures Emitter to balance and support the subtle energy healing of various organs and systems of the body.
Jean Menges is a Licensed BioGeometry Environmental Home Solutions Practitioner and an acupuncturist practicing in New York City. Jean has extensive training and background in bioenergetic medicine, nutrition and herbal medicine. She also has a background working in research on molecular genetics and infectious disease. She is a teaching assistant for the BioGeometry Foundation and Advance Training, and an official retailer of the BioGeometry personal energy balancing and home harmonization products.
Here is more information about BioGeometry and learn more on YouTube.
Order online products for EMF harmonization, personal energy balancing, and home & car protection products.