Sales Have Ended
Ticket sales have ended
Thank you for registering, we look forward to seeing you at our event.
Sales Have Ended
Ticket sales have ended
Thank you for registering, we look forward to seeing you at our event.
Description

Join us for our hands-on-workshop where we will introduce you to the next evolution of the Microsoft .NET platform!
Come and meet the 'core' version of .NET, then take it to the next level by running everything inside OS level virtualisation via Docker.
Seats are strictly limited! Register today to secure your place.
What people are saying
"Totes recommend it. Changed my life." — Joshua Wulf Legendary Recruiter @ JDP

"Went along to see where DotNet Core on Linux was at and find out about Docker. Both of these expectations were met with flying colours." — Anonymous
"This session has definitely opened my eyes to new possibilities for my personal projects and also my day job." — Anonymous
What you need to bring
1. A 64-bit laptop
2. Running a 64-bit version of Windows, MacOSX, Linux (or other 64-bit OS running VirtualBox)
3. With at least 4GB of RAM
4. And at least 32GB of free disk space
5. Including WIFI of some kind
6. And the power adapter for that laptop! ;)

Prerequisites (or we will show you on the day)
1. Enable all Virtualisation options in your BIOS/EFI (VTx/VTd/etc)
2. (Windows-only) Confirm all is well via https://downloadcenter.intel.com/download/7838/Intel-Processor-Identification-Utility-Windows-Version
3. (Windows-only) If you have Hyper-V installed, you may need to (temporarily) uninstall it to avoid Hyper-V "taking exclusive ownership" of your hardware-assisted virtualisation
4. Install the latest VirtualBox (5.1.x) and VirtualBox Extension Pack (5.1.x)
5. Confirm VirtualBox lists (64-bit) guest operating systems to ensure your harware virtualisation is enabled

What to expect
During the session we'll set up a Linux development environment in a virtual machine 'from scratch'. We will then introduce you to the operating system, software package management, text editors and so on that will make you productive.
We will then take you through the process of getting both the .NET and ASP.NET Core toolchains up and running on Linux so you can say hello to that new world.
Finally - we'll show you how to set up Docker and show you host your .NET and ASP.NET Core applications in Docker for both development and production purposes.
The outcomes of the workshop
You will take away a new shiny Linux VM ready to go on your next big (or small) software project.
You will also take away all the workshop materials to share your new found love of Linux with your company and your friends.
Agenda
9:30 AM - 9:45 AM
Welcome & Overview of the future (Cross-Platform .NET & Docker)
9:45 AM - 10:30 AM
Installing Virtual Box & Ubuntu
10:30 AM - 10:45 AM
Morning Break
10:45 AM - 11:30 AM
Ubuntu Configuration & Maintenance for the Software Developer
11:30 AM - 12:15 PM
.NET Core 'Hello, world!'
12:15 PM - 1:00 PM
Lunch (Lunch provided)
1:00 PM - 1:45 PM
ASP.NET Core 'Hello, world!'
1:45 PM - 2:30 PM
Docker 'Hello, world!'
2:30 PM - 2:45 PM
Afternoon Break
2:45 PM - 4:30 PM
Putting all the pieces together & Building your own ideas!
About the presenter
Tod Thomson is a Senior Consultant at Readify who loves sharing his knowledge and learning from all who will take the time to teach him.
By day he works with Readify's clients to deliver outstanding software with velocity and uncommon sense.
By night he tinkers with Linux, .NET & ASP.NET Core, Docker, JavaScript, Node and any functional programming languages he can get his head around.
You can find out more about Tod on his Blog, LinkedIn, Twitter, GitHub and Stack Overflow.
Principal Consultant Liam McLennan and Senior Consultant Jakob Højgaard will also be assisting on the day.
Parking
A free public car park is located near the car wash (as shown below in red) where you can park for the whole day. It is a five minute walk from this car park to the Edge Building (home to Youi Insurance).
Visitor parking at the Edge Building is limited to 2 hours. Please note body corporate is strict and they may fine if vehicles stay beyond permitted time. This is out of our control.
Attending the workshop
On arrival please present with your ticket to Youi reception in the West building (as shown below in blue) where you will be provided with a visitor's name badge and subject to the mandatory fire awareness training.
Once all attendees have arrived (circa 9:15am) you will be escorted to the Youi boardroom on the top floor in the East building (as shown below in green) for the workshop's 9:30am start.
Lunch
Lunch will be provided. Please advise if you have any special dietary requirements and we will try to cater for them if we can.
Map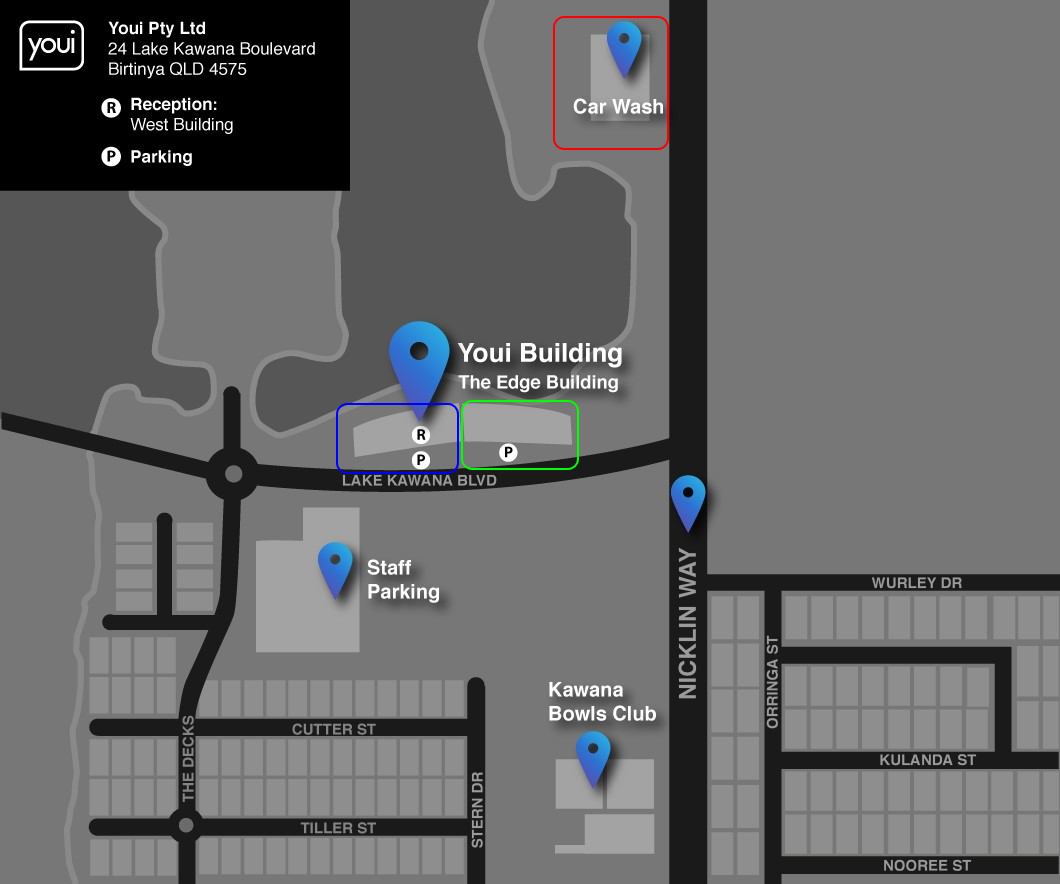 Date and Time
Location
Youi Insurance
The Edge Building
24 Lake Kawana Boulevard
Birtinya, QLD 4575
Australia