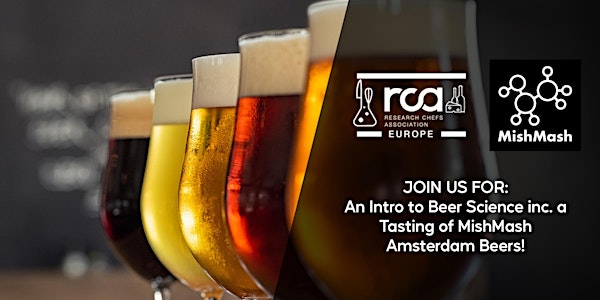 An Intro to Beer Science inc. a Tasting of Beers From MishMash Amsterdam
Join RCA Wageningen for a masterclass in beer science followed by a tasting of different specialty beers!
When and where
Location
Forum - Wageningen Campus (room: B0521) 2 Droevendaalsesteeg 6708 PB Wageningen Netherlands
About this event
Dimitris Lykomitros from MishMash Amsterdam will provide a brief overview of beer styles and the brewing process, with special emphasis on the ingredient and process steps that are commonly adjusted to deliver specific flavors in the final product. We will conclude the event with a tasting of some beers from the brewery, as well as some examples of process defects discussed in the first part.
Dimitris is a food scientist by training (Leeds University, Cornell University, and Wageningen University) and lives in Amsterdam where he works at Cargill R&D. Dimitris also holds an Associate degree in culinary arts, which is what lead him to the Research Chefs Association in 2008, and is now the co-founder of the Europe region. He has worked in corporate innovation for the last 15+ years mainly in cocoa/chocolate and snack foods (PepsiCo), and was fortunate to have been involved in several product launches and patents around the world. In 2019, Dimitris co-founded MishMash Amsterdam, "Amsterdam's first beer laboratory" where he indulges his passion for great beer with a twist.
Want to learn more about RCA Wageningen?
Visit rcawageningen.com to check our website.