An International Symposium on Design Education

Wednesday, 22 April 2015 from 10:00 to 14:00 (CEST)
Event Details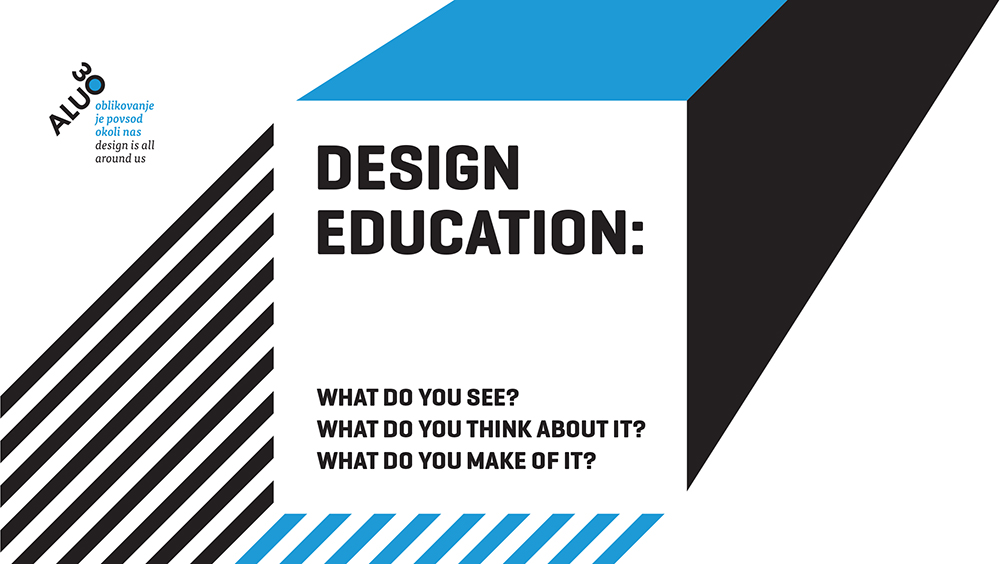 ALUO DESIGN TALKS
A one-day international symposium on (alternative) pedagogical practices
April 22nd 2015
Klub Cankarjevega doma, Ljubljana, Slovenia

Symposium Speakers: David Erixon, Tony Fry, Teal Triggs
Program
We've reserved a 45-minute slot for each lecture.
The lectures will be followed by a moderated discussion.
Moderators: Petra Černe Oven and Barbara Predan (Project Managers and Coordinators)
----
Research focus
Design Education:
What do you see? What do you think about it? What do you make of it?
The turn of the millennium witnessed many fresh strides toward a new thinking in design education. In 2001 Alain Findeli set out three priorities for the design field: 'a discussion on the purpose of design', 'the reform of design education', and, as 'there can be no responsible design without a responsible designer, … the development of an individualistic ethics'.
The symposium will address Findeli's priorities, particularly the reform of design education. Lately, there have been numerous calls for a thorough reform of the field. We're told that change is overdue, but have these calls contributed to any noticeable change in the practice of design education? Are we treading the path shown to us by Alain Findeli ... or are we stuck, unable to move past the first priority?
In his book Becoming Human by Design, Tony Fry introduces a new way of understanding the objective of design. Fry writes: "We have always been partly formed by the way we form our world, what we have never done is to make such action a conscious, directed and deliberate transformation of the self." This fundamental change of the purpose of design sheds a new, profoundly critical light on Findeli's priorities. The question is: what do we see in this new light?
----
After the end of the international symposium, a book will be published that will include, in both Slovene and English, the texts of the lectures, as well as selected texts on the topic.
----
Short biographies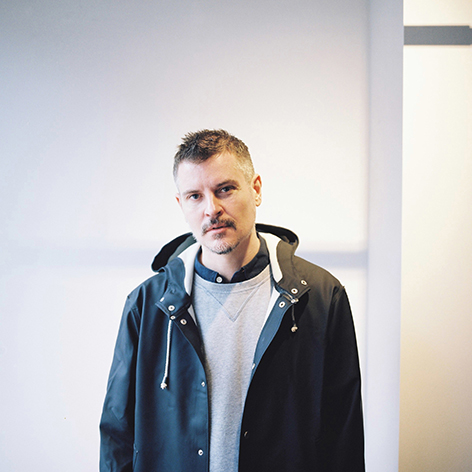 David Erixon (Ireland/Sweden)
After co-founding the world renowned school Hyper Island (1996), and digital service design agency Doberman (1999), David spent over 10 years in senior commercial and marketing leadership positions at Vodafone, including six years as Global Brand Director where he worked on all major M&As and business, brand and culture transformations, opening up markets such as China, India, Ghana, Qatar, New Zealand, Romania, Czech Republic and South Africa.
David is also Programming Director at Strelka Institute in Moscow and runs a research studio on customer focus and urban planning. He's also a Senior Lecturer at Hyper Island on Customer Focus and Digital Transformation and together with Prof. Sandra Vandermerwe, David runs Executive Training in Customer Centric Innovation, Technology and Business Transformation at Imperial College Business School in London.
David was appointed Vice President of Products & Customer Experience for the Russian telecom innovator Yota, and was part of the leadership team that created the world's most advanced 4G network, successfully branching out into entertainment and media services, banking and connected products. David is now working as consultant, facilitator, coach and speaker on Customer Centricity, Disruptive Innovation and Business Transformation, on industry projects, corporate accelerators, research initiatives and executive training.
Board experience include Lunar Mobile (the first youth oriented MVNO in Sweden) and Lansforsakringar (one of the biggest insurance and banking companies in Scandinavia) and Megafon OSC (the second biggest mobile operator in Russia). David is a Board Trustee for D&AD, member of the Talent Board for Bulo and a senior advisor to The Pop-up Agency.
Clients over the past five years include Unilever (Home Care, Personal Care, Refreshments, Global Marketing), Target, Mondelez LatAm (Cadbury-Kraft merger), Raiffeisen Bank Czech Republic, P&G Oral Care, Grey Advertising, JWT, RKCR, DDB, Volcom, Puma, Sky UK, Viasat / MTG Emerging Markets and Delvaux.
Links
www.hyperisland.com
www.doberman.se
www.strelkainstitute.com/en

--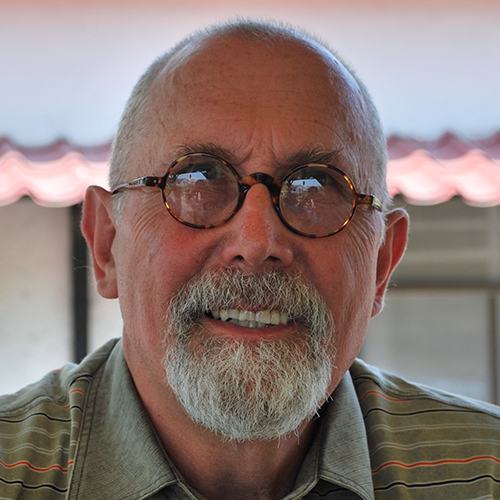 Tony Fry (Australia)
Tony Fry BA (Hons) Design, MA, PhD Cultural Studies, is a designer, design theorist, cultural theorist, educator and author. He is the creator of The Studio at the Edge of the World, Adjunct Professor, Griffith University, and a contributing editor of the e-journal Design Philosophy Papers.
Tony was Professor, Design Futures, Griffith University (2007-2014), the founding director of the EcoDesign Foundation, Sydney (1991-2001), Adjunct Professor, Faculty of Design, Architecture and Building, University of Technology, Sydney, (1998-2001); Honorary Research Associate, University of Sydney (1996-2001); Associate Director. University of Sydney National Key Centre of Design Quality (1991-92); Senior Lecturer in Design and Theory, Power Institute, University of Sydney, (1985-96). He has held visiting professorships, lectureships and fellowships at universities in Australia, Asia, Europe and in North and South America. He has also run many professional development courses and seminars for the Royal Australian Institute of Architects (NSW and Queensland Chapters).
As a consultant Tony has worked in many areas of design, sustainability and futures for the corporate sector, professional organizations and government. These included: UNESCO, BHP Steel, the Institution of Engineers Australia, Toyota, the former Australian Federal EPA, New South Wales State EPA, New South Wales Departments of Urban Affairs, Planning, Housing, the Department of State Development, The Learning Federation, Arts Queensland and the South East Queensland Western Catchments Group. He was an environmental design manager for several Sydney Olympics venues. Tony also led a Griffith University, AusAID funded research and development project to create a college of indigenous creative industries in East Timor (2009-2012), and Design Leadership workshops in Paris (2012), Thessaloniki (2013), and Cairo (2014).
He was also a selected member of the EU funded International City Move workshop in Gellivare, Sweden in 2009. In 2011 Tony was a co-leader of the 'Suma Vada' Research Laboratory, Kerala, Southern India (Australia Council Project). Currently he is working on project in Cairo and with Ibagué University (Colombia).
Tony is the author of twelve books, has edited three, has essays in twenty-four collections and has over 200 published articles and conference papers. His latest book City Future in the Age of a Changing Climate was published in Europe and the USA in October 2014. Currently he is working on a commissioned book on Remaking Cities, based on the concept of 'Metrofitting'. His books on Design and the Question of History, jointly authored with Clive Dilnot and Susan Steward, and Steel: A Design, Cultural and Ecological History, jointly authored with Anne-Marie Willis were published in early 2015.
--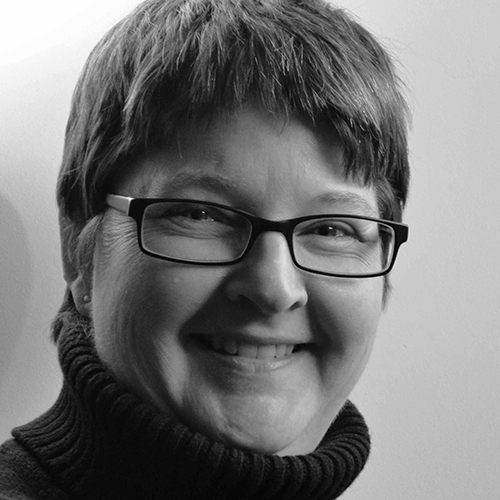 Teal Triggs (Great Britain/USA)
Teal Triggs is a Professor of Graphic Design and Associate Dean, School of Communication, Royal College of Art, London. She is also an Adjunct Professor at RMIT, Australia. Previously she was co-Director, Information Environments – a research network across University of the Arts London as well as Acting Course Director, MRes Information Environments and Course Director, MA Design Writing Criticism.
As a graphic design historian, critic and educator she has lectured and broadcast widely and her writings have appeared in numerous edited books and international design publications. Her research has focused primarily on design pedagogy, self-publishing, and feminism. Teal has received several project grants for her work on feminism and design (AHRC) and more recently, she was recipient of a Harry Ransom Center Fellowship for the Humanities, University of Texas at Austin, where her research focus has been on the American editor Fleur Cowles and her influential lifestyle magazine Flair (1950-1951). Her research has also extended into community-based learning projects including 'A Sense of Place: Life Histories of Residents on the Aylesbury Estate' funded by the Department of Business, Innovation and skills, as well as 'Creative Connexions: Thinking about Thinking', exploring craft and design education at the National Institute of Design, India. She has also led a number of interdisciplinary research teams in developing methods combining social science and design-led solutions including co-Investigator on Designing for the 21st Century Research Cluster: 'Digital Design, Representation, Communication and Interaction: Screens and the Social Landscape' (AHRC).
Teal is also Editor-in-Chief of the Journal of Communication Design (International Council of Design) and co-editor of Visual Communication (Sage) and Associate Editor of Design Issues (MIT Press). Teal has just completed her first children's book titled The School of Art (Wide Eyed Editions) and is currently co-editing with Leslie Atzmon The Graphic Design Reader (Bloomsbury). Her previous books include: Fanzines and The Typographic Experiment: Radical Innovations in Contemporary Type Design, both published by Thames & Hudson. She is a Fellow of the International Society of Typographic Designers, the Royal College of Art and the Royal Society of Arts.

----



Operacija se izvaja v okviru Operativnega programa razvoja človeških virov za obdobje 2007-2013, razvojne prioritete 3: »Razvoj človeških virov in vseživljenjskega učenja«; prednostne usmeritve 3.3 »Kakovost, konkurenčnost in odzivnost visokega šolstva«.

When & Where

Klub Cankarjevega doma
Prešernova cesta 10
1000 Ljubljana
Slovenia


Wednesday, 22 April 2015 from 10:00 to 14:00 (CEST)
Add to my calendar