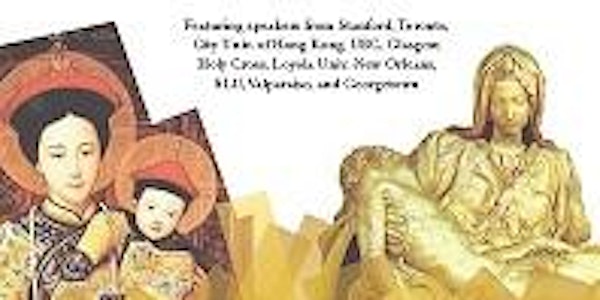 An International Conference on Confucianism & Catholicism: Reinvigorating t...
Location
Mortara Center Conference Room
3600 N Street, NW
Washington, DC 20057
Description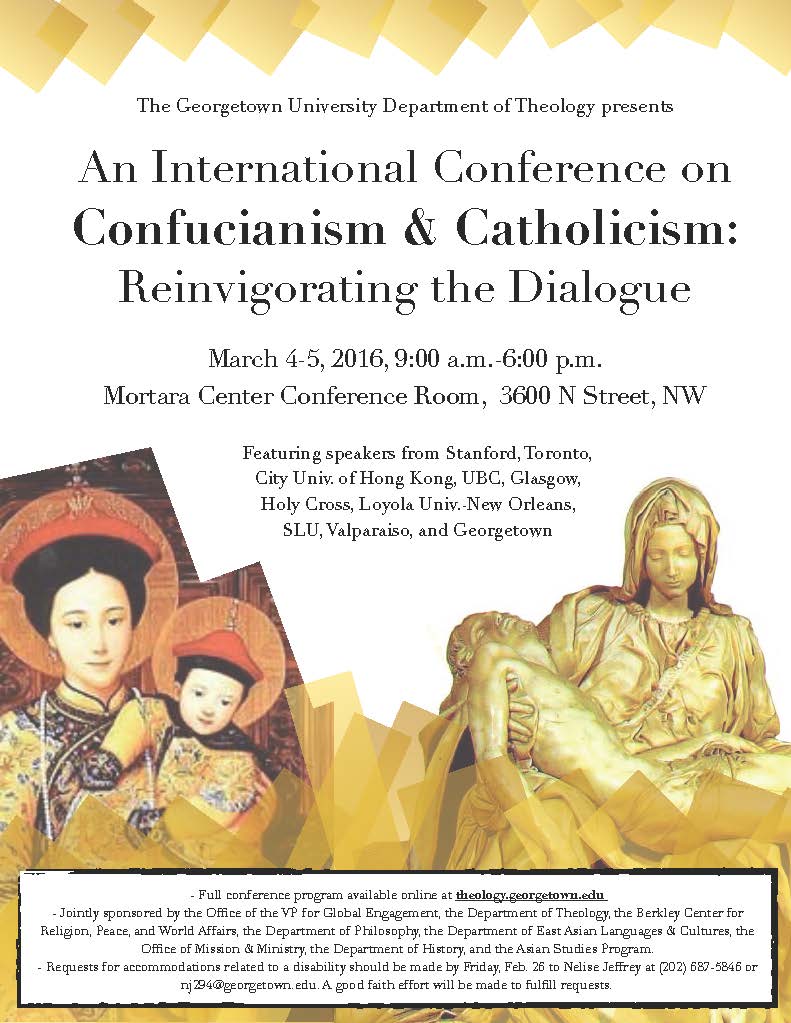 This international, interdisciplinary conference on Confucianism and Catholicism is a collaborative effort of faculty from Georgetown University and the Center for East Asian and Comparative Philosophy at the City University of Hong Kong, jointly sponsored by Georgetown's Department of Theology and the Office of the Vice President for Global Engagement, with additional support from the Berkley Center, the Asian Studies Program, the Dept. of Philosophy, the Dept. of East Asian Languages and Cultures, the Office of Mission & Ministry, and the Dept. of History.
The conference brings together Georgetown's strengths in East Asian Studies with its Catholic and Jesuit identity, including strengths in Catholic theology and philosophy and inter-religious dialogue. Indeed, the conference extends Georgetown's already prominent position as a leader in inter-religious dialogue beyond the Abrahamic traditions to the traditions of East Asia. Participants include scholars from the disciplines of theology, religious studies, philosophy, history, and East Asian studies, whose expertise spans the four most Confucian cultures of East Asia: China, Korea, Japan, and Vietnam. The conference is truly international, including Georgetown faculty joined by scholars from universities in China, Hong Kong, Canada, the U.K., and the U.S. (including two other Jesuit universities). Our aim is to bring together specialists in Confucianism, Catholicism, and inter-religious dialogue to examine the resources that the Confucian and Catholic traditions might have for helping us to better understand the commitments and values of both traditions and for addressing a variety of issues in a mutually supporting way. As a Catholic and Jesuit university, such dialogues are central to our mission and are an important way of carrying on the important work that began with Jesuits like Matteo Ricci, S.J., and which has particular significance in the more global world in which we live today.
The conference is free and open to the public, and faculty, graduate students, and undergraduate students from Georgetown and the D.C. region with interests in Confucianism, Catholic theology and philosophy, and inter-religious dialogue are encouraged to attend and join in our conversations.
This conference is jointly sponsored by the Office of the VP for Global Engagement, the Department ofTheology, the Berkley Center for Religion, Peace, and World Affairs, the Department of Philosophy, the Department of East Asian Languages & Cultures, the Office of Mission & Ministry, the Department of History, and the Asian Studies Program.
Requests for accommodations related to a disability should be made by Friday, Feb. 26 to Nelise Jeffrey at (202) 687-5846 or nj294@georgetown.edu. A good faith effort will be made to fulfill requests.