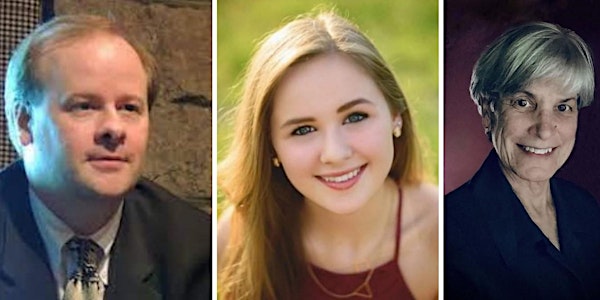 An "Historic" Evening w/Authors JON JORDAN, RONA SIMMONS, EMILY JORDAN
Join local authors/historians JON JORDAN, RONA SIMMONS, AND EMILY ANNE JORDAN as they discuss their "historic" works.
When and where
Location
NEW LOCATION Alpharetta Public Library 10 Park Plaza Alpharetta, GA 30009
About this event
ABOUT JON JORDAN
Jonathan W. Jordan is a military historian and an award-winning author of three books, including the New York Times bestseller Brothers, Rivals, Victors: Eisenhower, Patton, Bradley and the Partnership that Drove the Conquest of Europe; American Warlords: How Roosevelt's High Command Led America to Victory in World War II; and Lone Star Navy: Texas, the Fight for the Gulf of Mexico, and the Shaping of the American West. In 2020 he coauthored The War Queens: Extraordinary Women Who Ruled the Battlefield with his daughter Emily Anne Jordan, and the father-daughter team is working on a podcast series about women as military leaders. Jon is a regular book critic for The Wall Street Journal, editor of the Library of Texas edition of To the People of Texas, a contributing author to The Amazing Book of World History and The Amazing Book of World War II, and the author of nearly two dozen articles appearing in MHQ: The Quarterly Journal of Military History, World War II Magazine, Military History, and World War II History magazines. In addition to showcasing his military history expertise in the documentary Silence Patton, he has made numerous live, televised, podcast, and radio appearances on CSPAN and public radio. Jon lives with his wife, son, and two dogs of uncertain parentage in Marietta, Georgia.
ABOUT EMILY ANNE JORDAN
Emily Anne Jordan is the author and creative force behind The War Queens: Extraordinary Women Who Ruled the Battlefield. A native of Houston, Texas, she grew up playing basketball in her hometown of Marietta, Georgia and is graduated with a Bachelor of Science in Nursing from the University of Kentucky. The War Queens is Emily's first book. "Giving the great women of history a voice has strengthened my own, and I want to share that with men and women of all ages," she says.
When not writing or working, Emily is cheering for her Wildcats on the basketball court, painting, traveling with her fiancé, mothering a newly-adopted puppy, Ladybug, and working on a podcast based on The War Queens.
ABOUT THE WAR QUEENS
History's killer queens come in all colors, ages, and leadership styles. Elizabeth Tudor and Golda Meir played the roles of high-stakes gamblers who studied maps with an unblinking, calculating eye. Angola's Queen Njinga was willing to shed (and occasionally drink) blood to establish a stable kingdom in an Africa ravaged by the slave trade. Caterina Sforza defended her Italian holdings with cannon and scimitar, and Indira Gandhi launched a war to solve a refugee crisis.
From ancient Persia to modern-day Britain, the daunting thresholds these exceptional women had to cross―and the clever, sometimes violent ways in which they smashed obstacles in their paths―are evoked in vivid detail. The narrative sidles up to these war queens in the most dire, tumultuous moments of their reigns and examines the brilliant methods and maneuvers they each used to defend themselves and their people from enemy forces.
Father-daughter duo Jonathan W. and Emily Anne Jordan extoll the extraordinary power and potential of women in history who walked through war's kiln and emerged from the other side―some burnished to greatness, others burned to cinders. All of them, legends.
"In The War Queens, a father-daughter duo charges into combat . . . romping [their] way through 'history's killer queens' . . . to make these stories come rousingly to life."―The Wall Street Journal
"The War Queens reminds us intelligently, entertainingly, and powerfully that strong-willed women have always been the equal―and very often the superior―of their male counterparts, even in the field historically most jealously reserved for men: warfare. Rarely has Rudyard Kipling's incisive truth been better proven in book form, that 'the female of the species is more deadly than the male.'"―Andrew Roberts, international bestselling author of Churchill: Walking with Destiny and Napoleon: A Life
"The War Queens triumphantly tells the story of the astonishing women who fiercely led their nations into combat―from Egypt's Queen Hatshepsut and Russia's Catherine the Great to Israel's Golda Meir. With impeccable research and gripping prose, Jonathan and Emily Jordan bring to life these powerful war queens and the many obstacles they faced while reminding us that whether they won or lost in battle, these extraordinary women earned their place in history as legends."―Cate Lineberry, bestselling author of The Secret Rescue and Be Free or Die
ABOUT AMERICAN WARLORDS
From New York Times bestselling author Jonathan W. Jordan—author of Brothers, Rivals, Victors—comes the intimate true story of President Franklin Roosevelt's inner circle of military leadership, the team of rivals who shaped World War II and America.
"Superbly written, well researched, and highly interesting."—Jean Edward Smith, New York Times bestselling author of FDR and Eisenhower in War and Peace
After the attack on Pearl Harbor, the United States was wakened from its slumber of isolationism. To help him steer the nation through the coming war, President Franklin Roosevelt turned to the greatest "team of rivals" since the days of Lincoln: Secretary of War Henry Stimson, Admiral Ernest J. King, and General George C. Marshall.
Together, these four men led the nation through history's most devastating conflict and ushered in a new era of unprecedented American influence, all while forced to overcome the profound personal and political differences which divided them.
A startling and intimate reassessment of U.S. leadership during World War II, American Warlords is a remarkable glimpse behind the curtain of presidential power.
"A page-turning chronicle of World War II. . . . Throughout, the author provides astute and clever portrayals of the leaders, including Churchill's pretense to his ancestor's abilities, Stalin's displays of compassion, and FDR's meddling in naval projects . . . Readers will enjoy the intrigue, back-stabbing, action, and diplomacy in this well-written book."―Kirkus (starred review)
"Mr. Jordan has done an admirable job of making these men come alive. He uses their own words to weave a good tale."―Walter R. Borneman, The Wall Street Journal
"[A] triumph of meticulous scholarship and keen insight propelled by a marvelously written narrative . . . Jordan's American Warlords accomplishes for FDR and World War II what Doris Kearns Goodwin's Team of Rivals achieved for Lincoln and the Civil War."―Armchair General Magazine
"An incredibly intimate account of the four men who led the nation to victory in the Second World War . . . Superbly written, well researched, and highly interesting, American Warlords is in a class by itself."―Jean Edward Smith, Pulitzer Prize Finalist, Winner of the Francis Parkman Prize, and New York Times Bestselling Author of FDR and Eisenhower in War and Peace

ABOUT RONA SIMMONS
Rona Simmons is an author of both historical fiction and nonfiction. Her first published works were novels, and primarily works of historical fiction set in the first half of the last century. "The sweep of events, from the First World War to the Great Depression, to World War II, had momentous impact on our lives," she says, "and is a period we can still almost reach with our fingertips."
In 2016 she met and befriended WWII veteran and artist Jack Smith. Together they produced the book Images from World War II: The Art of Jack Smith (Cyrilla, 2016) celebrating the art of the nonagenarian. Then, Simmons again turned to the Second World War for her book, The Other Veterans of World War II: Stories from Behind the Front Lines(Kent State University Press, 2020).
Her latest book, A Gathering of Men (to be released by Koehler Books in early 2022), combines her interest in the World War II era and her passion for history and research to tell another story with a unique perspective on the war. This time, the tale is historical fiction, but based on a true story and countless hours spent in the library and our nation's WWII museum archives.
Simmons is a frequent speaker on WWII and veterans stories as well as writing, blogging, editing, and marketing. She blogs about World War II-related topics on Gone for a Soldier. Her stories, articles, and interviews have been published in literary journals and online magazines, and in local newspapers.
To give back to her local writing community, Simmons has hosted multi-author events for non-profit organizations, libraries, and theaters and featured local authors in online social media events. She created and managed both The Book Widows and The Killers Next Door, groups of Georgia authors who spoke at bookstores, libraries, and festivals. On a pro bono basis, Simmons has given her time and expertise to the Georgia Council for the Arts, the Atlanta Chamber of Commerce's Arts and Business Council, The Gilmer Arts Council, volunteered as a (successful) grant writer for the Dahlonega Literary Festival, and served as co-director for the Milton Literary Festival. Simmons currently acts as a contributing writer for two military-related organizations: DODReads.com (dedicated to reading and lifelong learning) and StoriesBehindtheStars.com (with a mission to document the lives of all of America's fallen in WWII).
Rona Simmons graduated from Tulane University and received her post-graduate degree from Georgia State University. She spent thirty-years in business, ending with a period as a business consultant for International Business Machines and retired to north Georgia where she launched her second career in writing.
ABOUT A GATHERING OF MEN
Candor, North Carolina. The town barber brandishes a copy of the May 1927 Charlotte Observer-on the front page, Charles Lindbergh's Spirit of St. Louis on its cross-country flight. At the outskirts of town, best friends Lake, Roger, and Jim take turns hurling their wingless crate down a hill. Eyes closed, they imagine their future alongside Lindy.Pearl Harbor changes everything. The boys will have their chance to fly-not over North Carolina farm fields, but across Germany on bombing runs, facing a determined Luftwaffe. The odds of completing their tours of duty are slim.A Gathering of Men is the account of the boys who board their aircraft for the first time and the men they become in the blink of an eye. The terrors they witness and the pressure to go up again and again and again brings them to the breaking point. It is a moving tale, based on a true story, about shattered dreams and enduring friendship, duty, and honor.
". . . a vehicle of time travel, taking us back to the senses and places of 1940s North Carolina and the battles of WWII. Vivid, beautiful and heartbreaking . . ."
-Patti Callahan Henry, author of Surviving Savannah, co-creator of Friends & Fiction
". . . a powerhouse of a novel, combining the hearts and bonds of men at war with exquisite technical accuracy that reads like lightning from a rifle barrel. A Gathering of Men is a sweeping epic that will keep you breathless while leaving no heartstring un-pulled."
-Brian Panowich, bestselling author of Bull Mountain and Hard Cash Valley
"This compelling story by Rona Simmons is a glorious tribute to the men of the 100th Bomb Group, whose sacrifice and heroism at great personal cost resonates vividly across the decades."
-Robert J. Mrazek, award-winning author of The Indomitable Florence Finch: The Untold Story of a War Widow Turned Resistance Fighter and Savior of American POWs