About this Event
In discussion: What makes us uniquely human? As AI develops, what human qualities will we seek to preserve and enhance? How do we want to evolve?
Caroline Chubb Calderon, who stands squarely at the intersection of humanity and technology, will moderate our thought-provoking discussion. She is a futurist, humanist, and innovation and leadership expert, who believes that we need to reclaim the unique qualities that make us "irreplaceably human". Ethical decision-making, socio-emotional intelligence, and creativity are all vital parts of this conversation.
Caroline is the founder and CEO of HelloHumanity (hellohumanity.com), an organization that prepares leaders to be "conscious custodians of our world" and invest in humanity. She works with the Instituite of Electrical & Electronic Engineers (IEEE) to define the standards for ethical AI, has contributed to several books, and spoken internationally on the subject.
Exchange views with other women in our community. React to relevant art and literature. Share in the potential to reframe our thinking about the future!
Featuring: A playlist curated especially for the evening, and signature cocktails designed by duo Tara Roscioli and Beth Nydick, authors of "Clean Cocktails: Righteous Recipies for the Modern Mixologist"
Hosted at the airy and inspiring Rebel Folk Studio—creative hub to Sew Leana, Wildly Florals, and Maplewood Quilting Co.
Come gather with us!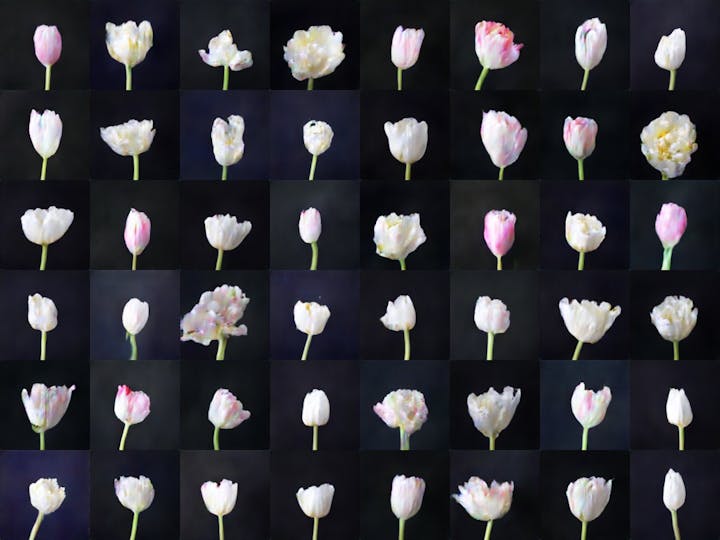 Artwork—Anna Ridler, from her "Mosaic Virus" installation, created with AI.