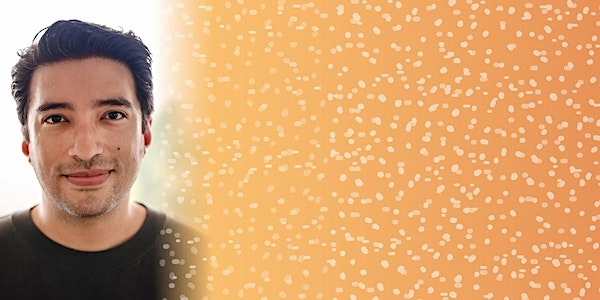 An Evening with Yung Pueblo (Livestream)
An Evening with Yung Pueblo: On the Healing Journey
About this event
These tickets are for the In-Person version of this event. To buy tickets for the in-person event CLICK HERE.
IMPORTANT INFORMATION
Live Event Time: Friday, October 14, 2022 at 7:00 p.m. PDT
Recording of Livestream available for ticket buyers until Monday, October 19, 2022 11:00 a.m. PDT.
Only those present for the live event can participate in audience Q&A and chat.
Attendees will be emailed instructions via Eventbrite on how to join this private event after ticket-purchase.
All tickets include access to the recorded livestream for one week after the live event and a copy of Yung Pueblo's newest book, Lighter.
ACCESSIBILITY
If you need to request accessibility accommodations, please email publicprograms@ciis.edu at least one week prior to the event. For more information, explore our Accessibility web page.
EVENT DESCRIPTION
Yung Pueblo's path to deep healing began after years of drug use had taken a toll on his mind and body. Searching for a way forward, he found that by honestly examining and addressing the anxieties and fears that he had been running away from, he no longer felt like a stranger inside of his heart and mind. Once he dedicated himself to meditation and trusting his intuition, he started to finally feel mentally lighter—with more love emerging from within. This was not an easy journey, and it's one that he is still on, but it showed him that real healing is possible.
Join CIIS Director of Diversity, Equity, and Inclusion Damali Robertson and Yung Pueblo for an inspiring conversation exploring how we can all move forward in our healing—from learning self-compassion to letting go, to becoming emotionally mature. Drawing upon insights from his life and latest book, Lighter, Yung Pueblo shares that as our minds begin to stop feeling overburdened with tension, we can reconnect with the present, and the world around us will become more inviting, crisp, and newly vibrant. But these are just the first steps. As we grow stronger and expand our self-awareness, it's our responsibility—and part of the healing journey—to take actions to support the health and harmony of all people. The final section of Lighter shows how we can and must contribute to building a world that is no longer structurally harmful, but instead, structurally compassionate. 
Yung Pueblo's hope is that as more people heal themselves, our actions will become more intentional, our decisions will become more compassionate, our thinking will become clearer, and the future will become brighter.
Diego Perez is a meditator and The New York Times bestselling author who is widely known on Instagram and various social media networks through his pen name Yung Pueblo. He has an audience of over 2.2 million people online, and his writing focuses on the power of self-healing, creating healthy relationships, and the wisdom that comes when we truly work on knowing ourselves. His two books, Inward and Clarity & Connection were both instant bestsellers. Diego's third book, Lighter, will be out October 2022.
Damali Robertson joins the California Institute of Integral Studies as Director of Diversity and Inclusion after a 15-year career in progressive non-profit leadership. She brings an unshakable commitment to equity and justice along with rich lived experiences to her role at CIIS. From 2008-2011, Damali helped pioneer Diversity, Equity, and Inclusion (DEI) initiatives at the Haas Center for Public Service (long before the uprisings of 2020 and long before many organizations were ready to invest in this critical work). More recently, she spent a year leading an in-depth racial equity project to address the achievement gap between Black students and their peers at a Bay Area high school. That project inspired her to become an even more vocal practitioner, advocate and thought leader in the DEI space and motivated her decision to pursue a MA in Social Justice and Organizing. Most recently, she co-led DEI initiatives at Root & Rebound while also leading their fundraising and communications efforts, creating campaigns about the systemic injustices and disparities built into America's criminal legal system. Damali grounds her work in antiracist and anti-oppression praxis. She is also a restorative justice and mindfulness practitioner who approaches everything with a 'restorative impulse,' integrity, lots of deep breaths and compassion. Damali identifies as a Black, queer, differently abled, Jamaican-American woman, poet, writer, and teacher who is also a mother of two young adults and pet parent to two adorable and sometimes noisy doggies. Damali lives in Oakland, CA and loves travel, spicy food, Reggae and Hip-Hop music.
We are grateful to our Bookstore Partner:
Marcus Books is the nation's oldest Black-owned independent bookstore celebrating its 60th year. Marcus Books' mission is to provide opportunities for Black folks and their allies to celebrate and learn about Black people everywhere. Learn more about Marcus Books.