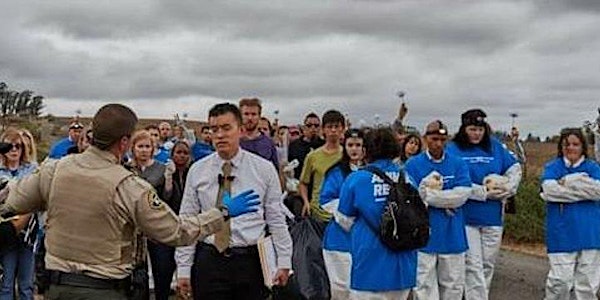 An Evening with Wayne Hsiung - Legendary Animal Rights Activist
An exciting and inspiring evening with Wayne Hsiung - Co-Founder of Direct Action Everywhere and Legendary Animal Rights Activist.
When and where
Location
Plant Base 370 Pacific Avenue Jersey City, NJ 07304
About this event
Please note that the venue and event format has changed. The event will be held at Plant base, the ethical vegan restaurant and event space in Jersey City, NJ. Attendees will have the option to have dinner after the presentation by Wayne Hsiung.
Please pre-purchase your dinner at Plant Base website. Pre-Purchase is a must as it will enable the restaurant to prepare the food as required. Please note that the food is purchased directly from the restaurant and is an optional separate purchase from the free entry registration.
The venue Plant base hosts a Vegan Community Fridge and pantry. The vegan community fridge outside the restaurant that is serviced by Chilis on Wheels and Vegan Activist Alliance. Please bring a vegan item to donate for the fridge or visit here to make an online donation
Let us make this event a huge success.
The topic of the talk will be as follows.
How We Took on Smithfield… and Won
Attorney and open rescue activist Wayne Hsiung recently won an unprecedented victory against Smithfield Foods, the largest pig farming corporation in the world, in a conservative county in Southern Utah. Wayne will be sharing insights from the Smithfield trial, and telling us about his next big case: defending animal sanctuary owner Tracy Murphy in a felony prosecution involving her right to give care to cows who wandered onto her property.
From civil rights to gay marriage, court cases have been crucial to driving progress in movements throughout American history. These "right to rescue" trials can have a similar impact on animal rights — but only if there are organizers ready to harness their power to make change for animals.
Join this informal gathering and conversation to learn how you can get involved in these crucial cases, amplify the story of animal rights, and protect the local animal rights movement from industry-led repression. —
SPEAKER
Wayne Hsiung is currently the executive director and co-founder of The Simple Heart Initiative. He is a former faculty member at Northwestern School of Law, where he published research on climate change and animals in the University of Pennsylvania Law Review. His work rescuing animals from factory farms has been featured in The New York Times, Wall Street Journal, and Washington Post.
Wayne Bio:https://en.wikipedia.org/wiki/Wayne_Hsiung