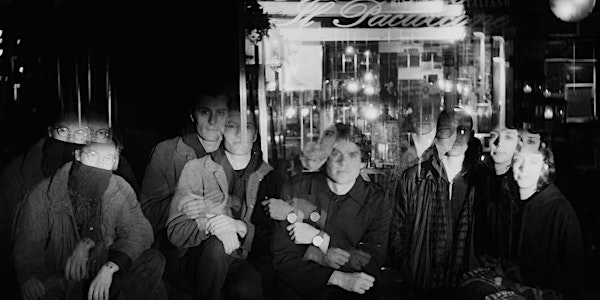 An Evening With WAND and Guests
Location
DC9 Nightclub
1940 9th St NW
Washington, DC 20001
with visuals by Mad Alchemist
About this event
Proof of Vaccination REQUIRED
DC9 will require proof of vaccination for entry. Physical card or digital photo will be accepted. Proof of vaccination must match name on photo ID and will be checked at the door.
You can find more information HERE.
Things change quickly and we are all in the same boat trying to navigate and do our best to keep our concerts and communities safe. We appreciate your patience and understanding with our staff as we navigate this together. Thank you for your cooperation & continued support!
This is an ever changing situation and we reserve the right to change these policies at any time.
Wand

WEBSITE | FACEBOOK | SPOTIFY | BANDCAMP

Wand formed in late 2013 in Los Angeles, CA and got right to work playing, writing, and conceptualizing a contrarian path forward–the only viable trail to follow for a rock band that formed in the twenty-teens (and audaciously named itself Wand). The original configuration of the band was Cory Hanson (guitar, vocals), Lee Landey (bass), Evan Burrows (drums) and Daniel Martens (guitar). This was the group that recorded the neuroplastic, dusk-colored Ganglion Reef. Upon hearing it, the suits at GOD? Records demanded the opportunity to release it, and the rest became irrevocable historical fact in 2014. That debut release launched a year of furious activity and near-constant touring, and included the recording and release of both their second and third albums: the strobing sledgehammer Golem (on In the Red), and the psilocybe flicker show 1000 Days (on Drag City). During this time, Daniel left to focus on raising his son, and the remaining three members of Wand regrouped as a trio, with an auxiliary fourth piece for tours.

Mad Alchemist

WEBSITE | FACEBOOK | INSTAGRAM

Mad Alchemy is an Analog Liquid Light Show in the great San Francisco tradition of Bill Ham, Brotherhood of Light and Glen McKay. Headlights from the heyday of the Bay Area's 60's Psychedelic Ballrooms. Principal Lance Gordon has been involved and performing this art form since 1971.

In June of 2017 Mad Alchemy evolved into a "21st Century" Liquid Light Show forged by our first Red Rocks opportunity. Now the projections can live in a modern stage environment at venues like Red Rocks, Fox Theater Oakland, Block Stage: Desert Daze, Wiltern Theater, Orpheum Theater, Fillmore San Francisco and Denver, Irving Plaza, London Forum and many more. We utilize custom video presenters, video cameras and mixers projected through an array of Epson Lazer 6K and 8K equipment but while still maintaining the analog art aspect.

Based in the Bay Area Mad Alchemy has traveled wide and far performing over 1200 shows in every imaginable venue Festival and Museum across the US,Canada Europe and Mexico for the likes of King Gizzard and Lizard Wizard, Phil Lesh of The Grateful Dead, Temples , Joe Russo's Almost Dead, Roky Erickson, Brian Jonestown Massacre, Dead Meadow, High on Fire, Om, Earthless to mention a few!

When Lance first began in the East Bay in 1971 at 17 he shared the stage with Boz Sckaggs, Tower of Power, Big Brother and the Holding Company, It's a beautiful day, John Cipollina and Elvin Bishop.