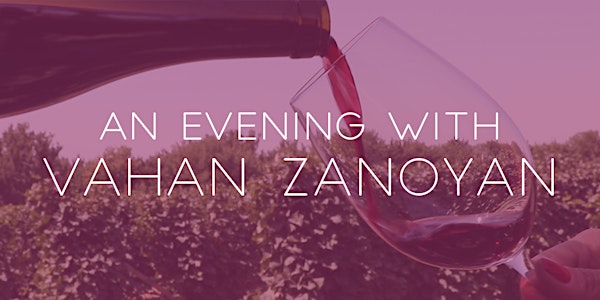 An Evening with Vahan Zanoyan, Author of Waking Noah's Vines
Wine holds the key to Armenia's origins. Uncover its secrets, taste a selection of fine wines, and support Armenia's wine revival today.
When and where
Location
Residence of the Honorary Consul of the Republic of Armenia 2013 S Prarie Ave Chicago, IL 60616
About this event
ONEArmenia invites you to a guided tasting of Armenian wine with Vahan Zanoyan, author of WAKING NOAH'S VINES, the latest novel from the writer, traveler, and human rights activist about the recent revival of Armenia's 6,000-year-old winemaking tradition.
You'll explore the history of Armenian wine, learn about Armenia's indigenous grapes, taste a selection of fine Armenian wines, and have the opportunity to purchase a signed copy of WAKING NOAH'S VINES, which tells the story of a group of adventurous vintners who embark on a wine-infused journey to revive Armenia's wine industry after the country gains its independence from the Soviet Union.
Together we'll taste 6 wine varieties and enjoy a buffet of Armenian appetizers.
All ticket sales from this guided tasting, and royalties from sales of WAKING NOAH'S VINES (https://amzn.to/2wN4jZF), will go to support ONEArmenia's WineCubes of Armenia project, which is helping real-life winemaking families in rural Armenia create sustainable incomes and become active players in the industry. For information about the project, visit onearmenia.org/campaign/wine
ONEArmenia is a 501(c)(3) nonprofit organization. All sales, and direct donations to ONEArmenia, are tax deductible.