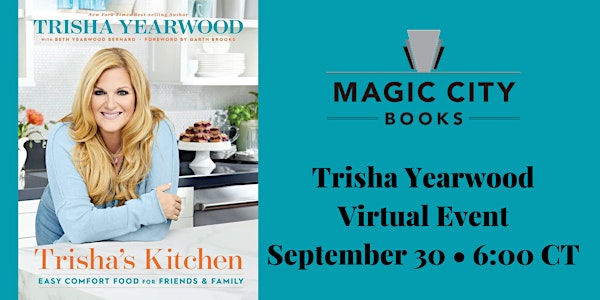 An Evening with Trisha Yearwood
An Evening with Trisha Yearwood Virtual Book Tour featuring Cooking and Conversation with Trisha + Friends.
Refund Policy
Contact the organizer to request a refund.
About this event
Join award-winning country music star, actress, chef, and New York Times bestselling author, Trisha Yearwood for a special virtual event to celebrate the publication of her new cookbook, Trisha's Kitchen. Cooking is about love, and for Trisha that means sharing a meal with family and friends and talking about our lives. She will demo a recipe from the book, share stories and answer your questions. Hope you'll join Trisha and her special guest for an evening of great conversation, good food, and fun!!!
Trisha Yearwood's spirit shines just as brightly in her cooking as it does in her music. Between receiving numerous GRAMMY®, CMA® and ACM® Awards as a country star, the singer, actress, author, chef, and entrepreneur has delivered three New York Times Bestselling cookbooks. Her hit Food Network series Trisha's Southern Kitchen garnered an EMMY® Award in the category of "Outstanding Culinary Show." Now, she unveils what might be her most personal cookbook yet, Trisha's Kitchen: Easy Comfort Food for Friends and Family, collecting 125 comfort food recipes peppered with family stories and photos.
Each ticket includes one (1) signed copy of Trisha's Kitchen: Easy Comfort Food for Friends and Family ($30 value) and one (1) link to the virtual event on Thursday, September 30, 2021 at 6:00 pm CT.
Ticket purchasers have the option to have their book shipped to them or to pick up their book in person at Magic City Books. If you choose to have the book shipped, please be sure to enter your shipping address at checkout.
Trisha's Kitchen is being published on September 28, shipping via USPS will begin that day and all tracking information will be sent from stamps.com. Please be understanding of potential shipping delays.
No International Shipping Available
The link to the virtual event will be sent to the email address used to purchase your ticket on or before Wednesday, September 29. Be sure to double check your information at check out, please use an email that you regularly check and make sure that you enter your complete shipping address if having your book shipped.
There is a limit of one ticket per person. If you exceed or attempt to exceed the posted ticket limits, we reserve the right to cancel, without notice, any or all orders and tickets, in addition to prohibiting your ticket purchasing abilities. Any tickets canceled due to violating the posted ticket limit may be refunded at face value (excluding fees). This includes orders associated with the same name, e-mail address, billing address, credit card number, or other information.
*Signed copies are available for all ticket purchsers. Personalized books will take extra time.
About Trisha's Kitchen:
Trisha Yearwood's fans know that she can cook up a comforting, delicious meal that will feed a family! Like her earlier bestsellers, Trisha's Kitchen will include new family favorites and easy-to-make comfort foods, with stories about her family and what's really important in life.
The 125 recipes include dishes her beloved mother used to make, plus new recipes like Pasta Pizza Snack Mix and Garth's Teriyaki Bowl. Every recipe tells a story, whether it's her grandma's Million Dollar Cupcakes, or her Camo Cake that she made for her nephew's birthday.
As Trisha says: "I love to cook now more than I ever have, because for me, cooking is about love. It's sharing a meal with family and friends and talking about our lives. It's working out thoughts in my head about what I need to conquer or accomplish while I'm working on a homemade pastry crust. Sometimes the feel of cold butter in my hands working through the flour just makes me see things more clearly."