About this Event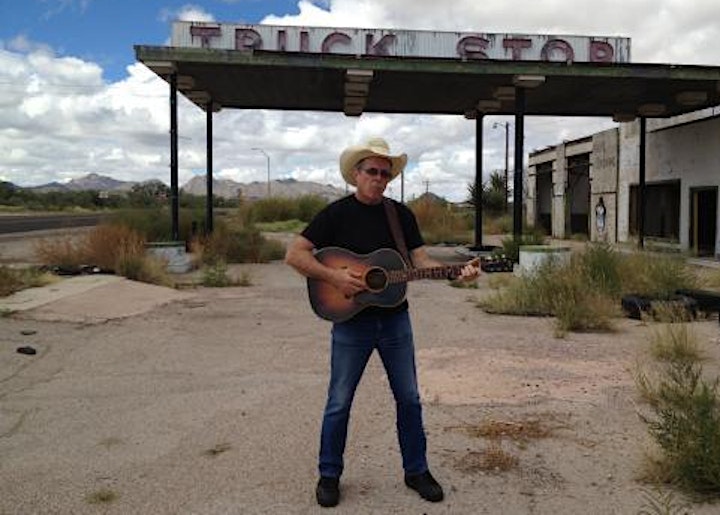 Tom Russell is a skilled songwriter who romanticizes what some might call the Golden Age of Country Music. In style and substance Russell composes and performs acknowledging the musical and cultural icons of the era like George Jones, Merle Haggard, Hank Williams, Wynn Stewart, Buck Owens, James Dean, and on and on.
Tom's latest album, October in the Railroad Earth is self described as "Jack Kerouac meets Johnny Cash in Bakersfield." It's a treat! Bill Kirchen makes an appearance on lead guitar and Eliza Gilkyson contributes vocals. And, among the several original compositions one, in particular, stands out to Kern County listeners: "Highway 46"! The song is an entertaining yet reverent nod to the folklore, legends and music that was born and nurtured here in the southern end of the San Joaquin Valley and eventually became known and loved around the world.
Russell has recorded and released 29 studio albums and 2 live albums. A prolific songwriter several artists have recorded Tom Russell songs including: Johnny Cash, The Texas Tornados, k.d. lang, Guy Clark, Joe Ely, The Sir Douglas Quintet, Ramblin Jack Elliott, Iris Dement and Dave Alvin.
Join us for an entertaining evening with singer/songwriter Tom Russell at the Bakersfield Racquet Club on Friday night, January 31, 2020! Doors open at 6. Showtime at 7.
Season Sponsor:
Brian & Katie Kirschenmann
Event Sponsors: