AN EVENING WITH THE LADIES OF SKYY
About this event
A Virtual Entertainment Program
To Benefit Girls; Live Love, Laugh, Inc.
Join The Ladies of SKYY for a virtual entertainment program that will celebrate those who have worked tirelessly through the pandemic and that will offer encouragement to Family, Friends and Fans who have endured during these challenging times!
We will also be showing support for Girls; Live, Love, Laugh, Inc., as part of our girl-centered advocacy initiative.
The Evening With the Ladies of SKYY Will Include
A Virtual Performance by The Ladies of SKYY
The World Premiere of the Music Video - "When You Touch Me"
Your Chance to "Join The Band" for The Largest Online SkyyZoo Performance
The World Premiere of New Songs by The Ladies of SKYY
Up Close and Personal Q&A with Denise, Dolores and Bonné
Let's Spend an Evening Together, Unwind, and Have Some Fun!
This is a FREE event, with a request to donate to Girls; Live, Love, Laugh, Inc.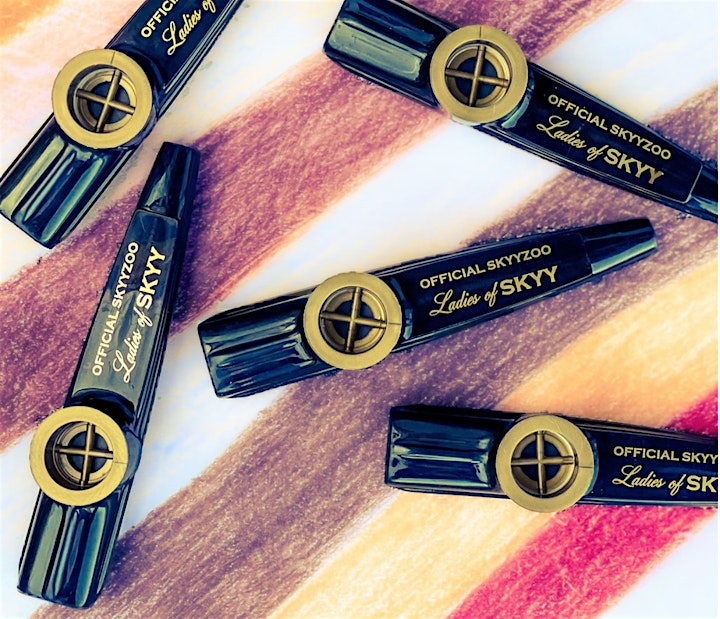 Go to kazoos.com to purchase your exclusive kazoo from
The Ladies Of Skyy & Donate to Girls; Live, Love, Laugh, Inc.
Join The Band
"An Evening With The Ladies of SKYY"
We're the Band from Across the Land! Get your official
"SKYYZOO" for the October 9, 2021, virtual concert with the
Ladies of SKYY! Be a part of history by joining the largest online
SKYYZOO band. This limited edition kazoo is available exclusively
through Kazoobie Kazoos.
SKYY/Ladies of SKYY have had a 20-year relationship with
Kazoobie Kazoos. It is the best plastic kazoo you can buy. Only
the highest-grade materials are used and every part of the
process is "Made In The USA."
These are safety tested and
approved for children ages three and up. Top-shelf, dishwasher
safe, and hand dry!
PLEASE ORDER BY SEPTEMBER 30 TO ASSURE TIMELY
DELIVERY FOR THE DONATION
Show Your Support for Girls In Need
We firmly believe that strong little girls make strong big girls. In
keeping with our support for girl-centered advocacy, The Ladies of
SKYY proudly support Girls; Live, Love, Laugh, Inc., a 501(c)3 non
-profit organization which focuses on girls ages 6-13 living with
limited resources in the City of Newark, New Jersey and
neighboring communities. The virtual concert is FREE but we are asking our friends to
make a donation to support the work this organization is doing to build
positive qualities in young girls.
Girls; Live, Love, Laugh, Inc. (GLLL) was founded in 2009 by Ms.
Allison James. The organization builds a safe passage for building
leadership skills, developing self-esteem, entrepreneurship,
acquiring college readiness skills, and teaching the importance of
civic engagement in the community. GLLL implements a variety of
​programs that focus on tackling many of the pressing issues
uniquely faced by girls today. GLLL is building a culture of girls
who live, love, and laugh while in pursuit of excellence.
http://girlslivelovelaugh.org/
http://www.ladiesofskyyepk.com/home.html