THE KIDS OF WIDNEY HIGH at THE REGENT on SEPTEMBER 9, 2021. FILM SCREENING, LIVE PERFORMANCES, AND Q+A.
About this event
The world-famous Kids of Widney High are back for a timely reunion show, along with a screening of their feature-length rockumentary ACT YOUR AGE: THE KIDS OF WIDNEY HIGH STORY.
Film and live musical performance will be followed by a thoughtful Q&A with the band and signing of KOWH merch, including their new book THE KIDS OF WIDNEY JUNIOR HIGH TAKE OVER THE WORLD!.
A portion of the night's profits will be going to LA Goal, an area non-profit that has provided persons with disabilities vocational/recreational/educational services for the past five decades (and was the inspiration for Sean Penn's Academy Award-winning film I AM SAM). LA Goal provided the artwork for the Kids third album, ACT YOUR AGE.
Movie trailer: https://www.youtube.com/watch?v=hrvFTA3DlIs
Length: 90 minutes
Directed by: Mathew Klickstein & Jesse Alba
Book page: https://www.schifferbooks.com/the-kids-of-widney-junior-high-take-over-the-world-6907
The Kids of Widney High
THE KIDS OF WIDNEY HIGH is a raucous rock band comprised of members with developmental disabilities who sing about their hopes, fears, frustrations, dreams ... and also cows, the joy of owning a new car, and what would happen if Santa Claus ended up in a wheelchair.
Blossoming out of the erstwhile music program at special-ed school Joseph P. Widney High and under the guidance of music teacher/band leader Michael Monagan, the Kids have put out four albums to date, have toured all around the Greater Los Angeles area, and were prominently featured in the hit comedy THE RINGER starring Johnny Knoxville, Katherine Heigl, and Brian Cox (executive produced by the Farrelly Bros. and Dr. Tim Shriver).
Compared in the past to the likes of Daniel Johnston and Wesley Willis, the Kids count among their high-profile supporters: Jackson Browne (who helped with their second album), Mike Patton (who put out the same album on his label Ipecac), Mayim Bialik, the Beastie Boys, Fiona Apple, "Weird Al" Yankovic, Saul Williams, Spike Jonze, Matt Stone, Kid Cudi, Dr. Demento, Osaka Popstar (made up of members from the Misfits, the Voidoids, and the Ramones), and (with an earlier lineup) Kurt Cobain.
Their feature-length rockumentary ACT YOUR AGE: THE KIDS OF WIDNEY HIGH STORY is currently streaming on Troma Now, and their first book THE KIDS OF WIDNEY JUNIOR HIGH TAKE OVER THE WORLD! was published this last year by Schiffer Kids and as an audiobook by Blackstone Audio. They also co-wrote and are featured in their own comic book from Atomic Basement.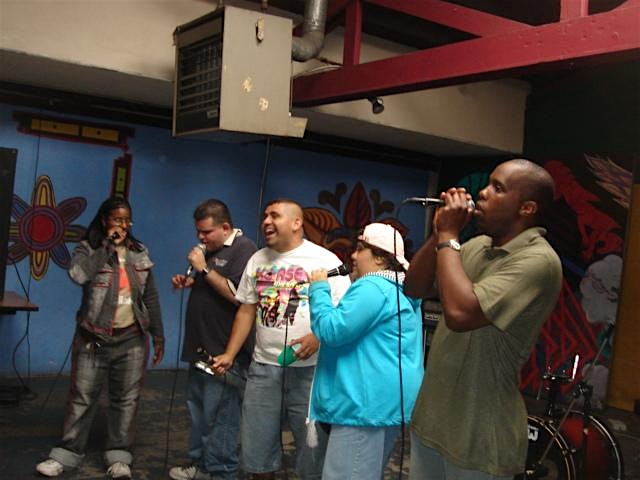 Performers
Date and time
Location
Refund policy