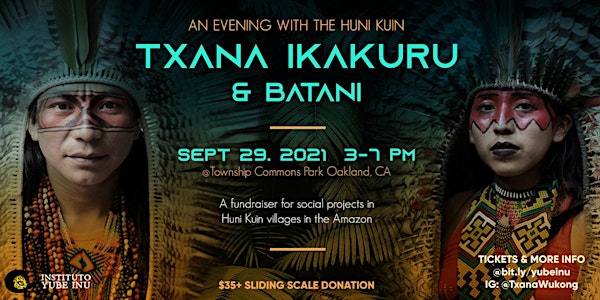 An evening with the Huni Kuin People
A fundraiser event to support social projects in Huni Kuin villages in the region of Jordão, Acre, Amazon, Brazil.
When and where
Location
Township Commons 288 9th Avenue Oakland, CA 94606
About this event

An evening with the Huni Kuin will bring together communities throughout the Bay Area for a special opportunity to experience and support Indigenous peoples from the Amazon Rainforest and the wisdom that they carry.
Join us for an outdoors gathering by the Bay as we come together to dance, sing, celebrate, and connect in community.
Who are the Huni Kuin?
The Huni Kuin are an indigenous ethnicity present in the state of Acre, Brazil, and Peru, who fight to preserve their own culture, customs, values ​​and language. With a population of more than 15,000 people, its political organization in Brazil, in 2017, consists of 94 Villages throughout 12 Indigenous Lands, of which 11 are demarcated and registered, and one in the process of identification. These territories are located in the municipalities of Marechal Thaumaturgo, Jordão, Tarauacá, Feijó and Santa Rosa. After a long process of rediscovering their roots and ancestry, remembering their culture once forbidden and censored, the Huni Kuin have entered a new era, the time of the Indigenous right, defending their culture, sovereignty, and the rainforest.
Txana Ikaruru
Txana Ikakuru is a spiritual leader from the Huni Kuin people and president of the non-profit organization Instituto Yube Inu. Born and raised in the Jordão River, an isolated region in the state of Acre, deep in the Amazon, Txana has been studying the path of the medicine since he was 10 years old. Today he is a carrier of the traditional knowledge of his people, bringing the light and joy of the jungle to many parts of the world over the last 9 years. The musical current of prayer that Txana embodies is truly a testament to the depth of Ancestral wisdom that he carries.
Batani
Batani is a great artisan and the daughter of Cacique (Chief) Elias Siã of Boa Vista Village, one of the great political leaders of the Huni Kuin People. She is a member of the women's group, Yube Nawa Aibu, which dedicates their studies to the traditional ways and prayers of her people. She will be bringing with her the great feminine force of the Amazon.
Txana and Batani will be traveling all the way from their village in Jordão, Acre, Amazonia, Brazil, and make their way to California for the second time to share their culture and to raise funds for social projects in their village.
About Yube Inu non-profit organization
Yube Inu Institute was founded by Txana Ikakuru and other leaders of the Rio Jordão on January 10, 2018. Its headquarters are located in Aldeia Boa Vista, Kaxinawá do Rio Jordão Indigenous Land, state of Acre, Amazon, Brazil.
The creation of the institute was a long-standing dream of local leaders who since 2015 have been mobilizing to found an indigenous institution that would autonomously promote the political, economic, social, cultural and spiritual development of the Huni Kuin people.
The Institute was founded thanks to donations from international partners and its functioning depends on the collaboration of individuals or legal entities.
The organization is willing to establish dialogues and partnerships with Brazilian and international institutions, building projects and events with a positive and sustainable impact.
Evening offerings:
DJ set by Coflo sharing spiritual, soulful house music to inspire your inner dance artist. - Ocha/Yoruba Records
Live medicine music by artist and healer AshEL SeaSunZ Eldridge - Founder of Soulestial Church and Co-founder of Essential Food and Medicine.
Guest speaker Ismail Ali - Director (acting) and Counsel, Policy & Advocacy @ Multidisciplinary Association for Psychedelic Studies (MAPS).
Huni Kuin culture sharing with Txana Ikakuru and Batani
The event will take place in a spacious outdoors area right next to the water. Bring a warm layer for when it cools down, your dancing shoes, your shaker/maraca, and something comfortable to sit on. This is a family friendly event, brings the kids!
Proceeds from this event will go towards projects and initiatives in Txana and Batani's village, Good View (Aldeia Boa Sorte), such as purchasing solar panels , water filters, an emergency speed boat, and building a center for their traditional spiritual studies. 15% of proceeds will be directed towards urban Indigenous women-led land trust, Sogorea Te.