Description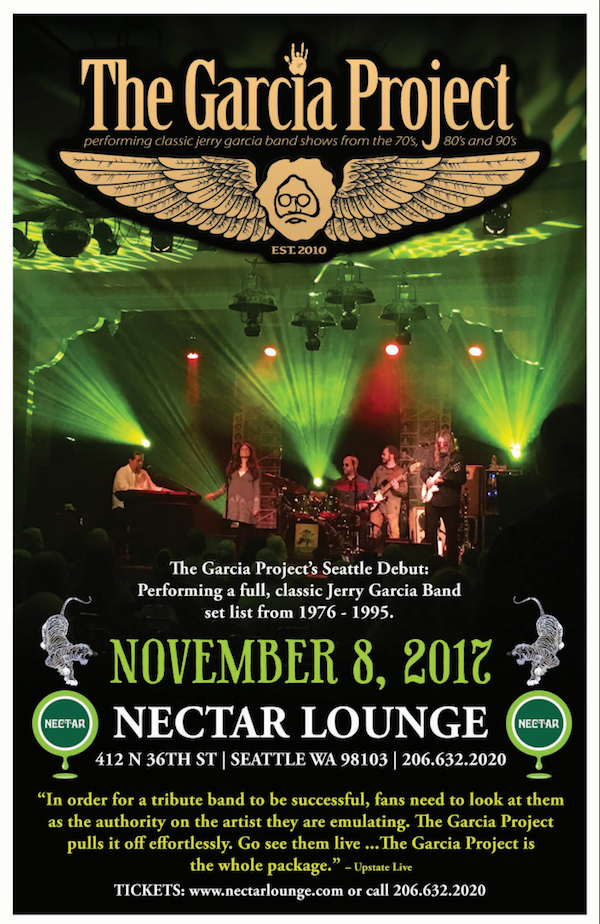 11.8

Wednesday

(Jerry Garcia Band tribute)
Nectar & The PBJ Present:
"an evening with"
THE GARCIA PROJECT
$10adv / $15dos
21+
Nectar Lounge
412 N 36th St
BOOTH RESERVATIONS NOW AVAILABLE!
We are a majority standing-area venue with seating on our heated and covered patio as well as our newly remodeled mezzanine. All seating is first come first serve however, we do have eight booths available for reservations on our mezzanine. Booths 1-6 seat two to four people, booth 7 seats five and booth 8 seats six to eight.
All table reservations are now made at checkout.
Booth reservations are sold on a first come first serve basis.

Reserve multiple booths for larger parties and we will seat you together.

See "Additional Items" on the bottom of checkout page for available booths. If you do not see "Additional Items" unfortunately all booths are SOLD OUT.

We try our best to guarantee your reservation all night, though we ask you to arrive within 2 hours after doors open.

We no longer reserve high top tables behind booths but we encourage people to arrive early to claim available space.

We offer food service once doors officially open. See listing above for specific door time.
THE GARCIA PROJECT
The Garcia Project's performances are recreations of full, classic Jerry Garcia Band set lists from 1976-1995. More than just a Jerry Garcia Band Tribute Band or Jerry Garcia Cover Band, using thoughtful arrangements and the proper instrumentation and feel, The Garcia Project faithfully channels and projects the feelings, emotions and music that propelled the Jerry Garcia Band and their fans through the years.
For anyone that never had a chance to experience the Jerry Garcia Band or for fans that want to relive a classic show, The Garcia Project delivers.
The Garcia Project has received rave reviews from the press and from fans. Touring across the country, The Garcia Project has made many fans extremely happy.
The Garcia Project is THE Jerry Garcia Band Tribute Band or Jerry Garcia Band Cover Band – and it's about family, soul searching, rejoicing, contemplating, celebrating, seeking truth and loving one another.