An Evening with Sylvia Day

Thursday, April 7, 2016 from 7:00 PM to 9:00 PM (CDT)
Event Details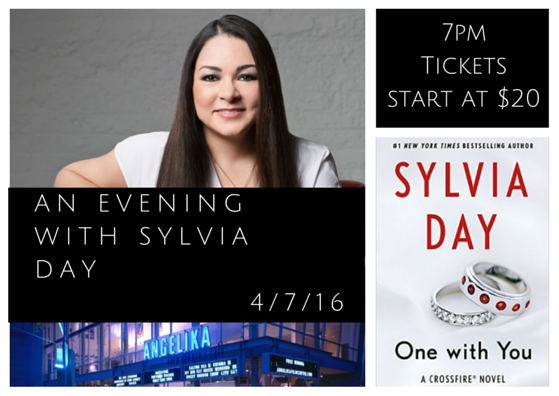 #1 New York Times Bestselling author Sylvia Day returns to Dallas for one night only.
The final chapter in her beloved "Crossfire" series releases on Tuesday, April 5th and this is your first chance to get ONE WITH YOU signed by Sylvia. During the evening, Sylvia will take questions from the audience, pose for pictures, and pre-sign copies of ONE WITH YOU to take home at the end of the night. Tickets start at $20 and include a book.
Sylvia is not planning to travel back to Dallas, so make sure to get your ticket now before they are gone.
NOTES BEFORE ATTENDING:
Sylvia will pose for pictures with every attendee, but she will not sign backlists of any books.
She will pre-sign every copy of ONE WITH YOU provided at the event, and there will be some extras available for purchase at the registration table.
We will have two sets of SIGNED "Crossfire" novels available as part of a raffle prize. Tickets are $5 for 3 tickets and $20 for 25. You can purchase in advance or at the door.
Tickets are not refundable, but can be transferred free of charge

About ONE WITH YOU
Gideon Cross. Falling in love with him was the easiest thing I've ever done. It happened instantly. Completely. Irrevocably.
Marrying him was a dream come true. Staying married to him is the fight of my life. Love transforms. Ours is both a refuge from the storm and the most violent of tempests. Two damaged souls entwined as one.
We have bared our deepest, ugliest secrets to one another. Gideon is the mirror that reflects all my flaws … and all the beauty I couldn't see. He has given me everything. Now, I must prove I can be the rock, the shelter for him that he is for me. Together, we could stand against those who work so viciously to come between us.
But our greatest battle may lie within the very vows that give us strength. Committing to love was only the beginning. Fighting for it will either set us free ... or break us apart.
Heartbreakingly and seductively poignant, ONE WITH YOU is the breathlessly awaited finale to the Crossfire saga, the searing love story that has captivated millions of readers worldwide.
When & Where

Angelika Film Center & Café - Dallas
5321 East Mockingbird Lane
Dallas, TX 75206


Thursday, April 7, 2016 from 7:00 PM to 9:00 PM (CDT)
Add to my calendar