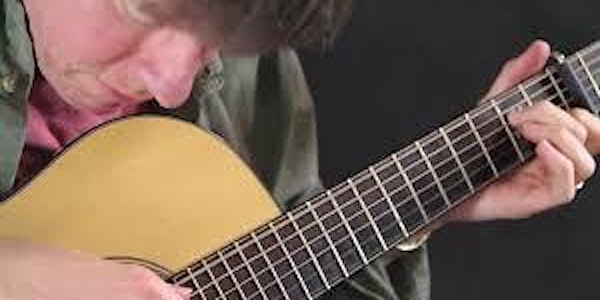 An Evening with Steve Baughman- Celtic Guitar and Clawhammer
When and where
Location
The Manor on Front 2917 North Front Street Harrisburg, PA 17110
Description
On Saturday, October 5, 2019, Polly and I will be hosting my good friend Steve Baughman, Celtic Guitar and Clawhammer instrumentalist, for our fourth River Room Concert at The Manor on Front in Harrisburg, PA (our 17th Mansion Concert since 2015!!).
The doors to the River Room will open at 6:00 PM and the show will start at 7:00 PM. Seating is limited to the first 85 interested persons who are invited and register. To support our artists, we have established a recommended donation of $29/person for this concert. Donations are directed to the performers. Learn more about this artist at http://www.celticguitar.com/. There are a limited number of rooms available at The Manor on Front, so if you are coming from out of town and want to reserve a bedroom, click here.
An American born and raised in Southeast Asia, Steve Baughman spent his childhood in the Malaysian city of Kuala Lumpur. The '60s were in and folk music was big, even in Southeast Asia. Like many kids of that era, he fell in love with the guitar. One day while rummaging through a part-music, part-bicycle shop near a Chinese fruit market, he found a dusty, probably pirated copy of Mel Bay's classic guitar method book. With that book, he began the most enriching journey of his life. Steve now makes his home in San Francisco. He derives his musical style primarily from British Isles fiddlers, most significantly Martin Hayes. His album A Drop of the Pure features his extremely rhythmic and lyrical arrangements and showcases his unique touch on the guitar
What others have said about Steve:
"Once in a while an album comes along that can alter your thinking about guitar music - Steve Baughman's Farewell to Orkney is one of those...A must for all lovers of guitar and especially Celtic music." - Acoustic Guitar Magazine
"A star of fingerstyle guitar: very deft, thoughtful, quietly adventurous, deeply lyrical and playful." - Radio National, Australia
"Steve's artistry and musicality are world-class, with dynamics, timing, and interpretation that always bring out the emotional essence of the song." - Sing Out Magazine
". . . technical innovation, virtuosity, and intensity." - Acoustic Guitar Magazine
"Incredible virtuosity ... showcases the quiet beauty of the open-tuned acoustic guitar." - Marin Independent Journal
Farewell to Orkney listed as one of the "Best Albums of 2013" by Acoustic Guitar Magazine.
Last but not least, Steve has been identified by the Digital Dream Door as one of the 100 best fingerstyle guitar players of all time, which includes some dead ones.
CAMPS TAUGHT: (guitar, banjo, and acapella singing)
Acoustic Alaska Camp, Wasilla, AK
California Coast Music Camp, CA
Colorado Roots Camp, near Divide, CO
Fairbanks Summer Arts Festival, Fairbanks, AK
Outer Banks Guitar Workshop, Outer Banks, N.C.
Puget Sound Guitar Workshop, Gig Harbor, WA
Roberto Dalla Vecchia Acoustic Guitar Workshop, Recoaro, Italy
Rocky Mountain Fiddle Camp, Winter Park, CO
Sierra Fiddle School, Nevada City, CA
Steve Baughman's Banjoy Weekend - San Francisco
Steve Baughman's Banjoy Weekend - Nevada City
Steve Kaufman's Guitar Kamp, Maryville, TN
Sunshine Coast School of Celtic Music, Roberts Creek, B.C., Canada
Swannanoa Gathering, Asheville, N.C.
Valley of the Moon Scottish Fiddle School, Santa Cruz, CA
Walker Creek Music Camp, West Marin County, CA
The Woods Song and Dance Camp, Ontario, Canada
World Voices, World Visions, Kingston, RI
Some samples of Steve's beautiful and unique arrangements:
https://www.youtube.com/watch?v=nb2-6Lq15LU
https://www.youtube.com/watch?v=TFWCx3BCdCo
https://www.youtube.com/watch?v=kp5666QQqDA
https://www.youtube.com/watch?v=-3Y7F5JJRcM
https://www.youtube.com/watch?v=SmCoVwJeOgY
https://www.youtube.com/watch?v=wFo7_eyd58Q
https://www.youtube.com/watch?v=d9bm4W_0rxQ (someday we'll host Robin and Steve together)
Please feel free to bring a cold snack or non-alcoholic drink to share. No hot or heated food.
To learn more about our previously staged Mansion Concerts click here.
There is very limited parking at The Manor on Front. However, there is an abundance of free, residential, on-street parking all along the northbound and southbound sides of the 30th block of Second Street. Arrive early and be sure to take a short walk along Front Street and/or the Riverfront Park immediately across Front Street from The Manor -- a stunning riverfront view indeed.
Learn more about The Manor on Front - click here.
Reserve an overnight room at the Manor - click here.
If you find that The Manor on Front is booked up, my next best suggestion is the Central Hotel and Conference Center at this link. October 5th appears to be a busy weekend for Harrisburg so securing a hotel room may be a little more challenging than securing one of our seats the Mansion.
DISCLAIMER: Eventbrite uses the terminology "ticket" inappropriately in the context of these Private Concerts. As you know, I recommend a donation of $29 per person to support the artists. We are not and do not sell tickets -- even though you may receive a registration confirmation by email that uses the term "Ticket.". We are simply using this website/portal to manage the expected sufficiency of limited seating and communicate details about this private, by-invitation-only, music party. I am not operating a commercial enterprise and other some of room rental expense, donations are paid to the artists involved in the show. This concert is not open to the public - no walk-ins will be allowed.