Event Information
Refund Policy
Contact the organizer to request a refund.
Eventbrite's fee is nonrefundable.
Live Concert - An Evening With Singing Sensation Kaiya
About this Event
Join us LIVE....
as we watch and hear Kaiya sing for two amazing causes!
Kaiya has been described as "One of the greatest new vocalists in Canada", Kaiya loves to sing, write music and share her passion for performing. She does this at a magically young age because her soul and authentic love of music, combined with her genuine love of people, shine through with every performance.
Brett Kissell, at the #BrettBrettXmas event, said on stage, "I hope someone is recording what I am about to say. You can put me on record as being the first to say that this young lady in 3 to 5 years will be opening for the likes of Alessia Cara and Shawn Mendes. I don't usually endorse artists, but never have I seen such raw talent and force. She (Kaiya) is the whole package."
~ Brett Kissell
"I am amazed with the power of music and how I can say so much and share so much emotion in only a few minutes. I can empower others, share sympathy, feel joy or sorrow; and I can say things I wouldn't normally say in conversation. I can't believe the impact my music has on others and it brings me so much warmth and strength to be able to connect with people through my music."
~ K a i y a
We are blessed to have Kaiya help raise important dollars for E2 Academy, a small private accredited school for students who struggle to have their unique needs and disabilities met in a traditional classroom setting.
We are in need of funds to provide much needed services to our students. Whether it be psychologists, speech pathologists, behaviour therapy, sensory items, specialized furniture, psychological testing or supplies that support diagnoses, we are always in need. Due to the pandemic this year, we have had to change our fundraising event style.
These amazing children are known as twice-exceptional; meaning that while they are gifted, they also have a range of diagnoses such as ADHD, Autism Spectrum Disorder, Tourette syndrome, PTSD, severe anxiety disorder, OCD, and other differences that make the learning process in a typical school very difficult. Twice-exceptional children are ingenious, intuitive, outside-the-box thinkers and we deliver an individualized, unique talent- and strength-based program of instruction adapted to the needs of twice-exceptional learners and their families.
E2 Academy exists to provide these families with a welcoming community that recognizes their children's strengths and their right to grow in a school, make friends in a community of peers, pursue their passions while being exposed to a well-rounded curriculum, and develop social and community awareness that will eventually support them to be positive, contributing members of society.
Along with the E2 Academy, Kaiya would like a portion of the event to go towards Canadian Hall Of Famer - Former hockey player, Hayley Wickenheiser's : WICKFEST.
Hayley's love of the game, love of people and supporting girls in sports.
"Hayley (Wickenheiser) wanted to provide an opportunity that female athletes don't get very often and to try to keep them in sport," said Ceilidh Price, festival director. "As we know, girls drop out of sports sooner than boys and we wanted to do something that builds that community and social aspect." (Calgary Herald)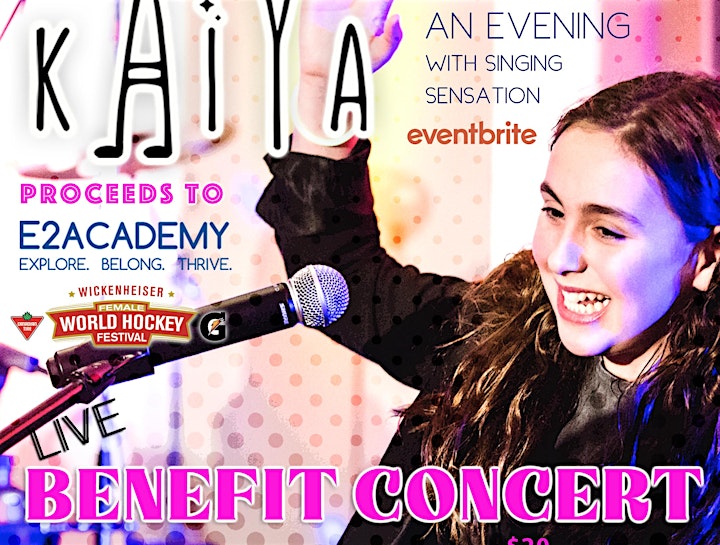 Date and Time
Location
Refund Policy
Contact the organizer to request a refund.
Eventbrite's fee is nonrefundable.