An Evening with Playwright and Actress Sarah Jones

Thursday, November 17, 2011 from 6:00 PM to 9:00 PM (PST)
Event Details
Admission is free; however, registration is required.

Please note that it is our policy to overbook, and that REGISTRATION DOES NOT GUARANTEE YOUR SEAT. In the event of the program reaching capacity, we will release your reservation to wait-listed people 15 minutes before the program starts.To guarantee your seat, please arrive early. Check-in begins at 6 p.m.

** Late seating will not be accomodated for this performance. **

Please e-mail rsvpchc@calendow.org with questions.


---
Date
Thursday, November 17th

Check-In and Reception
Begins at 6:00 p.m.
 
Program
Starts at 7:00 p.m.

Venue
 The California Endowment
Center for Healthy Communities
Yosemite Hall
1000 North Alameda
Los Angeles, CA 90012
Click here for a map and directions


---

An Evening with Playwright and Actress Sarah Jones

Pauline Ling; Norraida; Praveen Maanvi; Lorraine Levine; Rashid...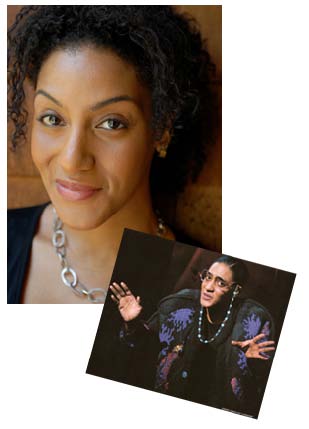 On November 17th, The California Endowment's CenterScene Public Programs invites you into the lives of otherwise anonymous personas we share freeways, sidewalks and waiting rooms with via an exclusive show by Tony-award-winning actress Sarah Jones.

Through years of uncanny analysis of the dialect, body-language, and cultural style of individuals from various socioeconomic backgrounds, Jones will amplify the voices of those she's encountered in her personal journey to reveal both shared and distinct experiences of health across neighborhoods in California.

Join us for an unforgettable evening exploring community health through personal narrative in a way you've never seen it done before.

Bio

Sarah Jones is a Tony and Obie Award-winning playwright and performer who has been dubbed a "one woman global village" for her ability to embody diversity in her performances. In 2004, her multi-character, one-person show Bridge & Tunnel, originally produced by Meryl Streep, quickly became a critically acclaimed hit off-Broadway, leading to a 2006 premiere on Broadway.

An outspoken social activist, Sarah is the first artist in history to sue the FCC for censorship and win, and has been an international Spokesperson on Violence Against Children as a UNICEF Goodwill Ambassador.

Fans of Sarah's work range from First Lady Michelle Obama, who invited Sarah to perform at The White House, to the Sesame Street audience that knows Sarah as "Ms. Noodle" from Elmo's World. Sarah is currently working on a commissioned piece by the Lincoln Center.


When & Where

The California Endowment's Center for Healthy Communities
1000 North Alameda Street
Los Angeles, CA 90012


Thursday, November 17, 2011 from 6:00 PM to 9:00 PM (PST)
Add to my calendar
Organizer
The California Endowment
The California Endowment is a private, statewide health foundation with a mission to expand access to affordable, quality health care for underserved individuals and communities, and to promote fundamental improvements in the health status of all Californians.

An Evening with Playwright and Actress Sarah Jones