About this Event
SATURDAY, MARCH 28
* UPSTAIRS - OUT OF THE BOX *
DOORS, BAR, & KITCHEN OPEN at 7PM
SHOW at 8PM
TICKETS
GENERAL ADMISSION: $15 + admission tax & processing fee
DOOR: $18 + admission tax
Advance ticket sales end at 6PM the day of the show. If tickets are not sold out by this time they will be available for purchase when the doors open.
ALL TICKET SALES ARE FINAL. NO EXCHANGES OR REFUNDS.
IMPORTANT INFO
This is an all-seated event in our upstairs Out of the Box room
GENERAL ADMISSION - arrive early for best choice of seating
All ages
FULL MENU AVAILABLE - save room for dessert!
________________________________________________________
PAUL PFAU
Paul Pfau (rhymes with "wow"), is a modern-day troubadour, a skilled and eager listener, with a gift for setting the truths of love, life and loss to music. Formerly of Nashville, Pfau now tours the country living out of a class-A motor home, affectionately named "RV-tha Franklin" (online @_rvspect). Pfau is an old soul, one frustrated by the limitations and pitfalls of modern day dating.
In 2016, Pfau released his "Great American Love Story" EP while attempting to navigate the Nashville singles scene. The Great American Love Story EP is a concept album, a collection of songs with a finite beginning, middle and end. Boy and girl meet, fall in love, drift apart, work through struggle, and build a life together. Even though the story does have a classically happy ending, the real pain of relationship is present, unblinking in its ambiguity, and yet it turned out to be autobiographical.
Pfau did find love, the old fashioned way: introduced to his current girlfriend through a mutual friend. This obvious exception to the rule is reflected well on his new single "Lo-Fi", a disco-tinged, upbeat jam about spending quality time with your partner, slowing things down. "I wrote 'Lo-Fi' about being good to the one you love, being good to yourself, and really connecting. Single or not, so many of us are exhausted by technology. This song is about taking back control, letting your hair down, chilling out, being present and in love."
The notion of being present and loving has driven Pfau's approach to music since his 2015 debut on the national stage on NBC's The Voice: Season 8. On the show, Pfau aligned with kindred spirits: Pharrell Williams, Lionel Richie, and Nate Ruess, to hone his craft and define his message. In addition to writing and recording music, Pfau headlined a 2018 national anti-bullying tour, and has made two week-long service trips to Guatemala.
Pfau is hopeful that "Lo-Fi" will break through as a feel-good anthem and lift peoples' spirits. "I've been fortunate in my career so far to move from strength to strength, and feel very lucky and grateful for everyone who is listening", he says. With so much good work ahead, we have every reason to believe that Pfau will find what he is looking for.
JD EICHER
"The music that I'm writing and releasing is really mirroring who I am and where I am at that time in my life. It's easy to perform songs when they're very true." So says JD Eicher, the Youngstown, OH-area born and bred musician who is set to release The Middle Distance via Rock Ridge Music on May 6, 2016. "I'm really glad that my career has taken the longer, 'scenic' route, because the music I'm writing now has a certain truth to it that I'm not sure I would have found otherwise."
The Middle Distance marks the first album Eicher will issue since sunsetting the moniker, JD Eicher & the Goodnights, used on the trilogy of titles, The Shape of Things, Shifting, and Into Place, released previously. Why the change? Eicher explains: "It's really just a shortening of the name. The band is still together, and this was a careful decision we made together. It felt natural with the conclusion of our album trilogy project, the personal nature of this new music, and a desire to simplify."
Eicher has noted that the common themes running through his previous three releases are "love, hope, and acceptance." Common sense would call for speculating whether there is a common thread that ties together the ten songs found on The Middle Distance. "Not a premeditated one," he is quick to clarify. "I really wanted to just sit down and write the best songs I could, saying what I needed to say at the time. It's more of a journal entry/diary-type approach this time around."
With that as a forward, the first chapter of Eicher's aural journal begins with nearly one minute of U2-ish guitar that sets the sonic table for the album opener, "This Heart," in which he sings, "All my fears, all my worries, are alive and well inside this heart." Eicher expounds, "This whole record - and definitely that song – is moodier, and there's a lot of internal struggle, internal processing. When you hear the song title, 'This Heart,' it sounds like it's gonna be a love song, but it's really more about coping and figuring out how to get past whatever you're dealing with in that moment."
Songwriting and superb singing are at the center of each track on The Middle Distance, exemplified by the lyric line "Maybe we've been trained to wash, rinse, and then repeat" and the heavenly falsetto vocals found on "Be Well," a song which sounds like it would fit perfectly into Death Cab For Cutie's catalog. An audio oasis to the overall "moodier" sound of the record is refreshingly felt when the soundscape lightens up for the bouncy "The Little Bit," which musically and lyrically has a Jason Mraz vibe to it, most notably on the playful line, "I didn't write any lyrics for this part of the song… everybody relax." Eicher's songwriting gravitas shines in the more serious selections - "Not Everybody Runs," a sonic commitment to, well, commitment; "Not Afraid," in which abstract fears about our dreams not coming true, relationships going wrong, internal struggles and pressures, letting your guard down and being hurt, and failure are all tackled; and "Man of Faith," in which Eicher espouses the somewhat ambiguous supplication: "And I'm pretty sure my heaven's just the answer to my questions."
Far less ambiguous is how much Eicher's Rust Belt upbringing seeps into, or serves as, the foundation of his songwriting. "I think it definitely affects the music," he affirms without hesitation, "even in the way I approach touring and my overall work ethic with songwriting and recording. There's a world-wariness that comes out of this area that gets into the songs. I think there's a realism that comes out of this part of the country, too, and I think that gets in there as well." It's no wonder that Pittsburgh, not far from his hometown of Youngstown, has embraced the performer and his music as their own.
With his band, The Goodnights, Eicher's soaring and graceful pop-rock songcraft garnered favorable comparisons to Coldplay, Keane, The Script, The Killers, and Death Cab for Cutie. Alternative Addiction named the group one of the top 10 unsigned bands. Virgin America Airlines used one of the band's songs in the teaser for the airline's movie, Departure Date. Live, JD Eicher & the Goodnights shared the stage with such diverse and respected artists as the Dave Matthews Band, Coldplay, Train, Maroon 5, Hot Chelle Rae, Pete Yorn, Anberlin, Rod Stewart, Bryan Adams, Kelly Clarkson, Cartel, Sister Hazel, and Matt Nathanson, among many others.
Now facing a new morning with the added weight of offering up The Middle Distance with just his name on the album cover, does Eicher like the way the shape of things have shifted into place (to borrow a phrase from past album titles), both personally and professionally?
"Yeah, definitely. I do feel a lot more firmly-rooted. I feel like there's a lot less doubt. I know who I am a lot better than I used to, and a lot of my life is starting to make more sense. I'm married now. We've got a house. The real world stuff has come together in a really meaningful way. And my musical life mirrors those sentiments as well. This was the first time I felt comfortable producing a record on my own. I knew how I wanted it to feel, start to finish."
For those reasons and more, it's fair to say The Middle Distance is destined to take JD Eicher even farther than where he's at today. That prospect makes it a near certainty that his steady pace to the top will likely result in him experiencing the musician's equivalent of a long distance runner's high.
BE SURE TO BRING YOUR APPETITE!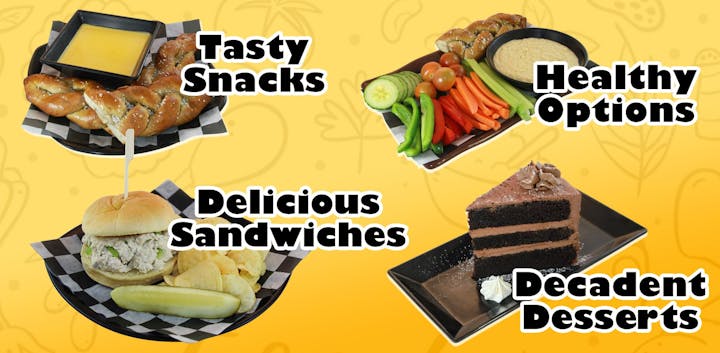 ________________________________________________________
FAQs:
Is there lodging nearby?
There are lots of great and affordable lodging options — from hotels and motels to camp grounds and bed & breakfast spots — just minutes away from Bright Box. Right around the block is the elegant George Washington Hotel, and Courtyard Marriott is quick drive and within a stones throw to the beautiful (and highly recommended) Shenandoah Valley Museum. Check out these websites to explore your options and discover all the wonderful opportunities in Winchester:
• http://www.visitwinchesterva.com/lodging/hotels-and-motels
• http://oldtownwinchesterva.com
Where do I park?
Bright Box is located at 15 N. Loudoun St. on the beautiful pedestrian mall in Old Town Winchester. The nearest parking is the Braddock Auto Park at 30 N Braddock St. This is about a block away from the venue. The parking garage does have several handicap parking spaces available.
Once you've parked in the garage you'll exit toward the pedestrian mall. Once you hit N. Loudoun you'll make a right and Bright Box will be on your right a few storefronts up, directly across from the Old Court House Civil War Museum
More information about the garage can be found here: https://www.winchesterva.gov/parking/garage-information
Is Bright Box handicap accessible?
Absolutely. The venue is handicap accessible and ADA compliant. The infrastructure in Old Town Winchester is friendly toward those with physical challenges or in wheelchairs. Park in one of the close-by parking garages and come to the main door at 15 N. Loudoun St. (the walking mall). We ask that you arrive when doors open, and we will be happy to escort you to a place best suited to your needs in the theater or to take you to the elevator to access the upstairs Out of the Box room.