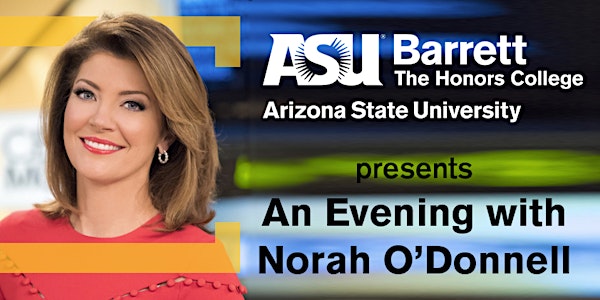 An Evening with Norah O'Donnell
When and where
Location
The Katzin Concert Hall 50 Gammage Parkway Tempe, AZ 85281
Description
Barrett, The Honors College is proud to present Norah O'Donnell, the 2018 Flinn Foundation Centennial Lecturer, in "An Evening with Norah O'Donnell."
An Evening with Norah O'Donnell
Veteran Washington correspondent Norah O'Donnell has covered six presidential elections and traveled around the globe to interview some of the world's most notable figures in her more than two decades as a journalist. In an insightful program, O'Donnell shares her shrewd observations and keen insights on everything from the personalities and politics driving Washington, the role of women in politics and media, her experience with Melanoma and her upbringing in a military family. O'Donnell can also bring her extensive interview experience to the stage as a moderator, having facilitated conversations with top thought and business leaders around the world.
About Norah O'Donnell
Norah O'Donnell is the co-host of CBS This Morning as well as a contributor to 60 Minutes. O'Donnell joined CBS This Morning in July 2012. Prior to that, she served as CBS News Chief White House Correspondent and the Chief Washington Correspondent for MSNBC.
Since joining CBS This Morning, O'Donnell has conducted numerous interviews with newsmakers including President Donald Trump; President Barack Obama; Vice President Mike Pence; and Speaker Paul Ryan. She has sat down with some of the world's most influential leaders including His Royal Highness Prince Harry of Wales, Nobel Peace Prize winner Malala Yousafzai, the Dalai Lama, and South Korean President Moon Jae-in. She won The Merriman Smith Memorial Award for excellence in presidential news coverage for her exclusive 60 Minutes interview with Vice President Joe Biden and his wife, Dr. Jill Biden on his decision not to run for president in 2016. O'Donnell also landed exclusive interviews with House Majority Whip Steve Scalise for 60 Minutes and an interview with NFL Commissioner Roger Goodell at the height of the league's domestic violence scandal. She covered the historic election of Pope Francis in Vatican City as well as his first Apostolic Voyage to the United States. She also reported from the scenes of Hurricane Harvey's devastation in Houston; the country's worst mass shooting in Las Vegas; the San Bernardino terror attack and the Boston Marathon bombing. She was also part of the CBS News team that received an Alfred I. DuPont Award for the network's coverage of the 2012 Newtown massacre.
O'Donnell was named "Broadcaster of the Year" by the New York State Broadcasters Association in 2014 and received the Edward R. Murrow Award for Best Newscast of 2017. Prior to joining CBS News, O'Donnell worked for more than a decade at NBC News, where she covered the Pentagon, Congress, and the White House. Her assignments took her around the globe: she reported from every continent except Antarctica with the either the President of the United States or the Secretary of Defense. O'Donnell has covered a number of breaking news stories throughout her career. She reported from the Pentagon on September 11th, 2001, and received the prestigious Sigma Delta Chi Award for Breaking News Coverage for a "Dateline NBC" story titled, "D.C. In Crisis." In the months following the attacks, she traveled extensively with then-Secretary of Defense Donald Rumsfeld, including on his first trip to Afghanistan following the terrorist attacks.
O'Donnell was NBC News White House Correspondent during the 2004 presidential elections, covering the campaigns of then-President George W. Bush and Senator John Kerry. Prior to covering the White House, O'Donnell was NBC News Congressional Correspondent, reporting on the lead-up to the Iraq War. She also covered the 2000 presidential campaign. In all, O'Donnell has covered six presidential campaigns and reported from every political convention since then.
She began her career as a print reporter for Roll Call, a Capitol Hill newspaper, for which she covered the impeachment of President Bill Clinton and traveled the country covering congressional elections.
A firm believer in empowering women, O'Donnell sits on the Board of Directors of the International Women's Media Foundation.
A native of San Antonio, Texas, O'Donnell is a graduate of Georgetown University and received a Bachelor of Arts in philosophy. She also holds a Master of Arts in liberal studies from Georgetown University. She is married to Geoff Tracy, a restaurateur in Washington, D.C., with whom she co-authored The New York Times bestseller Baby Love: Healthy, Easy, Delicious Meals for Your Baby and Toddler. They have three children.
More information about the Centennial Lecture can be found here.

If you are coming from off-campus, the nearest parking can be found at the North Gammage parking lot, located at 1200 S. Forest Ave. Tempe, AZ 85281. More information on Gammage parking can be found here.