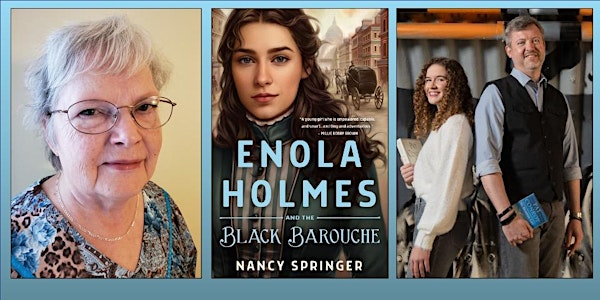 An Evening with Nancy Springer, Author of Enola Holmes & the Black Barouche
Nancy Springer, author of the Enola Holmes novels, in conversation with the Conroy Center's Holland Perryman and Jonathan Haupt
About this event
Join Enola Holmes' creator, award-winning novelist Nancy Springer, for a lively discussion of her new novel Enola Holmes and the Black Barouche and the 2020 breakout Netflix film starring Millie Bobby Brown as Enola which has re-introduced this beloved character to new fans and readers. Hosted by the Pat Conroy Literary Center's Holland Perryman and Jonathan Haupt, this free virtual program is presented in partnership between the nonprofit Conroy Center and Blue Bicycle Books of Charleston.
Signed copies of Enola Holmes and the Black Barouche are available through Blue Bicycle. (See the add-on option through Eventbrite registration.)
About Enola Holmes and the Black Barouche
"An altogether delightfully engaging romp about Victorian London...Enola's voice is wholly charming, prone to just the right bit of humorous snark."--Kirkus Reviews
"A young girl who is empowered, capable, and smart...the Enola Holmes book series convey an impactful message that you can do anything if you set your mind to it, and it does so in an exciting and adventurous way."--Millie Bobby Brown
Enola Holmes is back! Nancy Springer's nationally bestselling series and breakout Netflix sensation returns to beguile readers young and old in Enola Holmes and the Black Barouche.
Enola Holmes is the much younger sister of her more famous brothers, Sherlock and Mycroft. But she has all the wits, skills, and sleuthing inclinations of them both. At fifteen, she's an independent young woman--after all, her name spelled backwards reads 'alone'--and living on her own in London. When a young professional woman, Miss Letitia Glover, shows up on Sherlock's doorstep, desperate to learn more about the fate of her twin sister, it is Enola who steps up. It seems her sister, the former Felicity Glover, married the Earl of Dunhench and per a curt note from the Earl, has died. But Letitia Glover is convinced this isn't the truth, that she'd know--she'd feel--if her twin had died. To uncover the secrets held tightly within the Earl's hall, Enola is going to require help--from Sherlock, from the twin sister of the missing woman, and from an old friend, the young Viscount Tewkesbury, Marquess of Basilwether!
Enola Holmes returns in her first adventure since the hit Netflix movie brought her back on the national bestseller lists, introducing a new generation to this beloved character and series.
About the Author
NANCY SPRINGER is the author of the nationally bestselling Enola Holmes novels, including The Case of the Missing Marquess, which was made into the hit Netflix movie, Enola Holmes. She is the author of more than 50 other books for children and adults. She has won many awards, including two Edgar Awards, and has been published in more than thirty countries. She lives in Florida. www.nancyspringer.com
About the Hosts
The first intern of the nonprofit Pat Conroy Literary Center, Beaufort High School student HOLLAND PERRYMAN is an award-winning writer whose work has been featured in the Charleston Post and Courier, Lowcountry Weekly, Southern Review of Books, and the anthologies River of Words and Stretching Skyward.
JONATHAN HAUPT is the executive director of the Pat Conroy Literary Center, coeditor of the award-winning anthology Our Prince of Scribes: Writers Remember Pat Conroy, a book reviewer, a podcast host, and an associate producer of the Telly Award-winning author interview series By the River on ETV.
Learn more about the Pat Conroy Literary Center: www.patconroyliterarycenter.org
Learn more about Blue Bicycle Books: www.bluebicyclebooks.com