Event Information
Location
The Manor on Front
The River Room
2917 North Front Street
Harrisburg, PA 17110
Join us for an evening with Muriel Anderson -- Guitarist and Harp Guitarist
About this event
About this event
On Saturday, May 21, 2022, Muriel Anderson will present a Solo Guitar and Harp Guitar Concert at only our second indoor River Room (Mansion) Concert since 2019. The doors will open at 6:00 PM and the show will start at 7:00 PM. Seating is limited so please sign-up soon. To support our artist, we have established a recommended donation of $30 per person. All proceeds are directed to the artist.
Important Safety Measures:
All participants/attendees for our indoor concerts must be symptom-free and fully vaccinated against Covid19 -- and as we have done in the past, we will follow the then-current CDC advice on wearing masks indoors. The River Room seating capacity is 85 but we will limit attendance if we are required to achieve safety objectives as prescribed by the CDC. However, if we encounter a sell-out with a waitlist, we have the option to move the concert outdoors and eliminate the vaccination/mask requirements entirely. We are likely to allow guests to share food at this concert. Polly and I will certainly provide bottled water, hot cocoa, and coffee for our guests.
To learn more about our Mansion Concerts - go to www.mansionconcert.com.
About Muriel Anderson
Muriel Anderson is a guitarist, harp guitarist, and composer who embraces music from all over the world. Her playing reflects a sense of grace and joy, infused with humor.
Muriel is the first woman to have won the National Fingerstyle Guitar Championship. Her CD, Nightlight Daylight, was chosen as one of the top 10 CDs of the decade by Guitar Player Magazine, and her "Heartstrings" recording accompanied the astronauts on the space shuttle Discovery. She has performed/recorded with Chet Atkins, Les Paul, Victor Wooten, Tommy Emmanuel, and the Nashville Chamber Orchestra.
Her current release "Acoustic Chef" is a CD of music from around the world with a cookbook of recipes and stories to go with each tune. Her new TrueFire channel brings her in-demand teaching to a wider audience. Muriel is the host of the renowned Muriel Anderson's ALL STAR GUITAR NIGHT® and the founder of the MUSIC FOR LIFE ALLIANCE charity. Her current projects and concert schedule can be found at murielanderson.com.
What do others have to say about Muriel?
She has demonstrated excellent technique and has the fine musicianship to communicate well to her audiences.Christopher Parkening
Acoustic guitarist Muriel Anderson… has justifiably gained a reputation as one of the world's best, and most versatile, guitar instrumentalists.Chicago Tribune
After reaching the top in her field – she is widely recognized as the premier female fingerstyle guitarist today – Anderson hopes to encourage and inspire a younger audience, to turn them on to the beauty of making music, and maybe in some cases, even turn their lives around.The Reporter, Melissa Erickson
Theme for Two Friends marks a new renaissance for classical guitar and cello! Ms Anderson's compositions are flawless. Work like this assures me that music in the next century is in good hands.Nicholas Fuchs, Music Director Emeritus, Illinois Chamber Ensemble
COMPOSER BIO
Composer, guitarist, and harp guitarist Muriel Anderson has composed music since about age five. She fell in love with the guitar at an early age and learned every style available to her, beginning with folk, bluegrass and jazz. She received a degree in music from DePaul University and went on to study with classical virtuoso Christopher Parkening and with Nashville legend Chet Atkins.
Her CD "Nightlight Daylight" is a culmination of her creative spirit and has won 11 awards including Global Music Award's Best Instrumental Composition for "A Bakers Dozen."
Books of her original music include "New Classics for Guitar and Cello" and her works have been performed by the Nashville Chamber Orchestra and Chicago's Vox Caelestis among others.
She is founder of the Music for Life Alliance charity and the Muriel Anderson's All Star Guitar Night®.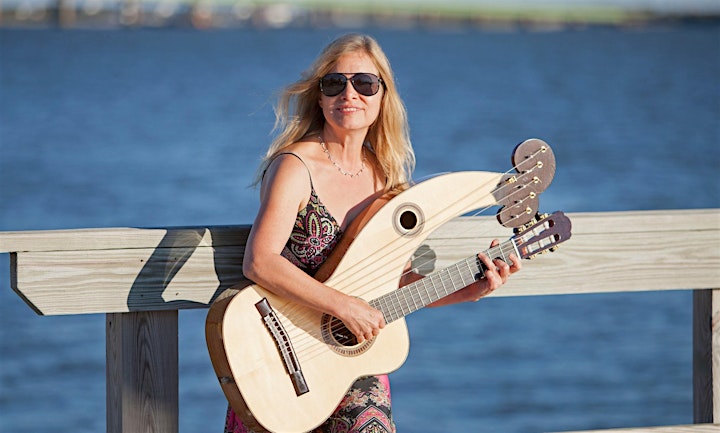 Date and time
Location
The Manor on Front
The River Room
2917 North Front Street
Harrisburg, PA 17110