Location
Human Rights Campaign
Equality Center
1640 Rhode Island Ave NW
Washington, DC 20036-3278
Description
Now rescheduled due to Hurricane Sandy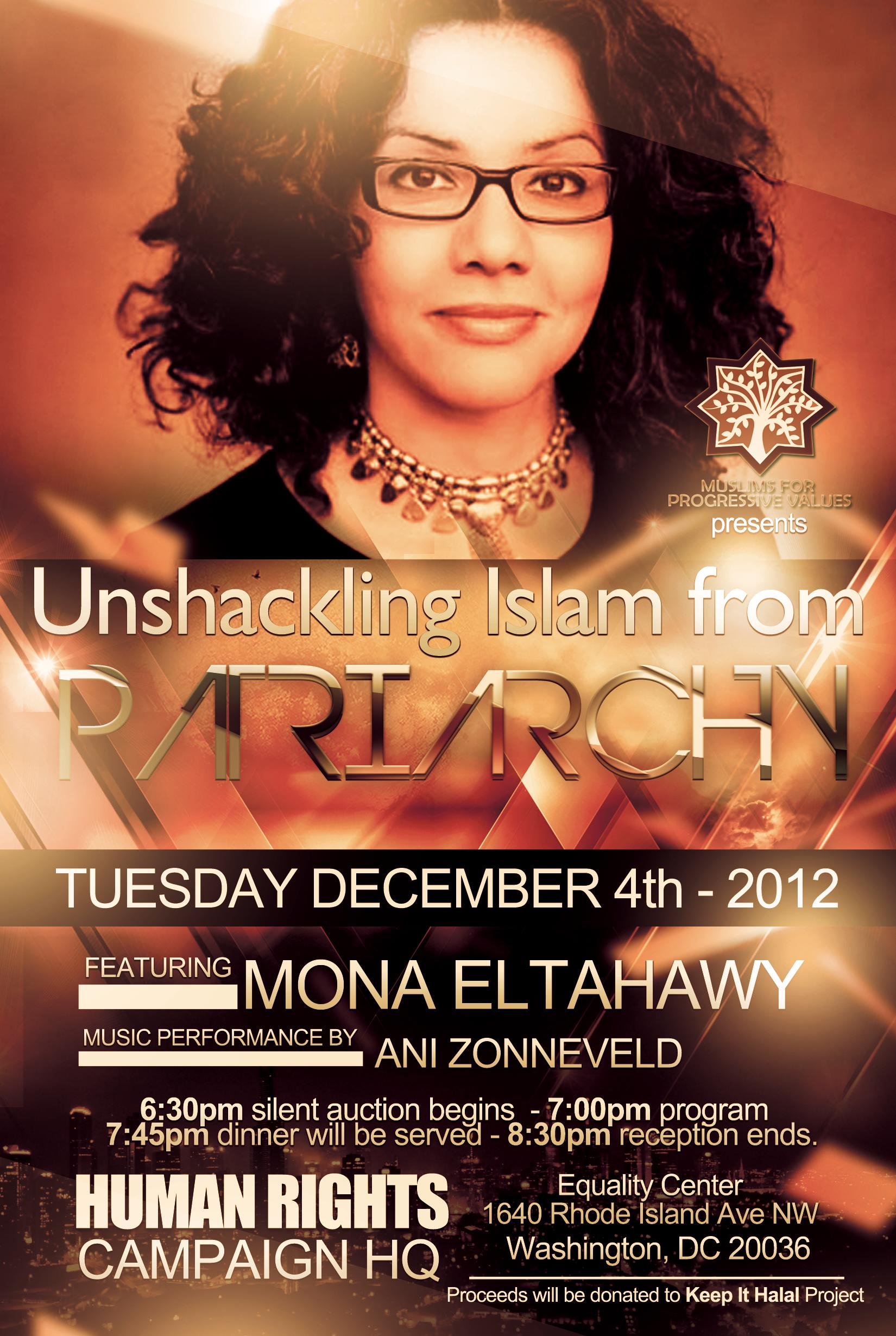 An Evening with
Mona Eltahawy
hosted by
"UNSHACKLING ISLAM FROM PATRIARCHY"
---
Mona Eltahawy will be the keynote speaker at this reception. The event is titled "Unshackling Islam from Patriarchy". Given the assault of women's reproductive rights, of the redefinition of rape, the fight for women's rights in America seem all too familiar for American Muslim women. With the November 6th election in the horizon, this talk couldn't be timelier.
NEW: Imam Yahya Hendi, the chaplain at GeorgeTown University will give a few words to show support of our stance against patriarchical practises in Islam.
We hope you will come join us where we are sure you will enjoy the talk, the Malaysian food, and a special musical performance by Ani Zonneveld from her new collection of songs "Islamic Hymns".
Program
6:30pm
Arrival of Guests

7:00pm - 7:10pm
Welcome
7:10pm - 7:15pm
Special screening of "Keep It Halal"
7:15-7:45pm
Mona Eltahawy
7:45pm - 8:00pm
Musical Performance
8:30pm
Reception Ends
About "Keep It Halal" (trailer)
We all know the power of video. We've seen how a hate inspired video made in the U.S. can inflame the Muslim world waiting for an excuse to hate back.
With "Keep It Halal" our goal is to defuse the level of distrust and misinformation with education, in simple digestible 2-5 minute segments on subjects such as Women's rights, LGBT rights, the environment, governance and many other social and cultural issues that have corrupted the interpretation of Islam. We wish to inspire understanding and critical thinking in order for us to move peacefully forward for the good of humanity. Our topics will be thoroughly researched and in collaboration with artists and scholars.
Silent Auction Items*
National Georgraphic - 1001 Inventions - Discover the Golden Age of Muslim Civilization (Book, Card Game, and 2 Tickets to Exhibit. Minimim bid $ 25

Handpainted Batik Robe. Minimum bid $20

Beyond Fundamentalism: Confronting Religious Extremism in the Age of Globalization & Tablet & Pen: Literary Landscapes from the Modern Middle East - Autographed Copies by Reza Aslan. Minimum bid $20

Phone Case, Cards and Bookmarks by local artist Nadia Janjua. Minimum bid $20

DC Chef's Table - Autographed Copy by Emily Goodstein. Minimum bid $20
*The Silent Auction will be hosted the night of the event from 6:30pm to 8:00pm.
---

ADVANCED REGISTRATION REQUIRED
Deadline: October 26, 2012, 6:30 PM ET
Please print and bring your confirmation ticket
---
Support This Event By Sponsoring or Advertising With Us!
Sponsorship and Advertising Form
---