Description
Mary's New Record, Rifles & Rosary Beads, will be released on January 26th, and was co-written with combat veterans.

Every day. Every single day, which means some days are better and some much worse. Every day, on average, twenty-two veterans commit suicide. Each year seventy-four hundred current and former members of the United States Armed Services take their own lives. Every day. That number does not include drug overdoses or car wrecks
or any of the more inventive ways somebody might
less obviously choose to die.
It seems trivial to suggest those lives might be saved — healed, even — by a song. By the process of writing a song. And yet. And yet there is nothing trivial about Mary Gauthier's tenth album, Rifles and Rosary Beads (Thirty Tigers), all eleven songs co-written with and for wounded veterans. Eleven of the nearly four hundred songs that highly accomplished songwriters have co-written as part of Darden Smith's five-year-old SongwritingWith:Soldiers program. None of the soldiers who have participated in the program have taken their own lives, and there's nothing trivial about that. Something about writing that song — telling that story — is healing.
-- -- -- -- -- -- -- -- -- -- -- -- -- -- -- -- -- -- -- -- -- -- -- -- -- -- -- -- -- -- -- -- -- --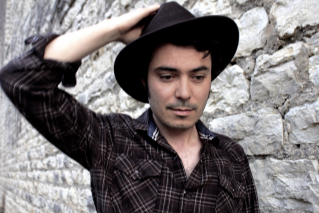 & opening for Mary is MAX GOMEZ

Though still only in his twenties, Max Gomez has always had the heart of an old soul. As a child, the first songs he learned to sing were originally recorded in the 50s by Johnny Cash. As a teenage guitarist he adopted Big Bill Broonzy as his blues master. And as a budding performer, he apprenticed in the rarefied musical climate of northern New Mexico, where troubadours like Michael Martin Murphey and Ray Wylie Hubbard helped foster a folk and Western sound both cosmic and cowboy. You'll find his hometown of Taos and nearby Red River right there between Colorado and Texas on both your sonic and Google maps. Splitting his childhood between there and a farm in the Flint Hills of Kansas, Gomez is at home in the heartland, too.