An Evening with Marianne Williamson: the LOVE AMERICA TOUR
Description
This Friday, Join us for an Evening with New York Times Best Selling Author & Internationally Acclaimed Spiritual Teacher:
Marianne Williamson -
the LOVE AMERICA TOUR
"Our deepest fear is not that we are inadequate. Our deepest fear is that we are powerful beyond measure. It is our light, not our darkness that most frightens us. We ask ourselves, 'Who am I to be brilliant, gorgeous, talented, fabulous?' Actually, who are you not to be? You are a child of God."
– Marianne Williamson
This Friday, January 12th
7:30pm - 9:30pm
Wyndham Garden Hotel
The times in which we're living are dramatic and unstable, yet pregnant with new possibilities for a future released from the shackles of fear.
At a time when fear and hatred have been turned into a political force, is it possible to harness the powers of love and decency for political purposes as well?
Our task is to create a new, whole-person politics, breaking free of a paradigm based on a decidedly outdated view of the world and embracing a more enlightened understanding of our relation to the universe. We need a deeper, multi-dimensional understanding of our national story: where we have been, where we are, and where we need to go now.


WHAT: An Evening with Marianne Williamson: the LOVE AMERICA TOUR

WHEN: Friday, January 12th

TIME: 7:30pm to 9:30pm, with book signing immediately following

WHERE: Wyndham Garden Hotel, 3401 I-35 Frontage Road, Austin 78741

PRICE: $55 General Admission, $155 VIP*
*VIP tickets include an exclusive pre-event wine & cheese gathering with Marianne from 6pm to 7pm (across the hall from the event) and seating in the first few rows (reserved exclusively for VIP guests).
As with other extraordinary times in our history -- from our Founding to Abolition to Women's Suffrage to the Civil Rights era -- it is time once again to break free of an old way of being and embrace a new story going forward. As in the words of Abraham Lincoln, "… we must think anew, and act anew. We must disenthrall ourselves, and then we shall save our country."
Marianne Williamson will be touring this year, discussing how a revolution in consciousness paves the way to both personal and national renewal. In the words of Martin Luther King, Jr., "Our goal is to create a beloved community and this will require a qualitative change in our souls as well as a quantitative change in our lives." We invite you to join us on Friday, January 12, 2018 for an evening that will both provocative and inspirational.
Marianne's books will be available for sale before and after the event.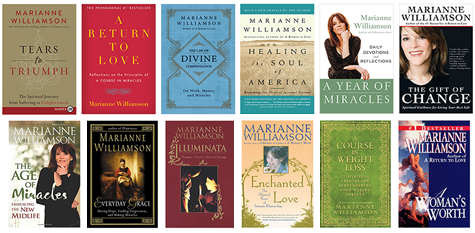 Doors open at 7pm.
The Wyndham Garden Hotel has set aside a select block of rooms for only $79 per night, for those who wish to make the most of this experience. A limited number of rooms are available, so book your room now and reference Marianne Williamson Event.
Many within our contemplative community without walls are seeking a way to proactively contribute to making a positive difference in our country, while honoring their spiritual beliefs and passion for contemplative prayer. One of the gifts that Eremos offers is an ability to hold space for possibilities to reveal themselves. We're excited to provide this unique opportunity to hear one of the leading spiritual thinkers of our time share her vision and hope for moving our country forward. We hope you'll join us!