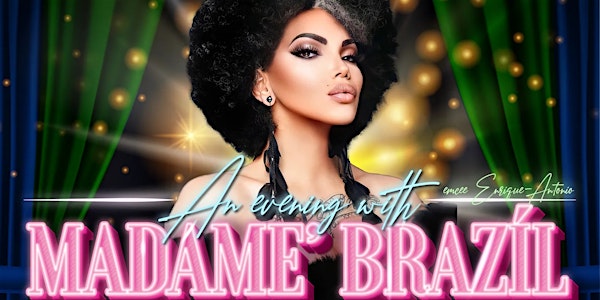 An Evening With Madame'Brazíl ...and the STARS!
Location
Corkys | Beer and Wine Bar
13 South 2nd Street
Temple, TX 76501
Refund policy
Contact the organizer to request a refund.
Eventbrite's fee is nonrefundable.
(*ONLINE PURCHASE ONLY)... 'An evening with Madame'Brazíl'. Located in Historic DT Temple, @ Corkys Wine & Beer
About this event
BACK  BY  POPULAR  DEMAND❗️
(⚠️ 𝙊𝙉𝙇𝙄𝙉𝙀 𝙋𝙐𝙍𝘾𝙃𝘼𝙎𝙀 𝙊𝙉𝙇𝙔 ⚠️)
Tour Temple/Corkys Wine and Beer proudly welcomes another 'can't-miss event'; the 'PREVIOUSLY SOLD-OUT' show…
'An evening with Madame'Brazíl'
                     (… and the STARS!)
🗓: SUNDAY, JUNE 26, 2022
🕕: 6 PM – 8 PM
🚪: Doors open @ 5pm
🎬: SHOWTIME STARTS @ 6pm
🎟: Tickets: $15 - $25
(ᴇᴀʀʟʏ ᴇɴᴏᴜɢʜ ᴛᴏ ᴍᴀᴋᴇ ɪᴛ ʜᴏᴍᴇ ɪɴ ᴛɪᴍᴇ, ᴛᴏ ᴛᴜᴄᴋ ɪɴ ᴛʜᴇ ʟɪᴛᴛʟᴇ ᴏɴᴇꜱ ᴀɴᴅ/ᴏʀ ɢᴇᴛ ʀᴇᴀᴅʏ ꜰᴏʀ ᴡᴏʀᴋ ᴛʜᴇ ꜰᴏʟʟᴏᴡɪɴɢ ᴅᴀʏ.)
Madame'Brazíl is a local (Temple) 🇺🇸 United States Army OEF/OIF Wartime Veteran- and 👑 America's 1st Miss Trans USA (2018).  She is a well-known, highly celebrated, and respected Artist that- in the past, Corkys has contacted to curate a (drag) show that'll be described by many as, "Simply perfect- with an experience like never before!"…  So come out and experience history in the making- as she brings Hollywood to Temple TX.
She will be accompanied by her Special Guests of Entertainers:
▪︎ Von Teese Ross (of Dallas, TX)-
as ⭐ LIZA MINNELLI ⭐️
▪︎ Monica Monáe Davenport (of Austin, TX)-
as ⭐ WHITNEY HOUSTON ⭐ (&)
▪︎ Jessie Tyler (of Las Vegas, NV)-
as ⭐ TAYLOR SWIFT ⭐
             - with your local Emcee,
                          Enríque-Antonío
--------------------------------------------
● Queen's Table (seats 7): $199 ●
(located at the royal round high table.  Includes one (1) complimentary MB signature cocktail (per seat).  *Seat-side food and drink service will be available.)
● VIP Tickets (12 seats available): $25 ●
(located ULTRA close around the stage.  Includes one (1) complimentary MB signature cocktail.  *Seat-side food and drink service will be available.)
● General Admission Tickets (Limited seating): $15 ●
(located throughout the bar- with NO reserved seating.  *Seat-side food and drink service will be available.)
● Standing Loft Tickets (10 available spots): $10 ●
(located upstairs- bird view- without seating.  *Seat-side food and drink service UNAVAILABLE.  You'll receive food and drink service at the bar downstairs.)
--------------------------------------------
¹ Entertainers will be performing throughout the bar, while collecting tips. Not only on the stage.  ² When purchasing tickets, please keep in mind, there's no assigned seats. So if you're attending with others, please arrive all together to assure available seating next to one another.  If there are no more available seats next to one another, we apologize, However- the audience will provide such an energetic experience, that your complete party will still enjoy themselves.  ³ The show is rated TV-MA or NC-17 due to possible explicit content and/or suggestive material.  Everyone will be carded at the door.  Those under 21 will be given a wristband and an "X" on their hand to indicate that they are not of the legal drinking age.  ⁴ Corkys is not selling tickets for this event.  For questions and/or more details, please text or call (631) 623-2632.
--------------------------------------------
Make sure to treat yourself to Corkys made-to-order kitchen specials along with their delicious & refreshing selection of beverages, wine, beer, cocktails, and margaritas.
Inquire about their bottle service, best house wines, and their meat and cheese tray.
--------------------------------------------
(For an additional service charge, Corkys can provide an exclusive limousine and driver service, to pick you and your guests up in a white Lincoln Town Car stretch limousine.  This door-to-door service allows you to arrive at 5pm.  And when the show comes to an end, allows you to stay and enjoy the crowd.  Your driver will return you and your guests to your starting point.  Ending your evening safely and elegantly.  All courtesy of Tour Temple.  Please contact 254-314-2004 for more details.
--------------------------------------------
REFUND POLICY- Due to the demand and previous sold-out show, at this time refunds are unfortunately unavailable.  However, we do understand plans can change and unexpected events may occur.  That's why we allow you to transfer your ticket completely free of charge to someone you'd like.  This option helps offer you the accommodation you may need and can provide.  We apologize for any inconvenience this may cause.  Thank You!