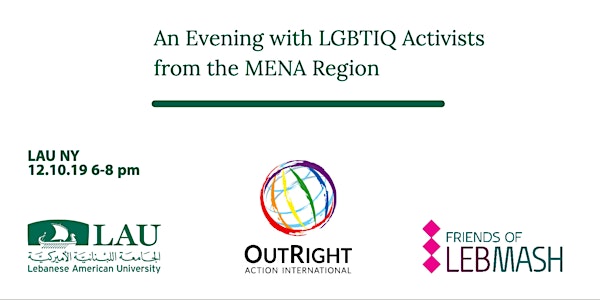 An Evening with LGBTIQ Activists from the MENA Region
An Evening with LGBTIQ Activists from the MENA Region
When and where
Location
Lebanese American University New York Headquarters and Academic Center 211 E 46th St New York, NY 10017
About this event
Every December, OutRight Action International hosts LGBTIQ activists from around the world in New York for a week of high-level meetings and activities at the United Nations Headquarters for Advocacy Week. The week culminates with OutSummit, a one-day conference dedicated to giving activists in the US and around the world the opportunity to meet and discuss critical issues affecting the global LGBTIQ movement.
This year, LAU NY is partnering Friends of LebMASH (The Lebanese Medical Association for Sexual Health) to bring the week's MENA activists together for a night to discuss challenges facing the community throughout the Middle East as well as the current state of activism. Join us for an impactful and empowering evening!
Moderator:
Nazeeha Saeed has twenty years of experience in journalism & broadcast media. She has considerable experience working in print, radio, and TV media and is an expert on the GCC and covering events across MENA and Europe. Nazeeha was the winner of Johann-Philipp-Palm-Award for Freedom of Speech and Press 2014. She works as a Journalist Security & Safety Trainer, LGBTI advocate, moderator, translator and she is an OutRight Arabic Media Consultant.
Speakers:
Fadi Saleh is a scholar-activist from Syria currently based at the University of Göttingen, Germany. His main research areas are queer and trans migration, LGBTIQ refugee politics, and knowledge production around gender and sexuality in the Middle East and North Africa, with a special focus on Syria. In addition to research, Fadi works with many LGBTIQ organizations in the MENA region and Europe in different consultancy, training, and advocacy capacities.
Meriam Mechti is a queer Tunisian activist. She is currently Project Director of the UTMA "Union Tunisienne des Medias Associatifs" and treasurer of the Chouf Association. She is a co-organizer of Chouftouhonna, the feminist art festival of Tunis. She was a host of an online radio then a journalist and camerawoman on a national TV channel. She is active in Tunisian civil society in groups such as: the Women & Leadership Association, the Institute of Human Development, the US Institute of Peace, and MOUJA. Meriam is engaged in the fight against sexual discrimination. She defends causes that concern women and human rights and fights against all forms of violence and discrimination.
Maya El-Helou is currently a Ph.D. student in Socio-Cultural Anthropology and the collaborative program of Gender and Women Studies at the University of Toronto. In 2015 she was awarded the Magda Al-Nowaihi graduate student award in gender studies from the American University in Cairo where she got her Master's degree. Her current work investigates uprisings and revolutionary moments in relation to queer and feminist organizing. Maya is a feminist activist and comic artist who explores using art and humor as a medium to communicate complex feminist theories. She bridges academia and activism in her home country, Lebanon, and the wider MENA region focusing on issues of gender, sexuality, theory and creative knowledge production.
George Azzi is a sexual right and HIV/AIDS activist. He is a co-founder of HELEM, the first LGBT organization in the MENA region; board member and founder of MARSA, a comprehensive sexual health clinic in Beirut, Lebanon; founder and currently executive director of the Arab Foundation for Freedoms and Equality (AFE), based in Lebanon.