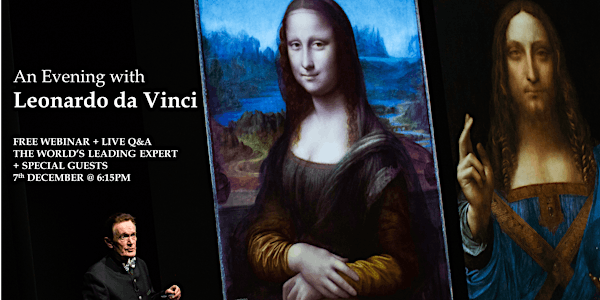 An Evening with Leonardo da Vinci | FREE Webinar with World's Top Expert
Free Webinar + Live Q&A with the world's leading expert on Leonardo da Vinci. How might we learn to innovate and problem-solve like DaVinci?
About this event
An Evening with Leonardo da Vinci
Wednesday December 7th @ 6:30pm
A FREE WEBINAR
Leonardo da Vinci is the greatest visual thinker the world has ever seen. What can we learn from his genius?
Professor Martin Kemp, the world's leading expert on Leonardo da Vinci, will share highlights from his 50+ year immerison into the life, works and mind of Leonardo. He will also take live questions from the virtual audience.
Exclusive clips from the DaVinci Masterclass will be shown.
Students of the DaVinci Masterclass will share their learnings and insights. Those who have completed the programme will graduate.
Guest speakers will be introduced to add more persepctives on Leonardo; particularly how his thinking and approach could help us innovate and problem-solve today.
Join us FREE to penetrate the mind of the Meastro!
About the Organisers
Born precisely on the 500th death anniversary of Leonardo da Vinci, the DaVinci Network aims to catalyse a cultural paradigm shift, away from hyper-specialisation and 'silo culture', towards the encouragement of connection-making between different fields, disciplines and cultures. We do this through events, publications, reseach and advisory.
Interested in taking the DaVinci Masterclass before you attend? Enjoy 20% off by selecting the relevant ticket when registering. Learn more here.
Contact director@davinci-network.com for any questions.