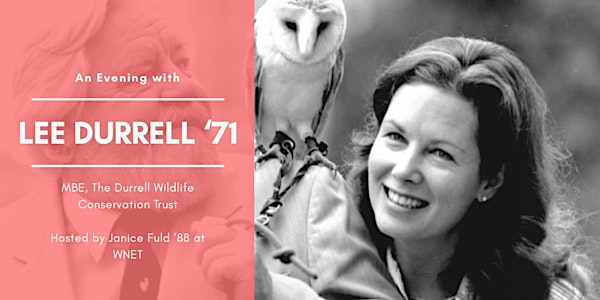 An Evening with Lee Durrell '71 MBE, Durrell Wildlife Conservation Trust
Location
WNET-TV
825 8th Avenue
New York, NY 10019
The Bryn Mawr Club of New York City proudly invites you to attend an evening with Lee Durrell '71, hosted by Janice Fuld '88 at WNET.
About this event
Would you like to meet the grandmother of the tortoise? An inspiring Mawter who advocates for the animals, the ecosystems and our environment? An extraordinary woman who became a member of the British Empire (MBE), a prestige granted by the Queen of England, and a passionate animal lover who married her hero, Gerald Durrell?
The Bryn Mawr Club of New York City proudly invites you to attend an evening with Lee Durrell '71, hosted by Janice Fuld '88 at the WNET Board Room in Midtown West. This widely celebrated and illustrious alum will present guests with a rich evening full of interesting stories. Durrell will speak about her acclaimed work and its eye-opening history, educate guests with her vast wealth of knowledge, and recount memorable experiences, such as receiving four tarantulas from her late husband as a joyous anniversary gift.
Lee Durrell is an American naturalist, author, zookeeper, television presenter, and Mawrter. She was born in Memphis, Tennessee where she began developing an interest in animals at an early age. As her interests grew, she studied philosophy at Bryn Mawr College and later pursued a zoology degree at Duke University where she met her late husband, Gerald Durrell. Together this power couple worked to rescue species on the brink of extinction, co-authored several books, and became the first western television unit to film the wildlife of the Soviet Union in Russia during 1984.
In addition to her impressive knowledge and skill set, Lee launched a recovery program for the world's largest tortoise (earning her the nickname the Grandmother of the tortoise), took over The Durrell Wildlife Conservation Trust (where she currently maintains a key position on the Board of Trustees), learnt how to fly and occasionally transported animals for the trust, donated a large collection of rare animals to the National Museum of Scotland to aid in genetic research of those species, and currently acts as a consultant for the ITV/PBS series, The Durrells in Corfu, based on her late husband's writings about his colorful family.
WHEN: Wednesday, November 6, 6:30 to 8:30 PM. Please be prompt, but no early admission.
WHERE: Located at the Kellen Board Room of WNET New York Public Media (825 Eighth Avenue, between 49th and 50th Street, New York, NY, 10019)
HOW MUCH: $20. Light refreshments will be served and guests are welcome to attend.
FOR FURTHER INFORMATION CONTACT: Helen Thurston '74 at jclosk@earthlink.net