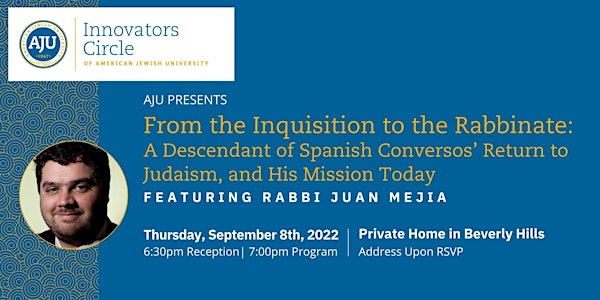 An Evening with Juan Mejia: From the Inquisition to the Rabbinate
Join us for an evening with Spanish Conversos descendant Rabbi Juan Mejia, who will share his return to Judaism and his mission today.
When and where
Location
Private Home in Beverly HIlls Address Will Be Given Upon RSVP Beverly Hills, CA 90210
About this event
Significant numbers of people outside the Jewish community are seeking a connection with Judaism. Some find out through genetic testing they are of Jewish descent, others became aware that their family Jewish identity was suppressed whether in medieval Spain or the former Soviet Union. AJU recently co-sponsored "Distant Relatives – Emerging Groups and Communities with Affinities to the Jewish People," the first international conference on this topic. AJU is committed to helping individuals on the periphery of the Jewish community connect with their Jewish journey.
Rabbi Juan Mejía was born in Bogotá, Colombia and raised as a Catholic. On his way to becoming a monk he discovered the Jewish roots of his family, leading him on a spiritual journey back to the religion and the people of his ancestors. After being ordained as a rabbi, Juan dedicated his rabbinate to helping Jewish descendants like himself reconnect with their roots. He lives in Oklahoma City, and serves as the Southwest/Latin America Regional Director for Be'chol Lashon, an organization that embraces the historical diversity of the Jewish people and the growing diversity of the community. He has been teaching Torah in Spanish for over a decade.
AJU's Innovators Circle
American Jewish University supporters who contribute $5,000 or more annually are automatically enrolled in the Innovators Circle. Members of AJU's Innovators Circle are deeply invested connecting young adults and students of all ages to the joy, pride and gift of being Jewish. They are our most important partners in educating campers, rabbis, artists, teachers and the next generation of change makers.
Please note: AJU has implemented a mandatory vaccine policy requiring all event attendees to be fully vaccinated against Covid-19.