Event Information
Location
Aero Theatre
1328 Montana Avenue (at 14th Street)
Santa Monica, 90403
Description
Live Talks Los Angeles invites you to:
An Evening with John Irving
discussing his new novel, In One Person
Thursday, June 21, 2012, 8:00pm (Reception 6:30-7:30pm)
The Aero Theatre
1328 Montana Avenue (at 14th Street)
Santa Monica, CA 90403
---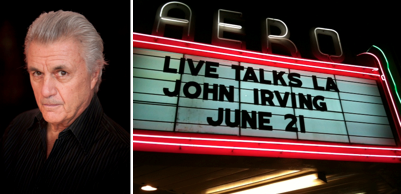 ---
Tickets:
$25 Live Talks with John Irvingl, 8:00 pm (doors open at 7:30pm)
$45 also includes John Irving's book
$95 includes pre-event reception (6:30-7:30pm), plus John Irving's book
$33 Purchase copy of John Irving's book (tax and shipping included to anywhere in the US)
---
John Irving published his first novel, Setting Free the Bears, in 1968. He has been nominated for a National Book Award three times-winning once, in 1980, for the novel The World According to Garp. He also received an O. Henry Award, in 1981, for the short story "Interior Space." In 1992, Mr. Irving was inducted into the National Wrestling Hall of Fame in Stillwater, Oklahoma. In 2000, he won the Oscar for Best Adapted Screenplay for The Cider House Rules-a film with seven Academy Award nominations. In 2001, he was elected to the American Academy of Arts and Letters. In One Person is John Irving's thirteenth novel.
"This tender exploration of nascent desire, of love and loss, manages to be sweeping, brilliant, political, provocative, tragic, and funny—it is precisely the kind of astonishing alchemy we associate with a John Irving novel. The unfolding of the AIDS epidemic in the United States in the '80s was the defining moment for me as a physician. With my patients' deaths, almost always occurring in the prime of life, I would find myself cataloging the other losses—namely, what these people might have offered society had they lived the full measure of their days: their art, their literature, the children they might have raised. In One Person is the novel that for me will define that era. A profound truth is arrived at in these pages. It is Irving at his most daring, at his most ambitious. It is America and American writing, both at their very best."
—Abraham Verghese, author of Cutting for Stone and My Own Country
"In One Person is a novel that makes you proud to be human. It is a book that not only accepts but also loves our differences. From the beginning of his career, Irving has always cherished our peculiarities—in a fierce, not a saccharine, way. Now he has extended his sympathies—and ours—still further into areas that even the misfits eschew. Anthropologists say that the interstitial—whatever lies between two familiar opposites—is usually declared either taboo or sacred. John Irving in this magnificent novel—his best and most passionate since The World According to Garp—has sacralized what lies between polarizing genders and orientations. And have I mentioned it is also a gripping page-turner and a beautifully constructed work of art?"
—Edmund White, author of City Boy and Genet: A Biography
Date and time
Location
Aero Theatre
1328 Montana Avenue (at 14th Street)
Santa Monica, 90403