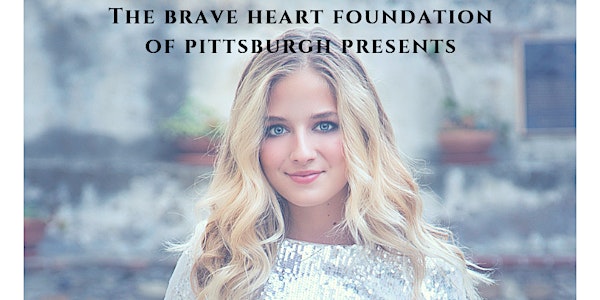 "An Evening with Jackie Evancho" - Fundraising Event To Benefit Homeless LG...
Location
August Wilson Center for African American Culture
980 Liberty Avenue
Pittsburgh, PA 15222
Description
On Friday, February 15th, The Brave Heart Foundation of Pittsburgh will host "An Evening with Jackie Evancho" - Fundraising Event - A worldwide sensation when she was only ten years old, Jackie Evancho is moving past the exuberant fulfillment of a child prodigy vocalist, toward maturity as a singer, as a creative artist and as a young woman with her upcoming new album and tour, The New American Songbook. The multi-platinum, international recording artist will match her extraordinary voice with one of most exciting re-emerging genres in popular music today. With songs from breakthrough musicals such as Hamilton, Dear Evan Hanson, Waitress, Once, The Band's Visit, Wicked, and Spring Awakening, and hit films like The Greatest Showman and La La Land. A career that began with a little girl's fascination with the film soundtrack of The Phantom of the Opera has become an evolving and enduring musical phenomenon. Since she first dazzled American television audiences at the age of 10 - gaining global recognition with her stunning debut on NBC's America's Got Talent- Jackie Evancho has released a string of platinum and gold albums, with sales of over 2.5 million in the US. Along the way, she has also made history - the youngest solo platinum artist ... the youngest Top 5 debut artist ever in the U.K. ... the youngest person to give solo concert at Lincoln Center ... the highest-ranking debut artist of 2010. All six of Jackie's albums have hit No. 1 on the Billboard Classical chart. The magnitude of her success led Billboard twice (in 2010 and 2012) to include Jackie on its list of "music movers-and-shakers under the age of 21."
Jackie Evancho lives in Pittsburgh with her family, where she is continuing her education in the midst of touring and recording. And her heart opens itself to more than music: Jackie is a proud supporter of her transgender sister Juliet and the struggle for transgender equality.
About Us The Brave Heart Foundation (TBHF) will provide a safe, enriching, and affirmative place for homeless LGBTQ young adults ages 18-26, that will provide the emotional support and overall care needed for a healthy transition into adulthood. TBHF empowers homeless young adults to reach their full potential (regardless past barriers) through a variety of long-term, comprehensive support programs designed to provide resources and access to education, medical care, emotional support, health and well-being, and career support. Our mission is to remove barriers and provide supportive environments that give young adults the confidence and tools necessary to live independent and successful lives.
The Brave Heart Foundation of Pittsburgh - From Trauma to Triumph