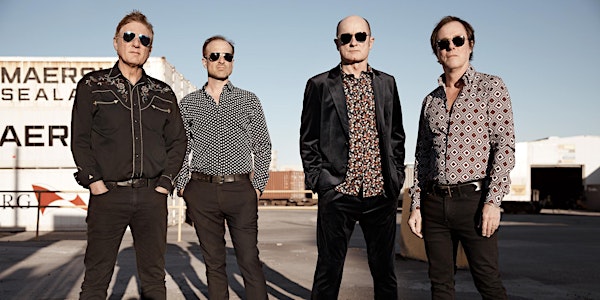 An Evening With Hoodoo Gurus
Location
Great American Music Hall
859 O'Farrell
San Francisco, CA 94109
Great American Music Hall Presents Hoodoo Gurus
About this event
Tickets on sale Friday, 5/26 @ 10am!
Doors 6:30 / Show 7:30
The Hoodoo Guru's performance at the Great American Music Hall on April 23rd, 2022 has been cancelled. Your order will automatically be refunded within 14 business days.
Please see a statement from the artist below:
I am very sorry to have to inform you that we have been forced to cancel our forthcoming U.S. tour due to the ongoing COVID-19 pandemic. After consulting with many people in the music industry, we have reluctantly come to the conclusion that an extensive club tour is simply not feasible at this time.
Ticket holders can obtain a full refund from their point of sale. As disappointed as we are at having to cancel these shows, we realize that the disappointment felt by our long-suffering supporters in the United States will be even greater. We have all been looking forward to this tour for a very long time. Unfortunately COVID-19 continues to make all our lives hell.
Though all of the band and crew are fully-vaccinated, a breakthrough infection among our tour party would cause the cancellation of the tour anyway due to self-quarantine requirements, which would be devastating for us, both personally and financially. It was also clear that if the tour were to go ahead it would be under very trying circumstances. For our own safety we would have to isolate ourselves from the "outside world" as much as possible, avoiding contact with anybody other than our immediate tour party. There could be no meeting with fans after the show, no catch-ups with old friends. Hell, we wouldn't even be able to set foot inside a restaurant or grab a coffee at a highway truck stop. Touring is hard enough without being virtual prisoners of our tour bus and hotel rooms.
On top of all that there is the problem of obtaining travel insurance to cover any medical and quarantine expenses incurred as a result of infection with SARS-CoV-2 (no insurance companies want to touch that) and absolutely no one will insure us against the losses incurred if we have to cancel gigs.
Better to wait until we can tour properly with less risk to life, limb and sanity.
The only light on the horizon right now is that in a few months we will be filming a completely live-in-the-studio performance (with the video broadcast over the 'net) during which we will premiere the songs from our new album, which is due out in mid-March. Everywhere else in the world this will be a pay-per-view event however we would like to to invite every one who purchased a ticket to one of our cancelled U.S. shows to watch this performance for free.
To find out how to register for your free ticket to our live broadcast, please visit:
https://www.emusiclive.com/Hoodoo_Gurus/Hoodoo_Gurus_Live?ac=4d6ae3bd-5c36-424c-88fc-b6bbeabf1dbd&fbclid=IwAR0kHickcyKCfpWWXQdtMQ70jisQIYZ5M5Oo8i5J-orM8sK6p8uapbCAN28
I am truly sorry to have to be the bearer of this bad news and hope you appreciate that this decision wasn't taken lightly. Thanks for your understanding and support during what has been a difficult time for everybody.
Dave Faulkner
Formed in Sydney in 1981, the band were led by singer/songwriter Dave Faulkner, along with drummer James Baker. Ex-Scientist Rod Radalj and Kimble Rendall rounded out the group's lineup and their unique sound (three guitars, no bass). With Faulkner's infectious songs they quickly earned a record deal. After the 1982 debut single "Leilani," both Radalj and Rendall quit, replaced by guitarist Brad Shepherd and bassist Clyde Bramley. In 1983, the Hoodoo Gurus recorded their excellent debut record, Stoneage Romeos. Mark Kingsmill replaced Baker in 1985 but along came 1985's college radio smash Mars Needs Guitars! With 1987's Blow Your Cool, the Hoodoos appeared poised for the big time; their tourmates, the Bangles, even contributed to the singles "What's My Scene" and "Good Times". In this time Bramley exited, replaced by onetime Divinyl Rick Grossman. Released in 1989, Magnum Cum Louder provided the singles "Come Anytime," and "Another World". 1991's Kinky featured "Miss Freelove '69," alongside enduring fave "1000 Miles Away". After a three-year hiatus, the Hoodoo Gurus returned with the harder-edged Crank. Blue Cave followed in 1996. In 1998, the Gurus announced they were splitting up but two years later, Dave Faulkner, Brad Shepherd, and Mark Kingsmill were working together again as members of the garage-influenced the Persian Rugs. In 2004 the band reunited, releasing a new album, Mach Schau. In 2009 the band issued their ninth album, 2010's Purity of Essence.