Description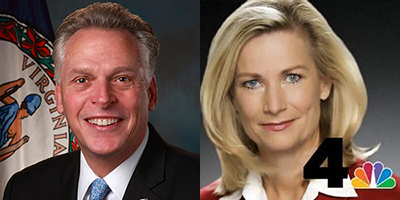 The Schar School of Policy and Government at George Mason University is pleased to invite you to the 2019 Haynes Lecture, a periodic lecture series honoring Kingsley Haynes, the founding dean of the School of Public Policy - part of what is now the Schar School. Please join us at the Founders Hall Auditorium on the Arlington Campus of George Mason University, Monday, March 18, at 7:00 pm for An Evening with Former Governor Terry McAuliffe. The event will be hosted by Schar School Dean Mark J Rozell.
As the 72nd Governor of Virginia (2014-2018), Terry McAuliffe (D), focused on equality for all Virginians, enhancing quality of life, and building a new diversified economy that made economic opportunity a right, not a privilege. To keep Virginia competitive, he implemented major economic development initiatives designed to strengthen the Commonwealth's pro-business climate, ensure efficient investment in world-class infrastructure, and develop a 21st century workforce capable of meeting the needs of emerging businesses and industries. Protecting the rights of all Virginians also was a top priority for McAuliffe. He successfully vetoed a record 120 bills that would have taken Virginia backward. In doing so, McAuliffe protected women's access to health care, Virginia's world-class education system, the environment, the integrity of our electoral system, and kept more guns off the streets.
Leading the conversation with Former Governor McAuliffe will be Julie Carey, Northern Virginia Bureau Chief for television's NBC News4. Ms. Carey has been covering Northern Virginia since joining News4 in 1992. Her reporting has taken her all over the Commonwealth, including Richmond where she has covered the governor, the general assembly, and every election since 1993. She is frequently called upon to participate in political debates involving Virginia candidates. Ms. Carey also has done extensive reporting on issues of regional interest, including sex offenders, child abuse, and the integration of women into the Virginia Military Institute.
A reception will follow the discussion. There is no charge for attending this event, but you must register to be on the guest list.
FAQs
Do I need to bring my ticket?
Yes, you will need to show a printed ticket or the ticket on your smartphone to check in.
What are my transportation/parking options for getting to and from the event?
Visitor parking is available in the Founders Hall parking garage. In addition, the Virginia Square/GMU metro stop is two blocks from the Arlington Campus of George Mason University
What if I can no longer attend the event?
Given that this will be a high-demand event, if you can't attend, it's easy to cancel your registration from your Eventbrite account. Just log in to Eventbrite, go to the Tickets page, and locate your order. Click your order to view order details, and then select "Cancel Order" to cancel your registration.
How can I learn more about the Schar School?
Please visit the Schar School website https://schar.gmu.edu/.