Join us for an evening with Erik Larson and his new book, a fresh and compelling portrait of Winston Churchill and London during the Blitz.
About this event
Magic City Books is thrilled to welcome bestselling author Erik Larson in celebration of his new book, The Splendid and the Vile, a fresh and compelling portrait of Winston Churchill and London during the Blitz.
This is a ticketed event, each ticket includes one copy of The Splendid and the Vile and one seat at the event on Thursday March 12 at The Synagogue|Congregation B'nai Emunah (1719 S. Owasso Avenue). There is a limit of four tickets per person/email address.
Ticket holders will be able to pick up their books and event wristbands for entry to the event at Magic City Books starting on Tuesday, February 25.
About The Splendid and the Vile:
On Winston Churchill's first day as prime minister, Adolf Hitler invaded Holland and Belgium. Poland and Czechoslovakia had already fallen, and the Dunkirk evacuation was just two weeks away. For the next twelve months, Hitler would wage a relentless bombing campaign, killing 45,000 Britons. It was up to Churchill to hold his country together and persuade President Franklin Roosevelt that Britain was a worthy ally—and willing to fight to the end.
In The Splendid and the Vile, Erik Larson shows, in cinematic detail, how Churchill taught the British people "the art of being fearless." It is a story of political brinkmanship, but it's also an intimate domestic drama, set against the backdrop of Churchill's prime-ministerial country home, Chequers; his wartime retreat, Ditchley, where he and his entourage go when the moon is brightest and the bombing threat is highest; and of course 10 Downing Street in London. Drawing on diaries, original archival documents, and once-secret intelligence reports—some released only recently—Larson provides a new lens on London's darkest year through the day-to-day experience of Churchill and his family: his wife, Clementine; their youngest daughter, Mary, who chafes against her parents' wartime protectiveness; their son, Randolph, and his beautiful, unhappy wife, Pamela; Pamela's illicit lover, a dashing American emissary; and the advisers in Churchill's "Secret Circle," to whom he turns in the hardest moments.
The Splendid and the Vile takes readers out of today's political dysfunction and back to a time of true leadership, when, in the face of unrelenting horror, Churchill's eloquence, courage, and perseverance bound a country, and a family, together.
Erik Larson is the author of five national bestsellers: Dead Wake, In the Garden of Beasts, Thunderstruck, The Devil in the White City, and Isaac's Storm, which have collectively sold more than nine million copies. His books have been published in nearly twenty countries.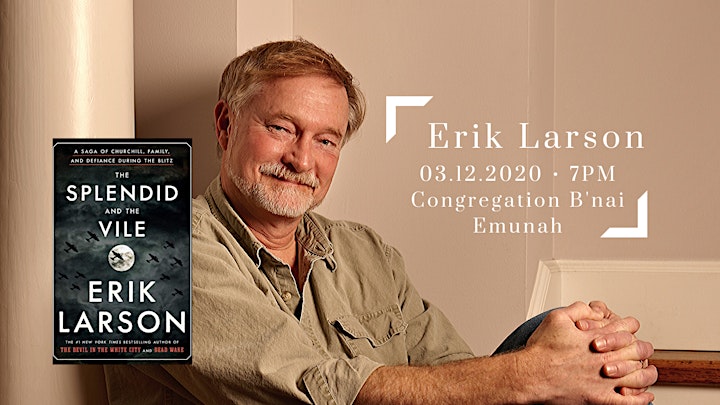 Organizer of An Evening with Erik Larson
Magic City Books is an independent bookstore owned by the Tulsa Literary Coalition, a 501(c)(3) nonprofit corporation. We are located in the Archer Building on the corner of Archer and Detroit in the vibrant Tulsa Arts District in downtown Tulsa.  We specialize in literary and popular fiction and narrative nonfiction for adults. We also offer carefully curated sections for children and teens.
When you make a purchase from Magic City Books you are doing something good for your community. Profits from our store help fund our programs, so in addition to helping the local economy, you are contributing to the cultural life of Tulsans.