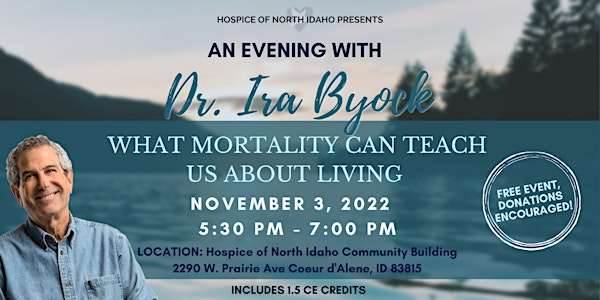 An Evening with Dr. Ira Byock: What Mortality Can Teach Us About Living
Through stories from years of clinical and personal experience, Dr. Ira Byock illuminates how to heal relationships through forgiveness.
When and where
Location
Hospice of North Idaho 2290 West Prairie Avenue Coeur d'Alene, ID 83815
About this event
It turns out that we have a lot to learn from people who are dying. While we are right to pursue happiness, even when we succeed, it ends up being transient. The fact of death teaches us a lot about living – if we let it. One important lesson involves ways to mend even our most troubled relationships and nurturing our cherished connections to the people we love. Through stories drawn from years of clinical practice, as well as his personal life, Dr. Byock illuminates how four simple statements – Please forgive me. I forgive you. Thank you. I love you. – can transform relationships and lives.
1.5 Contact Hours Available
Learning Objectives:
At the conclusion of this presentation, participants will be able to:
1. Distinguish between "being happy" and "living fully".
2. List each of "the four things" and be prepared to explore their use as counseling tools in their practices and/or a tool for wellbeing in their lives.
3. Recognize the importance of staying open to the possibility that even deeply fractured relationships can heal. Stated differently, participants will recognize that assuming healing is impossible can be self-fulfilling.
4. Describe the "emotional economics" of forgiveness – asking and granting forgiveness are ways of getting free of emotional debts one owes and is owed.
*This nursing continuing professional development activity was approved by Montana Nurses Association, an accredited approver with distinction by the American Nurses Credentialing Center's Commission on Accreditation.
About Speaker:
Dr. Ira Byock, a Fellow of the American Academy of Hospice and Palliative Medicine, is a leading palliative care physician, author, and public advocate for improving care through the end of life. Dr. Byock has been involved in hospice and palliative care since 1978. His research has contributed to conceptual frameworks for the lived experience of illness that encompasses a continuum from suffering to wellbeing; related measures for subjective quality of life during illness; and effective life-completion counseling methods. Dr. Byock has been the recipient of numerous awards for academic achievement and community services. In 2014 he was recognized as a Visionary by the Academy of Hospice and Palliative Medicine, as well as being given the Academy's most prestigious honor, the Lifetime Achievement Award. He is a sought-after speaker and consultant to health care organizations.
Books by Dr. Ira Byock:
Dr. Byock's first book, Dying Well, (1997) has become a standard in the field of hospice and palliative care. The Four Things That Matter Most, (2004) is used as a counseling tool widely by palliative care and hospice programs, as well as within pastoral care. His most recent book, The Best Care Possible (March 2012) tackles the crisis that surrounds serious illness and dying in America and his quest to transform care through the end of life.