An Evening with Dr. Helen Caldicott
Event Information
Location
Turning Point School
8780 National Boulevard
Culver City, CA 90232
Description
Antioch University Los Angeles Master of Arts in Urban Sustainability Program presents
Dr. Helen Caldicott,
co-founder of Physicians for Social Responsibility.
Thursday evening, March 7th at 7:30pm
Turning Point School
8780 National Blvd
Culver City, CA 90232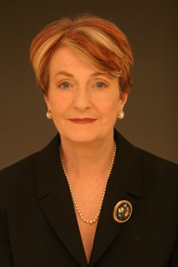 Dr. Helen Caldicott is a great hero in the environmental, peace and justice movements. She is considered to be the single most articulate and passionate advocate of citizen action as a response to the ongoing nuclear and environmental crises. As co-founder of Physicians for Social Responsibility, an organization of 23,000 doctors worldwide committed to educating their colleagues about the dangers of nuclear power, nuclear weapons and nuclear war, she has strengthened the intellectual, scientific and political influence of the cause.
Dr. Caldicott's lecture is titled "Medical Consequences of Fukushima and their relevance to America."
A limited amount of on-site parking will be available.
Public transportation is strongly encouraged and extremely convenient. Turning Point School is located adjacent to the Culver City Expo Line stop.
For more event information: contact Sarah Brin at Antioch University Los Angeles 310-578-1080 (ext. 288) sbrin@antioch.edu
For information regarding Dr. Caldicott: contact Leah Hanes at Antioch University Los Angeles 310-578-1080 lhanes@antioch.edu
Date and time
Location
Turning Point School
8780 National Boulevard
Culver City, CA 90232